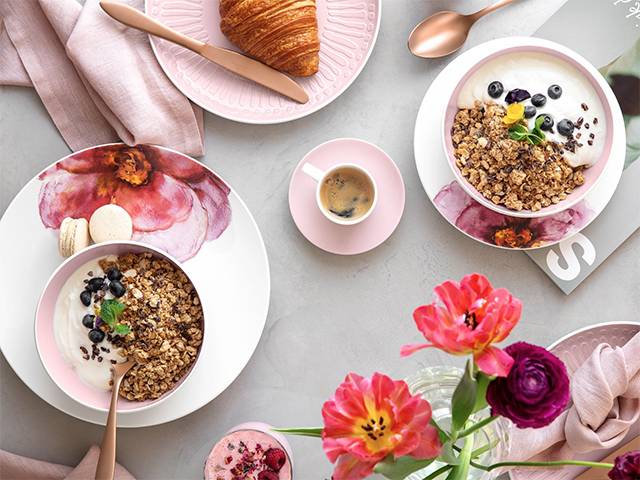 Villeroy & Boch's styling tips for a setting your mother would be proud of

Roses aren??t just for romance; create an unforgettable Mother??s Day experience with an elegant and timeless table setting inspired by romantic rose gardens and summer garden parties. Whether you??re hosting a simple brunch, an afternoon tea, or planning a five-course, sit-down dinner, make your table special with these simple styling tips from Villeroy & Boch.


1. Set the scene: pick a theme for your table setting and look at ways to complement it. Mother's Day is the perfect opportunity to flirt with florals and feminine styles that take inspiration from romantic rose gardens. A dusty pink colour theme in muted pink hues and soft pastels is the perfect excuse to use tableware from Villeroy & Boch??s new Rose Garden collection. Take inspiration from the garden outside can help further elevate your table setting.



2. Mix and match: while it??s important to stick to a single, central theme, look for ways to complement your style with stemware and cutlery that makes a statement. For softer, rosy table settings, consider bold gold or copper. Mixing and matching colours and designs can help to set the mood for the occasion. Coordinating glassware can also bring coherence to your table setting, with matching glasses and serving carafes helping to add another level of sophistication to your day. Goblets that symbolise closed blossoms akin to your floral dinnerware can be an effective way to tie your table together.



3. Create atmosphere: carry your rose garden them throughout the rest of the home with complementary dcor and a striking centrepiece with fresh, seasonal flowers. Floral decorations from the garden can be a cost-effective focal point for your table while also doubling as an extra gift for mum. Look for vases that complement your glassware and keep coordination as a central component for your event.



4. Bring outside inside: flowers can help to create cohesion in your table setting, but they don??t just have to be a focal point for the table itself. Consider using edible flowers to garnish your meals and take your tantalising tastes to the next level. Keeping a common thread throughout your home, table setting, and even down to the food you serve can help to create a complete atmosphere that mum will be talking about for years to come.