A Vintage Rock Anthem
Soulful singer/songwriter, Valentina Brave, returns with yet another vintage rock anthem, "This Place Your Soul" is out now. Yet another huge and impassioned anthem, this is an overwhelmingly powerful track with deep roots in soul and story.

Co-written by Brave and senior singerman Victor Rostron of the Dalabon peoples in Arnhem Land, and produced by Aria nominated artist Danielle Caruana (Mama Kin), "This Place Your Soul" is a heart-felt reflection on First Nation peoples connection and spiritual relationship with country.

This track underscores Brave as a feminine force to be reckoned with.


Interview with Valentina Brave
Question: How would you describe your music?

Valentina Brave: I write music in response to my own evolution as a woman. Genre wise it's kind of indie, vintage rock, soul? It's mostly super intimate storytelling that weaves together all the raw and sacred parts of my life like pain, healing, the mystic, transformation, hope and love.


Question: Can you tell us about This Place Your Soul?

Valentina Brave: I wrote it in homage to Australia's First Nations peoples. I wanted to write a song that was intentionally acknowledging that there is an ancient soul connection to country that I will never understand but have deep respect for. I collaborated with Victor Rostron who is a Senior Dalabon singerman from Arnhem Land. He wrote a verse in his language Kune, which speaks to what it means for him to 'belong to country'. He also sings one of his clans ceremonial Songlines, Mimih Kunborrk, to finish the song. It's incredibly special.


Question: What inspired This Place Your Soul?

Valentina Brave: I was playing around with lyrics that honoured the profound things I was seeing while I was living in the Northern Territory in community. I had never witnessed the depth of interconnectness with place like that before and felt inspired to try to articulate that in a song. As the song grew, I thought it would be powerful to include the perspective of someone who is actually from country. I'd done some music projects with Victor previously and asked if he'd like to collaborate. That helped inform the way the track moves from merely an observer point of view (mine), seeing this sacred ancient relationship between people and place, to what that sacred relationship truly means in the first person. I am humbled beyond words with how it all came together and how generous Victor was with sharing both his own perspective and his clans Songline.


Question: Is there a particular message you hope listeners take from your music?

Valentina Brave: I want to help give people permission to truly connect. Connection to our shared human experiences, our losses, triumphs, our strength of spirit. The more art that dares to be vulnerable and exposed, the more we see we are not alone. We share all these stories and there's so much deep healing and beauty available within the inquiry of that. I draw my music directly from my soul and my humanity. Consciously and intentionally. Sometimes it's raw and ugly, and sometimes it's light and full of hope. But it's always honest. That's what I hear in the music that moves and inspires me and that is what I try to bring to mine.


Question: Do you prefer performing live or recording?

Valentina Brave: I love both. The creative process in the studio can be so fulfilling. Like painting but with spirit and sound. Working with Danielle Caruana (Mama Kin) producing this track was a true example of that. Performing live, if I am present and connected, can feel like an outer body experience. People say performing music feels like church or prayer. I can relate to that. It's SO WONDERFUL to be with people and share stories with a room full of open hearts. It's a sacred thing I believe.


Question: Which is your favourite song to perform live and why?

Valentina Brave: It changes depending what mood I'm in. I have been loving singing a song that I'm yet to record called 'Sing Over the Bones'. It's a raw cathartic lament, super heavy and I just open up and let my voice pour through, which selfishly feels extremely therapeutic! I am also loving the new single 'This Place Your Soul' live. It's a heart-beat-of-the-world kind of groove and has such a deep vibe! I love the dynamic arrangement; it grows and evolves and takes on a great journey. The bridge is epic.


Question: If you could have anyone, in the world, attend a show, who would it be?

Valentina Brave: My grandmothers. They never really got to see me or hear me and I owe so much of who I am to them.


Question: What motivates you most when writing music?

Valentina Brave: When I am moved to write, it's usually either because of emotional overflow taking place OR I've been listening to someone epic while I'm cleaning my house and have a thousand ideas flood in and abandon the house work for the guitar. I am also starting to just show up to the act of songwriting as often as I can without waiting for divine inspiration. It's such a beautiful craft and using it as a kind of daily ritual benefits both my music AND my soul, which then also benefits my family and the other aspects of my life.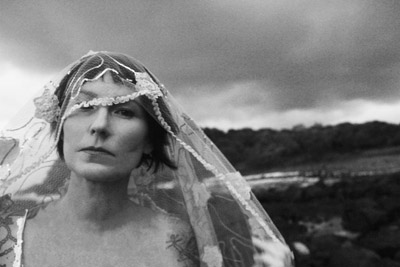 Question: Which music/artists are you currently listening to?

Valentina Brave: I am loving the new Sampa the Great album so freaking much! What a masterpiece! Also swooning for Moreton, Mama Kin Spender, Ngaiire, Tame Impala, Gang of Youths and Imbi the Girl.


Question: What or who was your inspiration to go into the music industry?

Valentina Brave: My Dad, he is a brilliant songwriter, played in bands throughout my childhood and put me on stage with him when I was seven. I have performed ever since. I also grew up watching my aunties perform. All insanely beautiful artistic women with so many creative talents. I wanted to grow up and just be just like them.


Question: If you could collaborate with another artist, who would it be?

Valentina Brave: David Le'aupepe, he is just incredible. And, Paul Kelly, Joni Mitchell and Willie Nelson.


Question: What's a typical day like?

Valentina Brave: Wake up with our kids at about 6.30am, breakie, feed the chooks, water the garden, coffee and ride to school. Then, Yoga and meditate.

I work from home on a few different projects so I'm usually at my desk juggling. These are all creative so I'm either making music or photo, film or music video editing. I do Sound Healing from my home and have clients come to the house throughout the week for sessions. I also hit the Op Shops on the regular. I'm obsessed.

Once the kids get home we'll do beach with our dog and more gardening. Food is very important to us so we always have loving nourishing meals together. Lately we've been binge watching Brooklyn Nine Nine. We'll read books and sometimes have a bangin Ukulele jam in the bedroom before the kids go to sleep. It's a little house of love. I am blessed.


Question: What has been your favourite part of becoming a music artist?

Valentina Brave: I think it's getting to explore the esoteric and emotional worlds as a job. Music is such an intangible divine thing and the opportunity to keep playing in that mystical place has to be the best job on earth.


Question: What's next, for you?

Valentina Brave: I am putting a killer band together now and I have a bunch of songs I want to record as soon as I can. Meanwhile, as the Coronavirus is holding everyone hostage I am taking advantage of this time to spend it with my family at home making art, being healthy and writing more music.


Question: Can you share your socials?

Valentina Brave: www.facebook.com/valentinabraveofficial
@valentinabrave
@valentina_brave
Spotify


Interview by Brooke Hunter