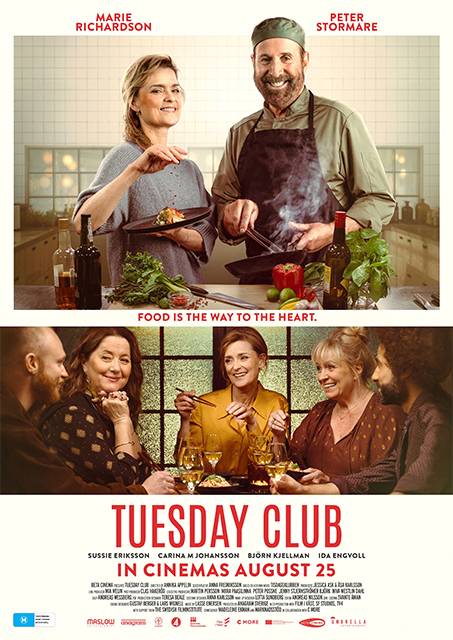 Tuesday Club
Written and Directed by: Annika Appelin
Produced by: Asa Karlsson, Jessica Ask (Only God Forgives, Filth, Force Majeure)
Maslow Entertainment has today announced the release date for, TUESDAY CLUB.
Written and directed by Annika Appelin
Starring Marie Richardson (Daybreak, Evil, Eyes Wide Shut), Peter Stormare (Fargo, Minority Report) and Ida Engvoll (A Man Called Ove).
The delightfully charming feel-good story of love, food, friendships and second chances is set to arrive in Australian cinemas nationally on June 9, 2022. The film will be distributed by Maslow Entertainment in partnership with Umbrella Entertainment.
Food is the way to the heart in this entertaining and heart-warming Swedish romantic comedy. When a
sudden change forces Karin (Richardson) to re-evaluate her life, an old school friend Monika persuades her
and their mutual friend Pia to join a cooking class led by renowned chef Henrik (Fargo's Stormare) – and so
begins the Tuesday Club. In the hot kitchen among exotic spices, amazing food, old and new friends, more
than one of Karin's long-lost passions are reborn as she refuses to accept that life has an expiration date and realises it's never too late to chase your dream.

TUESDAY CLUB releases in cinemas from June 9, 2022.