Hand Tools Are the Perfect Gift for the DIY Dad and Green-Fingered Mum
There's nothing more satisfying than completing a dream home or garden project, especially if it involves a whole family bonding session.

Hand tools for the DIY dad – from $14.98 - $59.98
Trojan offer an extensive range of good quality tools for the DIY dad including, affordable items that make the perfect gift.

Whether he's out building a deck or renovating the garage, the 40-Piece Stubby Set ($19.98) is the ideal all-round gift. Containing multiple tools in a hand carry case, including a Stubby Ratchet Screwdriver, Stubby Adjustable Wrench, Stubby Dual Ratchet Driver, 20 CRV Screwdriver Bits and 10 Sockets – you can't go far wrong.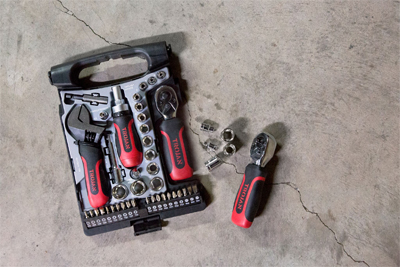 Another awesome addition to any toolbox is the versatile Three-in-One Staple Gun Set ($23.98), that fastens three different types of staples and is ideal for any woodwork or craft projects, or the Trojan Two-Way Rivet Gun ($29.98) which is also great for metal-work.

Other essential hand tools that are sure to please dad include Trojan's Six-Piece Wood Chisel Set ($59.98), or the trusty Trojan Turboknife ($14.98) made of carbon steel for a clean and accurate cut every time.

Trojan hand tools represent high quality design features and excellent value for money, and also offer a lifetime guarantee. Trojan tools are available exclusively through Bunnings Warehouse Stores nationwide and online. Find out more at: www.trojantools.com.au

Hand tools for the green-fingered mum – from $9.98 - $31.98
Help mum save some serious time and effort by treating her to the right tools for specific jobs, from a trusted and quality brand.

The Cyclone Foldable Seat and Kneeler ($31.98) is the perfect addition her tool collection, providing comfort and support for extended periods of time within the garden.

A classic item such as a Cyclone Stainless Steel Hand Trowel ($9.98) is always a welcome addition to a gardener's kit. Alternatively, the Cyclone Heavy Duty Bypass Pruner ($24.98) features soft grip over-mould handles which provides extra comfort and control when pruning, and is ideal for use on green wood.



No gardening gear is complete without gloves. The Cyclone Flexitec Gardening Gloves ($14.98) are ideal for light tasks. Made from synthetic leather and stretch fabric, they are comfortable, breathable and abrasion resistant.

Compact Bypass Pruner
The Cyclone Compact Bypass Pruner is ideal for pruning live & green wood. Perfect for small & medium sized hands.

Features:
SK5 high carbon steel blades
Non-stick, easy to clean PTFE coated blades
Glass filled nylon handles for added strength
Finger/thumb blade slide lock
Lifetime Warranty

Foldable Seat and Kneeler
The Cyclone foldable seat / kneeler is the perfect addition to the garden shed. Providing comfort and support for extended periods of time within the garden.

Features:
Helps to keep knees clean and free of mud and dirt in the garden
Strong and sturdy steel frame for kneeling or sitting
Lightweight for easy mobility around the garden and home
Soft foam padding for comfort

The Cyclone garden range comes with a lifetime warranty and is available nationwide at Bunnings Warehouse Stores and all good garden and hardware retailers. Find out more: www.cyclone.com.au
Review: Some very clever ideas for Christmas for people who have everything... Keep it simple this Christmas with helpful gardening ideas and you can't go wrong.