Studio Elwood's 2019 Art Collection Offering up Inspired and Accessible Prints
Art enthusiasts need look no further for inspired, impactful and affordable art prints with the launch of Studio Elwood's 2019 art collection, The Arch and The Flow series.

The limited-edition collection, created by Studio Elwood Creative Director and fine artist, Tory Burke, showcase the abstract minimalist style and thoughtful design approach which she is renowned for.

Tory says The Arch series was inspired by historical Roman architectural and ceremonial arches, seen in celebrations such as weddings to mark new beginnings.

"Earthy and rich colour combinations and overlapping oil paints were employed to give a regal and strong representation of the arch; and a 'golden mean', a horizon, was used to provide the arch its foundation and spatial context," Tory says.

"The original artworks were created on mounted Italian linen, which with its warm undertone, enhances the earthy neutral tones and allows for the execution of bold and definitive line work.

"This painting method was used so all the texture and nuances of the colours were present in the reproductions."

The second series in the collection, The Flow, was inspired by moving water, minerals and other natural elements required to nourish Australian flora and fauna.

"The dots and single brush strokes represent the pitter-patter of raindrops on forest foliage, and the running lines depict flowing water after a rainstorm," Tory says.

"White is representative of 'white heat', like the high temperature that radiates off hot metal; yellow signifies the heat from the sun; blue alludes to the clear Australian sky and cool, fresh mornings; pink and orange embodies the dust and dirt of the outback; and green symbolises the growth and regeneration that water brings."

A similar rubbing technique to The Arch series was used, allowing the texture and undertone of the linen to shine through.

Available in editions of just 50, each art print comes signed, numbered and is available framed or unframed. All artworks are printed on the finest fade-resistant, archival and acid free products using the 'Giclee' process – the print type that best retains an original artwork's integrity, colour intensity and detail.

Tory Burke's limited-edition Studio Elwood collection will be exhibited at Denfair Melbourne, from 20-22 June 2019 and will be available for purchase online from 20 June.

Studio Elwood's The Arch and The Flow series are available in multiple sizes and range from RRP $200-$825 (print only, framing additional).


Interview with Tory Burke, Studio Elwood Creative Director and fine artist
Renowned for her unique oil paintings and use of textured mixed media, Tory Burke is an Australian artist who gives new meaning to the term 'flora and fauna'.

From 1992-1995, Tory studied Art and Design at Melbourne School of Art under Robert Gill, where she developed her unique style and explored her far from traditional aesthetic.

When she's not painting with traditional oils, Tory works with a range of mediums on canvas and linen; and has developed interesting techniques with a palette knife, scratching into the painted surface to create texture, as well as dripping and bleeding glazes.

Having adopted a sense of minimalism and often featuring abstract paintings full of colour, strong line work and sparkling glazes, Tory has recently introduced Australian ceramics as a medium in her artwork, creating a unique 3D collage effect. She concentrates on the pattern, shape and form of the ceramics to add a sculptural element to her design, for example the feathers of a bird or the petals of a flower.

Tory has always been inspired by the environment having previously studied horticulture, specialising in indigenous plants and flora. Her work features flowers, trees, landscapes and an array of exotic birds, breathing life into every canvas.

Taking inspiration from several Australian artists, each has influenced different aspects of Tory's work. Margret Preston for her still life pieces; Robert Jacks for his abstract style and minimalism; Brett Whiteley for his unusual use of space and perspective; John Olsen and his freedom with simple line work and finally; Albert Namatjira for his strong colour contrasts and of course, his beautiful white ghost gum trees.

Tory is also the Creative Director of Studio Elwood, an Australian art brand that creates accessible and original limited-edition art prints. Studio Elwood's pieces have featured in Australian Home Beautiful, Inside Out and The Age and Sydney Morning Herald's Good Weekend.

Her commissions are often featured in private homes and corporate offices across the country.

For more information or to browse Tory Burke's fine art or collections for Studio Elwood, please visit:
@toryburke @studioelwood_art
www.facebook.com/studioelwood/
www.toryburke.com.au | www.studioelwood.com.au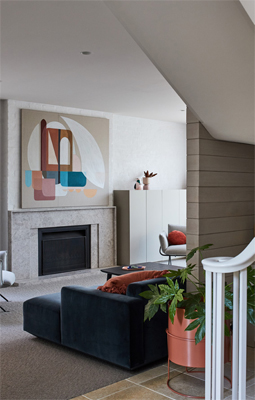 Question: Can you tell us about The Arch and The Flow series?

Tory Burke: The Arch series was inspired by 'The Arch,' a revolutionary weight baring design invented by the Etruscans and adapted extensively in historical Roman architecture and throughout the world.

Earthy and rich in modernistic colour combinations and overlapping oil paints were employed to give a regal and strong representation of the arch; and a 'golden mean', a horizon was used to provide the arch its foundation.

The original artworks were painted on Italian linen, creating a warm undertone, enhancing the earthy neutral tones and strength of the artwork

The second series in the collection, The Flow, was inspired by moving water, minerals and other natural elements required to nourish Australian flora and fauna.

The dots and single brush strokes represent the pitter-patter of raindrops on forest foliage, and the running lines depict flowing water after a rainstorm.

White is representative of 'white heat', like the high temperature that radiates off hot metal; yellow signifies the heat from the sun; blue alludes to the clear Australian sky and cool, fresh mornings; pink and orange embodies the dust and dirt of the outback; and green symbolises the growth and regeneration that water brings.

A similar paint rubbing technique to The Arch series was used, allowing the texture and undertone of the Italian linen to shine through.


Question: Where did you find inspiration when creating this series?

Tory Burke: I found inspiration from our Australian environment and the abstract idea of its organic water system for the Flow series. The colours are inspired by elements of our sunburnt land, and the abstract line work was painted to soothing music to create a relaxing flowing vibe.

The arch series was inspired by the Roman Arch. I therefore looked to modernistic regal and rich colours and a grounding horizon line that represents the foundations of all architecture.


Question: How important is it that this range is affordable?

Tory Burke: Very important - "Art for Life" is our slogan. We want our artwork to be affordable so everyone is able to enjoy their own special art collection every day in domestic spaces.

We pride ourselves on representing original Australian art and using the best quality 'giclee' print on the highest quality products all made here in Australia out of our local studio, in Melbourne.

We provide a signed limited edition of only 1/50 for each design keeping the turnover high and not saturating the market and therefore decreasing the value of the artwork.


Question: How can we choose the right sized artwork, for our home?

Tory Burke: When choosing a large piece, try to only fill up to 2/3rds to ¾ of the wall at the most, you don't want to make the room look smaller than what it is.
I love a diptych (2 panels) or triptych (3 panels) to work the same way as one giant canvas. It adds a flexibility especially if you move.
A trick is to use brown paper to copy the size and shape of the artwork/s and blue tack it too your wall to see if your hang will work visually.
A small little surprise that is strong in colour and personality can be a stunning touch to a nook or space, so big is not always the way to go.
Get a second opinion such as a knowledgeable friend or interior designer to confirm your choice is right and will work in your space.


Question: What are the pros and cons of framed and unframed artwork, for the home?

Tory Burke: Unframed artwork can get damaged by the elements so anything of value, especially if it is on paper should be framed and protected by glass.
We would all love to frame everything because it looks so good and finishes artwork off so nicely, however framing, especially a lot of artworks can be expensive, so to get creative with displaying your art is a good idea.
A large work can be a showstopper and often a fancy frame is unnecessary. I love a large painting or print on canvas unframed, only stretched, therefore, keeping the design clean, modern, unfussy and simple.
The framing rule is if the artwork is on paper or something that will be affected by change in temperature, moisture or humidity, it is required to be protected and put behind glass.
If the work is an oil or acrylic painting on canvas or a canvas print it can be stretched and framed without glass. Often a painting will have a protective glaze or UV coating over its surface like our canvas prints.


Question: What advice do you have for hanging artwork?

Tory Burke: Don't hang your artwork like Sir Les Patterson's teeth. Group a story of artworks together, leave a few white walls for breathing space especially around large artworks and don't be afraid to use art to create a balance in your interior space.
When hanging a group such as a Gallery or Salon hang, lay the works on the floor in front of your wall first to see if the sequence and spacing will be pleasing to the eye.
Hang artwork at eye level (generally the centre of the art work 1.5m from the floor) Not too high and not too low unless done for a reason or asosciation to another design element in the room.
A professional art installer is the best thing ever!
They take a fraction of the time, and you can be guaranteed that your artwork is hung securely and safely. I advise clients to build up their art collection so you have a few works to hang to make the process cost effective.


Interview by Brooke Hunter