Tom Williams The Ultimate Man-barrasment Interview
Tradies have been voted Australia's manliest men but their mums still buy their underwear!

The votes are in! According to a survey conducted by manly scented grooming brand Old Spice, Australian tradies have been voted Australia's most manly breed (53%), narrowly beating firemen (52%), security guards (50%), miners (49%) and mechanics (49%).

But what's most surprising is it seems our manly tradie heroes have achieved this great honour despite their mum's unwillingness to let go of their baby boys. In the Old Spice Great Manliness Survey, one third of the mums of tradie types aged 18-24 have been found to still buy their son's underwear (36%). Over half are still insisting on doing their son's washing (56%) and a third are following their son's every move on social media (32%).

And it gets worse for the most hardened of our rugged manly warriors. On the extreme end of the scale, no less than four percent of these mums have been caught stalking their tradie sons while on a date with a girl. Around the same number have called their son's girlfriend the wrong name on purpose. Another 8% of these mums have walked in on their sons while in the act.

Australia's most well-known tradie Tom Williams understands only too well. 'I for one love my mum, but even she has been known to cause the odd case of severe man-barrassment over the years. From sharing a naked photo from my childhood at my 21st to freezing out a girlfriend she didn't like. When I think back to my younger tradie days I really do understand these guys' plight," sympathised Tom.

But manly Aussie men fear not, there is a way to throw your mum off the scent. The latest ad from Old Spice, Momsong, makes it very clear that the Old Spice body spray will have mums lamenting their sons growing up and finally becoming men – and there is nothing she can do to stop it!

While having a manly occupation is one way to show your manliness, we all know Australia's manliness is inherent in our culture. Those who can't claim a manly occupation like to make up for it by enjoying beers with the boys (23%), watching Friday night football (20%) and hibernating in their self-constructed Man Caves (20%) – all good manly activities to do while wearing the manliest of Old Spice body sprays regardless of mum next door cooking you dinner!



Interview with Tom Williams
Question: Are you surprised that tradies are Australia's manliest workers?

Tom Williams: No way! We all know Aussie men are manly, but none more than the tradie. Tradies are capable of so many things. They know how to run a business, relate to clients, and build, maintain or create to the best of their knowledge. Tradies are great problem solvers; they think laterally and know how to execute a plan.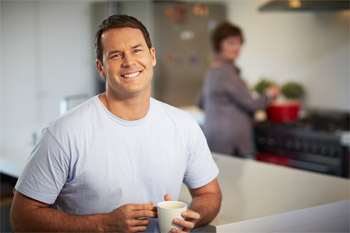 Question: Why do you think their mums still insist on buying their underwear?

Tom Williams: Personally, I think our Aussie mums have a problem letting us go! We depend on our mums so heavily and then we are off trying to live our lives independently. We all get girlfriends, partners, wives and mum feels she has lost us. Buying our underwear, cooking our dinner and doing our washing is something our mums have done for us forever, and makes them feel included.


Question: At what age did your mum stop buying your underwear, doing your washing and cooking your dinner?

Tom Williams: I moved out of home at 21, but returned most nights for dinner! And I'll admit it wasn't long ago that she stopped doing my washing and buying my underwear.


Question: Do you believe that many tradies are complaining about their mums insisting on cooking their dinner?

Tom Williams: Haha not one bit! There's nothing like having mums home cooking! But when I think back to my younger tradie days I really do understand these guys' plight trying to get mum to let go, we all want the best of both worlds.


Question: Can you share one of your man-barrasment stories?

Tom Williams: My mum held up a poster sized photo of me at age three at my 21st birthday, I'd been playing in the mud out the back of our house and I was butt naked! It was a full frontal shot! Also when it came to dating, mum certainly didn't hold back if she didn't like a girlfriend....she could be pretty icy, freezing out a girlfriend she didn't like. So I can really understand the plight of these young guys whose mums can't let go!


Question: What's the most -manly' thing we'd find you doing on a weekend?

Tom Williams: I'm always doing the odd DIY job around the house and let's be honest I'd never pass up a social game of footy with my mates!


Question: What makes the perfect man cave, for you?

Tom Williams: For me the ultimate man cave would have the essentials - beers on ice, a giant TV (that only airs the sports channels of course), a pool table, all my memorabilia and awards and then the most important of all, my tool kit.


Question: Why do you use Old Spice?

Tom Williams: Well I think that's obvious. Because I want to smell like a man, man!


Question: Where you surprised by any of the results of the Old Spice Great Manliness Survey?

Tom Williams: No, not at all! The survey found that us Aussie tradies have been voted Australia's most manly breed, beating other manly professions such as firemen, security guards, and mechanics. The survey also showed that despite our manly credentials our mums cant bare to let us go. They insist on doing our washing and awkwardly stalking us on social media.


Interview by Brooke Hunter