Tom Taylor The Deep DVD Interview
Voice Cast: Vincent Tong, Ashleigh Ball, Kathleen Barr, Michael Dobson, Brian Drummond
Rated: G
Running Time: 190 minutes

Based on the award winning graphic novels by Tom Taylor. It follows the adventures of the Nekton family"a brilliant team of underwater explorers. With state‐of‐the‐art technology and an unquenchable thirst for discovery, the Nektons explore the mysterious depths of the ocean, where most of our world lies unexplored and unexplained. While others look up to the stars, this family knows that an infinite number of things shine brightly in the darkness below. The deep is a place where leviathans swim through sunken cities, where pirates lurk amidst floating black markets, and where a mysterious group of Guardians hide long lost secrets.

The Deep DVD
RRP: $14.95


Interview with Tom Taylor, Lead Writer and Series Creator
Question: What inspired The Deep series?

Tom Taylor: The Deep exists, first and foremost, because I love comics. And, while I was writing Star Wars and DC Comics, I wasn't writing anything I could share with my young children. I read too much -all-ages' material that I felt was just a bit boring or too safe. I wanted to create something truly all-ages, which could entertain kids and adults, and which showed all ages could be capable heroes.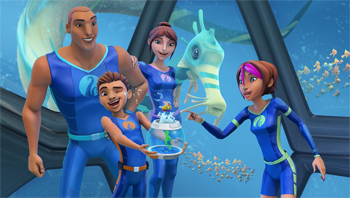 Question: How did you come up with the characters of the Nekton family?

Tom Taylor: We knew we wanted the Nektons to be explorers, and all be equally important. Ant is often our entry point to the series, but that's tied to his endless, innocent enthusiasm. Fontaine, his sister is a bit older. She's a bit more sceptical, but she's also artistic and just as likely to save the day. With their parents, Kaiko and Will, we really wanted to show two people who can be part of the action and who don't fall into the sitcom-traps of -the useless dad' and the -sensible wife.' Both have great skills and expertise, and together, we hope we show a whole family with different strengths and passions who can come together to save the day.


Question: Are the characters based on anyone you know?

Tom Taylor: Smiling Finn is named after one of my sons, and Mad Madeline is named after one of James Brouwer's children. There aren't a lot of similarities in the characters to the real-life people, but my children are definitely always a very big influence on my writing.


Question: Can you talk us through the project from graphic novels to television show?

Tom Taylor: I think we were just very lucky. The stories and the characters in the graphic novels, and James Brouwer's beautiful artwork meant the comics appealed to a lot of people. We sent it out to a producer friend of ours, Robert Chandler in England, and he was able to show it to Technicolor. Technicolor absolutely fell in love with the characters and the setting, just like we did. They optioned it, and turned to the wonderful Avrill Stark here in Australia to get things rolling. Avrill brought on ABC and Channel 7 and made this thing happen. We then set up a co-production with DHX in Canada and the rest is history. Now our graphic novels have grown into a television series screened all over the world, in many different languages, including showing on the BBC in the UK and Netflix in the US.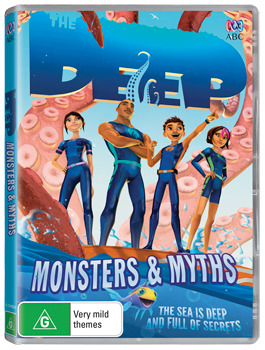 Question: What was the most difficult part about creating The Deep show?

Tom Taylor: There are a lot of challenges. It's not like comics, which is a small team of people. It's a very big team based all around the world and everybody gives input (all with the best of intentions). It's sometimes challenging to deliver for everyone, but all we can do is make the best show we can make for our fans around the world.


Question: Who did you make The Deep for?

Tom Taylor: My children first and foremost, and for all parents to enjoy, be entertained, and share with their own children.


Question: What's next, for you?

Tom Taylor: We're working on The Deep season 2, which is looking fantastic. I'm currently writing Wolverine for Marvel Comics – the new Wolverine is a woman called Laura Kinney, and were having a great time on that series. I'm also back writing Injustice for DC Comics, and a Justice League/Power Rangers crossover series which will be out in January. Finally, Batman will be in the same comic as a giant pink Pterodactyl robot.
The Deep DVD
RRP: $14.95
Interview by Brooke Hunter