Tom Kline Vintage Loneliness Interview
Melbourne singer songwriter, Tom Kline released his debut EP -Vintage Loneliness'' 2013 through TK Recordings/AWAL and will embark on a national launch tour.

Produced by Grammy award winning producer Francois Tetaz (Gotye, Kimbra) Kline and Tetaz have selected four tracks from a list, each with their own story and sound highlighting Kline's versatility as a singer songwriter, guitarist and pianist.

Described by FasterLouder.com.au as having raised the bar, Tom Kline has garnered a reputation for silencing noisy crowds with his unique voice and highly evocative lyrics.

His rare and expressive abilities on the guitar and piano serve as an accompaniment to his formidable voice that's capable of sending shivers down your spine.

Much loved in Melbourne's music circles, Kline enlisted the help of friends Bertie Blackman, Lior and Sophia Brous for backing vocals on two of the EP tracks.

'Tom has an amazing lyrical sensibility. I love the way he takes everyday objects and turn them into really evocative analogies," says producer Francois Tetaz.

Saturday October 26, The Workers Club, Melbourne, VIC (18+)
With Lenka, Tickets available from theworkersclub.com.au
Sunday November 3, The Evelyn Hotel, Melbourne, VIC (18+)
Tickets available from moshtix.com.au
Friday November 15, The Brewhouse, Sydney, NSW (All Ages)
Tickets available from brewhouse.eventix.com.au
Wednesday November 20, Alhambra Lounge, Brisbane, QLD (18+)
Tickets available from alhambralounge.oztix.com.au
Friday November 22 Bon Amici Cafe, Toowoomba, QLD (Acoustic)



Interview with Tom Kline
Question: What was the main motivation behind the EP, Vintage Loneliness?

Tom Kline: My dream is to write and perform music that moves and effects people. My main motivation for this EP was to push toward that dream and get a small selection of my songs out to the world.


Question: How would you describe Vintage Loneliness?

Tom Kline: I think it's quite a unique and diverse EP which was a conscious decision. The four tracks are all fairly different but at the same time still sound like me. I guess I find it hard to make a sonic comparison for that reason, but people tell me there is a Jeff Buckley vibe if anything.


Question: Was it difficult to choose only four tracks from a list for Vintage Loneliness?

Tom Kline: Yes! I had a big list to choose from as I'd been writing for a long time, but after a lot of thought I decided on four tracks and was ready to go. Then my producer, Francois Tetaz, threw a spanner in the works and totally changed it up at the last minute. He loves doing that sort of thing with me! Obviously I agreed to the changes because I really trust his judgment and experience, and his reasoning made sense. In the end it worked out well.


Question: Do you write your own songs? What's your inspiration?

Tom Kline: I collaborated with Francois on this EP, but I write my own music for the most part. Francois' input came in song notes. He'd usually give me a bunch notes to work off, but he only wrote directly when I was really stuck on a line. I draw inspiration from lots of things: past experiences, day dreams, how I'm feeling. I also enjoy writing from others' perspectives. It's fun trying to see the world someone else's eyes.


Question: What should audiences expect from a Tom Kline gig?

Tom Kline: I like to think that people can escape their lives for a little while and get lost in my stories. My set is diverse, intense and honest. I kind of feel like I'm publicly sharing my deepest and darkest secrets when I'm on stage.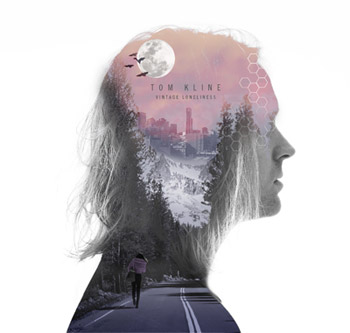 Question: What music/artists do you listen to when you are not playing your own?

Tom Kline: I'm into Bon Iver, Rufus Wainwright, Ryan Adams and the like. I love singer songwriters who write from personal standpoints. Jeff Buckley is one of my all-time favourites.


Question: Was there a moment you contemplated throwing in the towel?

Tom Kline: No. There have been countless moments where I really wanted to, but I've never really contemplated it. There's a big difference between the two! I think of those moments as tests. I like to imagine the sense of pride that I'd feel if I "made it big" and then looked back at the times where I didn't give up. To challenge adversity and win would be a great feeling.


Question: Do you prefer performing live or recording?

Tom Kline: I definitely have a lot more experience performing than I do recording, but I really love the challenge of both. They each have their anxiety triggers that you need to control, and they can both be incredibly rewarding and incredibly taxing. Performing live might just edge out recording for me, because I love connecting with an audience then and there.


Question: What/who was your inspiration to go into the music industry?

Tom Kline: Jeff Buckley had a huge impact on my life. He was so fearless and unapologetic, and his voice was a game changer. 'Grace" was the soundtrack to my formative years and has definitely influenced the way I write and view music. I've always loved music that moves you; I think it's such a powerful force. My main inspiration would come from a desire to move people with my music.


Question: What is the biggest challenge you have faced along the way to your musical success?

Tom Kline: started out was my biggest challenge and will probably always be my greatest achievement. I faced my fears and repeatedly put myself through hell to beat them. It was such a crucial battle. I couldn't have moved forward without beating that fear and that's something I'm really proud of.


Question: What's a typical day like?

Tom Kline: I get up really early to work on music - writing, practicing, emailing etc. I try and cram as much into my mornings as possible before I head to work. At this stage, I'm working full time in order to afford recording, touring, paying my band and all the rest, so it's a pretty full on life style trying to get everything done in such little time. After work I'm usually busy either gigging, practicing or going to see a show. Then I attempt sleep before doing it all again. The life of an independent muso!


Question: If you could collaborate with another artist, who would it be?

Tom Kline: It's hard to choose one. I'd love to collaborate with Antony and the Johnsons. Antony Hegarty is a fascinating person, and his voice his so unique. It'd be interesting if nothing else.


Question: Do you have a website fans can visit?

Tom Kline: Yep, here it is: http://www.tomklinemusic.com


Interview by Brooke Hunter