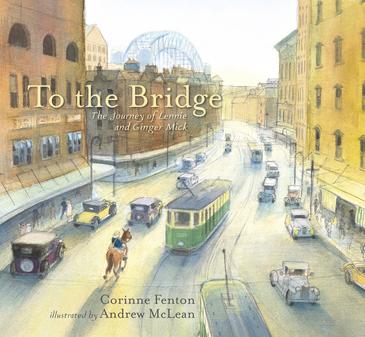 To The Bridge
By Corinne Fenton
Illustrated by Andrew McLean

The award-winning team of Corinne Fenton and Andrew McLean tell the story of Lennie Gwyther and Ginger Mick, a boy and his pony who crossed Sydney's Harbour Bridge on 19th of March, 1932 and marched into history.

Nine-year-old Lennie Gwyther dreamed of seeing the opening of the Sydney Harbour Bridge. With his father's blessing, he rode his pony Ginger Mick over one thousand kilometres from Leongatha in Victoria to Sydney, inspiring crowds of supporters to greet him in cities along the way. Through rugged bushland, fires and storms, Lennie and Ginger Mick finally arrived to see the bridge that had captivated his imagination and inspired his brave journey. It was then that he and Ginger Mick became a legend.

• A natural for schools, libraries and museums, this is a kid-friendly narration that captures a slice of Sydney's history and the history of its iconic bridge.

• This inspiring historical story is about persistence, resilience, bravery, courage and hope. It's about pursuing a dream and the impact that journey can have on those who follow.


About the author
Corinne Fenton has established a reputation for writing beautiful picture-book histories of animals whose lives have become legendary. Her award-winning books include: My Friend Tertius a Notable Book in last year's CBCA Book of the Year Awards, Bob the Railway Dog, The Dog on the Tuckerbox and Queenie: One Elephant's Story. Her titles Little Dog and the Christmas Wish and One Christmas Eve, were chosen as themes for the Myer Christmas Windows. Her 2019 release To the Bridge, is the true story of Lennie Gwyther and his pony Ginger Mick, both nine years old when they left Leongatha in Victoria to ride six hundred miles to Sydney to see the opening of the Sydney Harbour Bridge. www.corinnefenton.com


About the illustrator
Andrew McLean has been a full-time artist for more than thirty years. Andrew and his wife Janet have created many picture books together, and Andrew also illustrates books written by other authors. Many of his books have been award winners: he has won the Children's Book Council of Australia Book of the Year Award three times. Bob the Railway Dog (written by Corinne Fenton) was his first work with Walker Books.


To The Bridge
Walker Books Australia
Author: Corinne Fenton
Illustrator: Andrew McLean
IBSN: 9781925126822
RRP: $$26.99
Review: Children's book with substance, to The Bridge, has rustic beautifully illustration images and a story to capture young minds.