An Instagram scandal at a grammar school sparks outrage in an exclusive bayside suburb and upends the lives of the families involved. However, it might also prove to be the tipping point required to change the school, and the wider community, for the better.
Liv Winsome, working mother of three sons, wife to decent if distracted Duncan, is overwhelmed. And losing her hair. Her doctor has told her she needs to slow down, do less. Focus on what's important.

After Jai, one of her fourteen-year-old twins, is involved in a sexting scandal, Liv realises things need to change, and fast. Inspired by the pop-psychology books she devours, she writes a nine-page list of everything she does to keep the family afloat, and she delegates. She lets her boys' conservative school know it has some work to do, too – partly, Liv suspects, because its leadership has a 'woman problem' (or, rather, a too-many-men problem).

Jai's girlfriend, Grace, is at the heart of the sexting scandal and her mum, Jess Charters, up in arms as well, goes to the media. The women's combined focus forces Carmichael Grammar to take action. To everyone's surprise, and Liv's delight, things actually start to improve.

Inspired by his wife's efforts, Duncan rethinks the way he lives and works, too, despite the workaholic culture of his law firm and its scary managing partner, who's also Duncan's older brother. In unexpected ways, Liv and Duncan's marriage and family life undergo their own transformations. Some new developments, though, aren't entirely welcome.

Light-hearted and optimistic, Tipping is a novel for our times. It's a story of domestic activism. Mum and dad activism. Because real change is possible. Sometimes all it takes is a tweak. And the will. And a bit of fun.

About the author:
Anna George has worked in the legal world as well as the film and television industries. Her first novel, What Came Before, was shortlisted for the 2015 Ned Kelly and Sisters in Crime Best Debut Fiction awards, and was longlisted for the 2016 International Dublin Literary Award. She lives in Melbourne with her husband and two children.
Review: Easy to read, Anna really captures modern Australian life baring the good, the bad and the verging on crazy lifestyles we lead. A fantastic take on the ins and outs of family life and our own version of sanity. Totally loved it.
Tipping
Author: Anna George
Penguin
RRP: 32.99
Interview with Anna George
Question: What originally inspired the idea of Tipping?

Anna George: My family life! It's easy to become overwhelmed sometimes by the juggle. I wanted to try to capture how a family's life can become unbalanced, leading to overwhelmed mums and over-worked dads (and mums), and what we can do about it.

I was also thinking about sexism and how entrenched it seems to be in society and what we can do to dislodge it. I was thinking of writing about it somehow, when I came across a couple of news-stories.

The news-stories involved private school boys behaving badly, and a mini-uprising at another private school in Melbourne when a beloved deputy head lost his job because he gave one of the boys a haircut. (The boy's hair did not comply with the uniform code!). I was interested in the reaction of the communities at those schools. People had strong opinions on what had happened and what needed to be done to fix it. In the second case, where the man had lost his job, the students at the school along with parents and alumni rallied around deputy head and effectively campaigned for him to have his job back. And it worked. It turned out there were deeper issues at play than simply an ill-judged haircut. I decided to mix the boys behaving badly into a story set at a school where the whole school community becomes energised by a scandal and goes through a process of change. I was also interested in the idea of tipping points, and how to create one.

These news-stories gave shape to my story ideas.


Question: Who do you hope reads Tipping?

Anna George: Anyone interested in a playful look at how one woman changes her life and her community for the better by making simple tweaks.


Question: How did you develop your approach to domestic activism?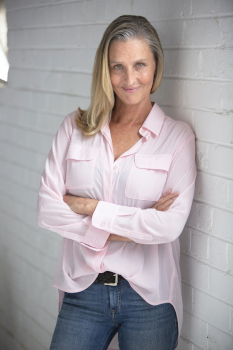 Anna George: I wanted to write about a character who decides to make the split of housework, child-care and paid work fairer between herself and her husband, and children. And she sets about making changes on the home front to achieve this. I think of this as domestic activism – consciously pursuing a course of action at home to achieve gender equality. Obviously, countless people do this every day but I wanted to write a story about people who had set off with good intentions but somehow their home life did not end up reflecting their values. Liv, my main character, finds herself almost exclusively the home-maker and child-carer, although she also works four days a week. And this does not suit her: she's constantly rushing and starts losing her hair... Meanwhile, her husband is always working and not particularly engaged in his family's life. Liv hopes the effects of her actions ripple out into the world as well, especially through her children.


Question: What did you learn, about yourself, whilst writing Tipping?

Anna George: I learnt that I enjoy writing with a playful tone of voice. I had a lot of fun crafting certain scenes or sections of the book; and I hope readers can feel that fun on the page.


Question: How much of your inspiration comes from real life and real people?

Anna George: A fair bit. I start with real life situations and glimpses of people and then spring from those situations and people into fiction. I have good friends who share their funny, strange and curious stories with me which is very handy too. I'm particularly grateful to one of my very close friends who told me about the time her husband locked her, accidentally, in the family car…


Question: Was it difficult reliving certain aspects/times of your life, whilst writing Tipping?

Anna George: I played around with moments from my family's life and used those moments in Tipping but there aren't any difficult times from my life in this book.


Question: What's the main message you hope readers take from Tipping?

Anna George: I hope readers are left feeling uplifted, optimistic and empowered to make small changes in their life – if they so desire. I'm hoping Tipping is an antidote to the burnout some people are feeling out there. It's meant to be fun.


Question: What research did you do, prior to writing Tipping?

Anna George: I researched the behavioural science into how people's behaviour can be changed, and how people are acutely attuned to the environments in which they live and work and study. So targeted changes to those environments can affect how they feel and behave. I found that fascinating. I tend to read a lot around the subjects that I write about and I keep reading as I write. It doesn't really stop. I read about the experiences of teenagers today, as well as watching them and speaking to them (and raising them). I read about education in the 21st Century and I drew upon my experiences in the workplace when I visited schools to interview principals and teachers in another life. I also read about various places in the world which have tried to shift behaviour and culture – like Harvard Business School, which around a decade ago recognized it had a gender equality problem and set about tackling it.


Question: What advice do you have for aspiring writers or artists?

Anna George: The path to publication and beyond can be a long and unpredictable one. You need grit and passion and hand-picked, affirming people around you to share the journey. It is a journey worth taking. Hang in there!


Question: What or who inspired your love of reading/writing?

Anna George: Probably my parents originally inspired my love of reading. I grew up in a house of books and my dad was forever giving me books to read. Both my parents were great readers and book clubbers. A love of reading directly feeds the love of writing, of course.


Question: What's next, for you?

Anna George: Ideas line up like taxis in my mind. Once one is pulling out, the next one pulls in ready to go. So, I'm thinking, researching, doodling around with ideas which will hopefully be my next book. I hope to stay with this light, fun tone, while exploring intriguing ideas.


Interview by Gwen van Montfort