Brisbane singer songwriter Tiarne is proud to unveil her new single 'Flora'. The delicate track sees Tiarne explore and understand how trauma has affected the behaviours of a loved one, in a touching and ethereal expression of folk and indie pop.

"'Flora' is about understanding how trauma has ultimately affected the way a person handles their relationships," says Tiarne. "I learned about a close family member having gone through a traumatic event and it all just made sense. It's an acknowledgement to mental health and also references areas of alcoholism and how I came to understand why people have or need coping mechanisms."

"Flora is a healing track and helped me to gain perspective and rebuild my relationship with this person."

Tiarne joined forces and co-produced 'Flora' with Dylan Lindquist at both her home and Dylan's studio SOFT NYLON. The single was mastered by Paul Blakey.

Indie/pop songstress Tiarne is a Brisbane based singer/songwriter. Inspired by a world of nostalgia and her loved ones, Tiarne blends her storytelling lyrics with sparse ambient soundscapes and organic instrumentation. Drawing influence from songwriters Julia Jacklin, Maggie Rogers and Lana Del Rey, Tiarne captures the essence of those that inspired her and paves her own pop sound.

Marking her debut on the scene in 2017, her single 'Kids' climbed the Triple J Unearthed ranks earning her a spin and a spot on the Red Deer Festival bill alongside Kite String Tangle and The Preatures. Her following single 'Golden' won hearts with a prominent feature in Netflix mini series 600 Bottles of Wine which also featured nationwide on Channel 11 and Virgin Australia Entertainment. Landing back onto the scene in 2020, her releases 'Rose Eyes' and 'Bayside' gained Triple J attention both with spins on Declan Byrne's Home & Hosed.

Known amongst her Brisbane music scene, Tiarne has played an array of shows in beloved venues such as The Triffid and Black Bear Lodge along with a music video opportunity filmed in renowned venue The Tivoli for Brisbane's QUBE Effect initiative in 2018. Growing from her music industry experience, Tiarne continued with her passion for writing and was offered the opportunity to attend QMusic's Amplify Songwriting Camp in 2019 working alongside prominent acts Janeva and DVNA.


Interview with Tiarne
Question: How would you describe your music?

Tiarne: I had a friend once describe my music to me as wholesome pop. Recently though I'd say my style has slightly morphed into a more alternative sound which is something I've been working towards for a while now.


Question: Can you tell us about Flora?

Tiarne: Flora is actually named after a street a family member of mine lives on. It represents their life and battles with mental health. Understanding their history has been very important for my growth and maintaining a healthy relationship with this person. It's definitely a triumphant track for me.


Question: Is there a particular message you hope listeners take from your music?

Tiarne: I hope listeners are able to reflect on their own mental health or relationships in their lives that may need nurturing. I think it's really important to take the time to understand why a certain person acts or behaves a certain way. Though it's not always our responsibility, I know that it's something that has personally helped me.


Question: Do you prefer performing live or recording?

Tiarne: This is such an interesting question! I can't believe my answer has changed and that I'm saying this but definitely recording. Don't get me wrong, I love performing but the creative energy involved in recording is something that really aligns with me at the moment!


Question: What was your first performance?

Tiarne: My first performance outside of my uni gigs when I was younger, was at Grill'd West End in Brisbane! I had a 20-minute set and scored myself a free burger. I was so nervous!


Question: Can we expect any upcoming shows?

Tiarne: At the moment the band and I are in rehearsal mode preparing for some shows! Keep your eyes peeled for some special announcements!!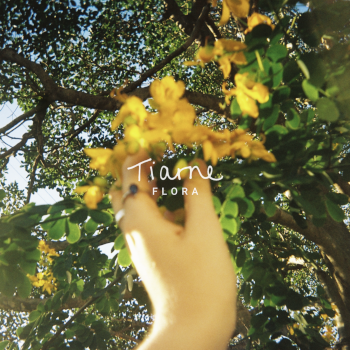 Question: What motivates you most when writing music?

Tiarne: I'd say the excitement of not really knowing what is going to come out. Most of the time I'll just open a new Ableton session, start with chords and from there it's a journey. I've really grown passionate about producing my tracks so I'm also very motivated to experiment with new sounds. Lyrics are very important to me and truly drive each song.


Question: Which music/artists are you currently listening to?

Tiarne: Listen, I am a true Swiftie and Taylor Swift's latest albums Folklore and Evermore have been on repeat! I've also been loving Phoebe Bridgers, Alexander Biggs and Her's. They all play on those eerie themes which I am always drawn to.


Question: What or who was your inspiration to go into the music industry?

Tiarne: I've never pictured myself doing anything else! I've always been so passionate about both the business and performance side. I'd say my inspiration though would have started from my childhood from my Dad teaching me The Beatles on guitar to me dancing around the house to Britney Spears' entire discography.


Question: If you could collaborate with another artist, who would it be?

Tiarne: It would be a dream to co-write and produce with Jack Antanoff! Every album he has collaborated on is pure magic! If we're talking local, I would love to write with Julia Jacklin or Alexander Biggs. I just love their music.


Question: How does it feel to hear your song played all over the airwaves?

Tiarne: It is such a special feeling! I think it's just a great acknowledgment of work. I'm very grateful to have the support of friends and family so when the industry is then supportive of your sound it feels like you're truly on the right path!


Question: What has been your favourite part of becoming a music artist?

Tiarne: Just the friendships and being a part of a really close-knit community. I'm quite lucky in Brisbane to be amongst true talents and just genuine people all together. Another element that I enjoy is that you never know what opportunities are coming your way.


Question: What's a typical day like?

Tiarne: Most days I wake up and dive straight into emails. Amongst the artist side of what I do, I also run my own music agency called Moonstone Artists where I help emerging artists with their release campaigns and publicity. Music publicity is another realm of the industry that I am very passionate about! It is such a thrill getting an artist a press win.


Question: What's next, for you?

Tiarne: Shows! We're really trying to put ourselves out there for gigs. I'm also in the midst of a music challenge where my friend and I are allowing ourselves 30 days to write an album! I've done this before and the last time was so valuable for my growth as a songwriter. I'm tackling it again!


Question: Can you share your socials? (links please)

Tiarne: Instagram www.instagram.com/tiarnemusic
Facebook www.facebook.com/tiarnemusic
Spotify https://open.spotify.com/artist/6I8NSBoNeBhNamvUdK7ddD?si=EvCrCBwMRwGfaJPWDiYdOQ
Unearthed https://www.triplejunearthed.com/artist/tiarne


Interview by Gwen van Montfort