Tia and Tamera
In season one of Style's hit series "Tia and Tamera", viewers witnessed Tia give birth to her beautiful baby Cree and Tamera's stunning wedding - so what's next for these caring twins? As they face the realities of motherhood and matrimony, Tia and Tamera will be leaning on each other now more than ever. The difficult moments will be lightened with some comedic relief as the girls give each other advice and share their fears when part two of the second season of "Tia and Tamera" continues Tuesday, January 8th at 9:30pm AEDT only on Style.
After nine months of sickness, pre-natal classes and then the birth, Tia is now navigating how to actually be a mother to her son, Cree. Concerns and doubts abound as she struggles to find the right balance between work and parenting. Tia tries to follow her maternal instincts and her heart when raising Cree but sometimes the question of "am I doing this right?" plagues her conscience.
Tamera spent months preparing for her dream wedding, and as she approaches her one-year anniversary, she wonders about her new role as a working wife. With homes in Los Angeles and Napa Valley, where her husband's family also owns a vineyard, Tamera finds herself pulled between two different worlds, struggling to decide where she will ultimately call home."Tia and Tamera" highlights the loving, funny and sometimes stressful relationship of these sisters who are trying to make their mark in the home and out in the world.
"Tia and Tamera" is produced by Good Clean Fun. The executive producers are Jason Carbone, Tia Mowry Hardrict and Tamera Mowry-Housley, along with Style's Sarah Weidman and Sitarah Pendelton-Eaglin.
The second season of "Tia and Tamera" continues Tuesday, January 8th 2013 at 9:30pm AEDT only on Style.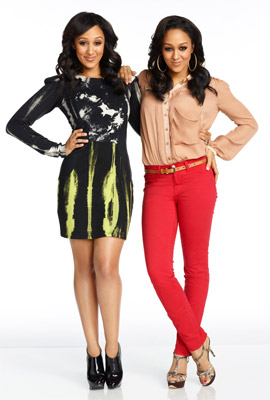 Interview with Tia Mowry Hardrict
Question:
What originally inspired you to say yes to a reality TV show?
Tia Mowry Hardrict
: I really wanted to give back to our fans; Tamera and I made a decision, since we were 13 years old, to give back to our fans. We've always been asked to do a reality show but we'd previously said no because we are very private but once we saw our fans stuck with us, for all these years, we wanted to show our fans who we really are, as people.
Question:
What should we expect from Season Two?
Tia Mowry Hardrict
: You definitely will see me struggling with being a working Mum because I'd just had Cree and I'm trying to find the balance. Also, my sister and I are crazy and you get to see that relationship and you'll see us start to work on our entrepreneurial ideas because we want to start working together, again. The biggest thing that you'll see is my sister, she is pregnant and you'll see her go through her pregnancy and the birth of my nephew.
Question:
Was it difficult to let viewers see you give birth to your beautiful baby?
Tia Mowry Hardrict
: One thing that I like about doing reality is my son will be able to get to see this one day and same thing with Tamera's son. We've documented our pregnancy and that whole experience which is really nice; my son can go back and look at the footage pre-birth to see what he did to his mama (laughs)!
Question:
Tell us about how this season showcases you perfecting the right balance between work and parenting?
Tia Mowry Hardrict
: I think it was the most difficult thing I have ever had to do, in my entire life. At first I felt extremely guilty because I'm leaving my son and I wondered if I was an unfit mother. I had to change my whole perspective on being a mum and I had to realise that I was working for our family and for him to have a better outlook on things and a better life as well as being an example for him. I'm letting him see that mummy works hard!
It is hard finding that balance and I don't think you can ever achieve a perfect balance.
Question:
How does it feel watching your show back? Do you watch it with Tamera?
Tia Mowry Hardrict
: We do watch it together. I cringe at moments when we're watching because I think 'why the hell did you say that?' or 'why did you respond that way?' but at the same time it's very therapeutic because you actually get to learn from the situations that you have put yourself through. I sometimes think 'oh wow, maybe I could have worked on that' or 'maybe I could have done this better' or if I didn't care about something I can think 'you don't have to be insecure about that, you were great!' It's a privilege, to be honest. Sometimes it's a little tough to have the cameras following me around all the time but you learn and grow.
Question:
Did you give advice to Tamera, during her pregnancy?
Tia Mowry Hardrict
: Yes, definitely! I had just been there before and being pregnant is difficult, it is hard and you have your moments. I was there to massage her back and feet and answer her questions that she had asked me about, it was fun! I feel grateful that I could help my sister.
Question:
Could you imagine doing a show without Tamera by your side?
Tia Mowry Hardrict
: No! I wouldn't do the show without my sister, no way, not at all!
Question:
Why do you enjoy practicing Yoga?
Tia Mowry Hardrict
: I absolutely love yoga, yoga is my go to, to relax and unwind and to do my body some good. I do live in a very stressful and fast-paced world and it's always nice to have something that can put me back into a calm state and that's what yoga does, it really does. If I find myself anxious or stressed about something and then I do yoga and I find myself at ease again, I really do.
Question:
You've written a book, can you tell us about it?
Tia Mowry Hardrict
: I wrote a book called Oh, Baby: Pregnancy Tales and Advice from One Hot Mama to Another and it is about my pregnancy experience. I decided to write the book because I felt like the only books that were out there were medically driven and so informative with no funny tone at all and that's what I really was missing. I wanted people to read a book that had a sense of humour and encouraged me to feel empowered about being pregnant. My book tells the experiences pregnant women go through from a tell-it-like-it-is approach whilst being funny and informative at the same time.
Question:
What are you currently working on?
Tia Mowry Hardrict
: I am working on a film with David E. Talbert called Baggage Claim which comes out in October and I'm really excited about that. I also just finished shooting Instant Mom for Nick at Nite and I get to play a mum which is the first time I've been able to play that role as a mum, it was nice to be able to use my real life experiences on a television show as a mum. Also filming season three of Tia and Tamera.
Question:
What will we see in season three of Tia and Tamera?
Tia Mowry Hardrict
: My sister and I have said this will be our rawest most honest season yet, the first two seasons were very raw and genuine because we don't know how else to do it but you'll definitely see more of the sister dynamic. Last season we showed more of my life and then my sisters life but this year it's going to be focused on the sisterhood that we have and us building a company and a brand together. We have different views and perspectives on things so you'll see us battle out those differences in how we build a company together.
You'll see our children together and that will be the fun, warm part of this season. When you see my sister and I together with our children first of all it's a hoot, it's hilarious but you'll also see Cree and Aden absolutely love each other.
Interview by Brooke Hunter