FORGET MONACO, WELCOME TO MADEIRA!


THREE DESIGN HOTELS™ MEMBERS BRING GLAMOUR TO THE ISLAND
Toss the orthopaedic footwear and bring on the Manolos! Madeira may once have been a destination for primarily blue-rinse coach guests, but it has evolved into a stylish island discovered by a new generation of travellers. Three members of Design Hotels™ are an intrinsic part of this development: The Vine, Choupana Hills and Estalagem da Ponta do Sol. They have brought a breath of fresh air along with contemporarydesign and modern lifestyle to the Portuguese paradise in the Atlantic Ocean. Each hotel provides a unique travelexperience. The Vine is the island's newest design hotel in the heart of the capital Funchal. With its rooftopterrace, Vinotherapy spa and Michelin-starred chef, the hotel is the place to stay for style mavens, young couplesor other hedonists. Others may prefer to head to the hills - Choupana Hills - a perfect hideaway in the mountainsof Funchal. Here Asian-inspired design and spa tradition make for a Zen-like experience. Estalagem da Ponta doSol captivates guests with its spectacular views from the top of a cliff and its minimalist design. Home to severalmusic festivals, this is where lovers of beats and rhythms will find their groove.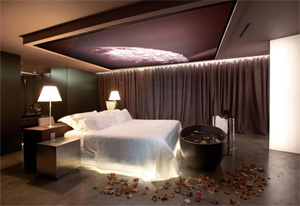 The Vine


Generous space and pared-down sophistication are the trademarks of this new property located in the centre of theisland's capital Funchal. The Vine takes its name and inspiration from the island's world famous Madeira wine.Interiors represent the vision of award-winning local designer Nini Andrade Silva who created a four colourconcept, reflecting the maturation of a grapevine throughout the seasons. At the hotel's spa, guests can indulge ina large offering of Vinotherapy treatments with products made of the finest grapes. Madeira's new hotspot is thehotel's rooftop terrace on the sixth floor. Here, guests swim in the infinity pool, relax on the ultra large sunbeds orenjoy a cocktail at the open-air bar - aptly named 360║ for its spectacular views. It's also the setting for chill-outparties, which happen every Saturday. Lounge music and Brazilian cocktails evoke a party mood attracting localsand hotel guests.
www.designhotels.com/the_vine_hotel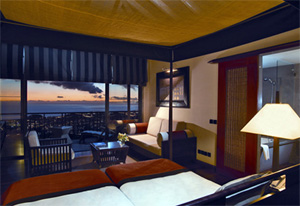 Choupana Hills


Choupana Hills was a trendsetter for the region. It was Madeira's second design hotel and has attracted a newsegment of visitors to Madeira - young urban professionals. For guests who want to get away from it all, this is it!Peacefully nestled in the mountains high over Funchal in a lush sub tropical environment, the resort perfectlycombines Asian and African accents with local materials. Natural resources, colours and lighting bring about alaid-back ambience that transports guests into the island state-of-mind. For ultimate relaxation, guests can head toChoupana Hills' award-winning spa that features outdoor and indoor pools, a sauna, an authentic Turkish bathand six treatment rooms. Or they can simply rest in their rooms, which are all located in bungalows. Innovativecuisine with a mix of local and exotic products is served at Restaurante X├┤pana, one of the first fusion restaurantsin Madeira. To balance out all the relaxation, guests are invited to go paragliding high over the mountains ofFunchal, scuba diving in the nearby sea or take a hike on the Levada walk that crosses the hotel.
www.designhotels.com/choupana_hills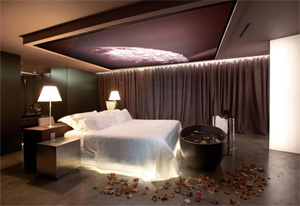 Estalagem da Ponta do Sol


Set on a top of a cliff, a more spectacular location is difficult to imagine. All of the hotel's sections dividethemselves along slate outcrops that tumble down to the sea. Estalagem da Ponta do Sol results from therenovation of an old "quinta", a mansion house dating back to the 19th century. The architecture of this starkwhite getaway enhances the natural beauty of its surroundings and creates a chic yet relaxed atmosphere. From theinfinity swimming pool, guests can enjoy unlimited views of the Atlantic Ocean, which seems just a dive away.Those looking for more adventure can do jeep safaris and rock climbing. Throughout the year, Estalagem daPonta do Sol sponsors several music festivals, including MADEIRADIG, an annual festival for digital art andelectronic music, attracting guests and artists from all over the world. The after hour sessions take place at thehotel's chill-out bar bringing together the public and artists in a relaxed party atmosphere.
www.designhotels.com/pontadosol