A daring hold-up. Passion. Revenge. A mystery that will echo through the centuries. A compelling romantic adventure, perfect for readers who love Darry Fraser.
1874,The Victorian Goldfields

In the town of Ironbark, Aurora Scott faces ruin as the railways supplant the Cobb & Co coach line, the lifeline of her hotel. Aurora is no stranger to adversity; the formidable publican has pulled herself from a murky past to build a respectable life in Ironbark. But when bushrangers storm the hotel, taking hostages as leverage for the Starburst Mine's payroll, Aurora has more trouble on her hands than she can handle.

This is no random act, but a complex scheme of revenge. The gang turn on each other. Shots ring out. And when the dust settles, the money has vanished, and so has Aurora Scott...

After 150 years, the mystery of the missing payroll has passed into folklore. And when journalist Melody Lawson helps her brother prepare for the town's annual Gold Hunt Weekend, she is just as drawn into the past as the tourists. But with a surprise inheritance her own family history becomes a puzzle, bound up with the fabled payroll - and as Melody follows the clues, danger mounts...

About the author
As well as writing for US publishers under the name Sara Bennett, over the years award-winning author Kaye Dobbie has also written for Mills & Boon/Harlequin as Deborah Miles, and as Lilly Sommers she has written five Australian historical novels. Many of her books have been published in languages including German. Kaye currently juggles her writing with sharing an old house and big garden with her husband and far too many animals.

The Road to Ironbark
HarperCollins Australia
Author: Kaye Dobbie
ISBN: 9781489249203
RRP: $29.99


Interview with Kaye Dobbie
Question: Why did you write The Road to Ironbark?

Kaye Dobbie: I wanted to write a goldfields story, but make it a little different from previous books that have been set at the height of the gold rush. The book has a dual timeline, the older story takes place in central Victoria at a time when gold towns are dying due to changing circumstances and dwindling gold. The modern story is set in the same town. Although Ironbark is a fictional place it was modelled on a real place in Victoria, where my parents owned a bakery for some years in the 1980s.


Question: Who do you hope reads The Road to Ironbark?

Kaye Dobbie: My books appeal to all ages and all sexes. I know this from the feedback I get. However probably the majority of readers are women who enjoy historical women's fiction with an Australian setting. Something with some mystery and romance.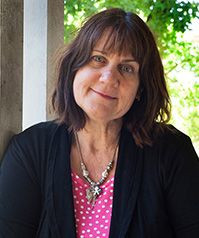 Question: What did you learn, about yourself, whilst writing The Road to Ironbark?

Kaye Dobbie: I learned I have a lot of determination and persistence! I also have a great support crew. This book was a difficult one to write, due to personal circumstances. I almost gave up several times, but somehow I kept going. Knowing I've succeeded against the odds is a good feeling.


Question: How much of your inspiration comes from real life and real people?

Kaye Dobbie: I am inspired by real events and real people, but they are usually not the well known historical figures you read about in biographies. These are ordinary people. Men and women who lived through the gold rush, especially women, who have always been the unsung heroes of our history.


Question: What's the main message you hope readers take from The Road to Ironbark?

Kaye Dobbie: I think my books are often about characters looking for a place to belong. Melody, in the contemporary story, has been searching for that place, and discovers it was right under her nose. In the past story Aurora has made a life for herself, and a home, only to have it taken away from her. I'm not sure there is a message in that, and all I really want my readers to take away is a feeling of satisfaction and enjoyment. I might take them to some dark places, but at the end I want to put a smile on their faces.


Question: What advice do you have for aspiring writers or artists?

Kaye Dobbie: You need persistence and a willingness to learn. Don't expect success to come easily, it rarely does, but if you love what you do, it will come.


Question: What or who inspired your love of reading/writing?

Kaye Dobbie: I grew up in a family of avid readers. Bookshelves wall to wall. My parents always had books in front of them, sometimes several. I have them to blame for my serious book habit.


Question: What's next, for you?

Kaye Dobbie: I'm working on my next Australian book, this one set in Tasmania. It's a little different from my previous books, which are all set in Victoria. It's another dual timeline with a mystery spanning both stories and some romance. I am also working on a couple of books I plan to self publish, so if I get stuck on one then I can always move on to another.


Interview by Gwen van Montfort