A wardrobe of Dior gowns, a secret kept for sixty-five years, and the three women bound forever by war... from the New York Times bestselling author of The French Photographer
England, 1939 Talented pilot Skye Penrose joins the British war effort where she encounters her estranged sister, Liberty, and childhood soulmate Nicholas Crawford, now engaged to enigmatic Frenchwoman Margaux Jourdan.
Paris, 1947 Designer Christian Dior unveils his extravagant first collection to a world weary of war and grief. He names his debut fragrance, Miss Dior, in tribute to his sister, Catherine, who worked for the French Resistance.
Present day Australian fashion conservator Kat Jourdan discovers a secret wardrobe filled with priceless Dior gowns in her grandmother's vacant cottage. As she delves into the mystery, Kat begins to doubt everything she thought she knew about her beloved grandmother.
Meticulously researched and drawing on inspiration from real-life people in WWII, including Catherine Dior, who was deported to Ravensbrück concentration camp, with a focus on how the first female pilots were treated in the war effort, The Paris Secret is an memorable story about the lengths people go to protect one another, and a love that, despite everything, lasts a lifetime.
To research The Paris Secret, Natasha Lester delved into the world of Christian and Catherine Dior and even touched some of Dior's 1947 dresses at The Powerhouse Museums archives. From the NGV exhibition in Melbourne, to the Dior's family home in Granville, Paris, Natasha Lester went on a trail of Dior to uncover the secrets of one of the most iconic fashion designers and his family. Inspired from her research, Natasha chose sixty-five gowns to appear within her book such as Hellebore – a dress made from silk rainbows – from Galliano's 1995 collection for Dior.
Natasha Lester worked as a marketing executive before returning to university to study creative writing. She completed a Master of Creative Arts as well as her first novel, What Is Left Over, After, which won the T.A.G. Hungerford Award for Fiction. Her second novel, If I Should Lose You, was published in 2012, followed by A Kiss from Mr Fitzgerald in 2016, Her Mother's Secret in 2017 and the Top 10 Australian and international bestsellers The Paris Seamstress in 2018 and The French Photographer in 2019. The Age described Natasha as 'a remarkable Australian talent' and her work has been published in numerous anthologies and journals. In her spare time Natasha loves to teach writing, is a sought-after public speaker and can often be found playing dress-ups with her three children. She lives in Perth.
The Paris Secret
Author: Natasha Lester
Hachette Australia
RRP: $32.99
Interview with Natasha Lester
Question: What originally inspired the idea of The Paris Secret?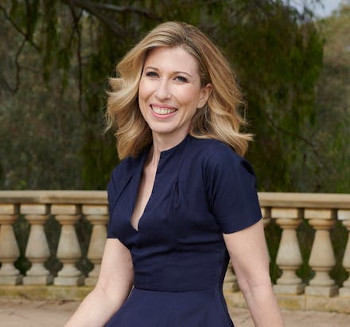 Natasha Lester: Three things inspired me to write the book. The first was that I heard about a woman being given a precious collection of priceless vintage couture by her godmother and I thought - I want to write about receiving a treasure like that! The second was that I read about Catherine Dior, Christian Dior's sister, who worked with the French Resistance during WWII. I also wanted to write about her. And, when I was writing The French Photographer, I came across a group of female pilots who worked for the war effort in England during the 1940s. Their story was fascinating and I knew immediately that I wanted to work it into a book. Thus, The Paris Secret was born.

Question: What did you learn, about yourself, whilst writing The Paris Secret?
Natasha Lester: I learned that I like to challenge myself. This book covers such a large period of time, and a big cast of characters. There is very little known about Catherine Dior, so she was a difficult person to research. Pulling so many threads together over three different time periods certainly stretched my writing muscles! But I also learned that challenging myself makes me a better writer - I think The Paris Secret is definitely my best book.

Question: How much of your inspiration comes from real life and real people?
Natasha Lester: Quite a lot. I really enjoy incorporating real people and real events from history into my stories. I especially like to find women who have been forgotten by history, like Catherine Dior; I hope to bring them back to people's notice. There's also a plot line in the The Paris Secret involving Dior's close connection to Australia that I haven't mentioned yet and this is another example of how much truth lies within my fiction.

Question: What's the main message you hope readers take from The Paris Secret?
Natasha Lester: That our generation is very lucky. There is still a lot of ground to make up in terms of the way women are treated, and we are certainly facing something very scary right now with COVID-19. But women in the past had to fight much harder than we generally do to follow their dreams – and putting one's life on the line for freedom and battling to survive a war made life much more treacherous than anything we are confronting right now.

Question: What advice do you have for aspiring writers or artists?
Natasha Lester: Stick with it, and write what you love. Writing is such a rollercoaster: you face a lot of rejection, travel through lots of highs and lows, and you never know when good luck is coming your way. So work hard, keep at it and the luck might come. Also, it takes a long time to write a book so you're better off choosing a topic that fascinates you as you're going to have to live with that topic for years.
Interview by Gwen van Montfort