The McClymonts
The McClymonts, have been touring the USA to promote the release of their first album 'Chaos and Bright Lights' through live television, radio and concert appearances. A special moment was when they were recently invited to sing the national anthem at a New York Yankees baseball game.
Wrapped Up Good, their second album, debuted at Number one on the country music charts and just days after its release stormed up to Number two position on the mainstream ARIA album charts and went Gold in ten weeks! It is clear Australia loves The McClymonts. And these darlings of country haven't stopped there with their success either, they also scooped themselves another Golden Guitar -their fifth - at this year's Country Music Awards of Australia for the 'Vocal Collaboration of the Year' with Troy Cassar-Daley for the song Ain't Gonna Change For You. Their third MO Award for Best Country Group was awarded to The McClymonts in May.
After seeing the first single of their album Kick it Up crack into Number one position, the sisters headed to Tamworth and were without doubt the toast of the festival. They performed two headline sold out shows and hosted the awards. To top off these monumental successes, the sisters' debut album Chaos and Bright Lights was recently certified gold and the title track - Wrapped Up Good - also went to number one on the country singles charts. There is no stopping The McClymonts, they're simply going from strength to strength and lighting up the country music world.
The McClymonts are no strangers to success. With their exquisite three-part harmonies, soaring vocals and stunning onstage presence, it's not surprising that The McClymonts have taken the Australian music scene's collective breath away. Since forming just a few short years ago, and releasing their debut album, Chaos and Bright Lights, they've dominated the Country Music Awards of Australia's Group of the Year category, winning the Golden Guitar three years in a row.
Individually, Brooke, Samantha and Mollie McClymont are amongst the most talented performers of their generation. But put them together, and The McClymonts weave a very special kind of musical magic. Their new single Hearts On Fire is out now.
For tour dates, please see:
www.TheMcClymonts.net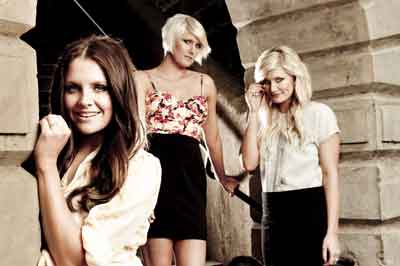 Interview with Mollie McClymont
Can you share with us the feelings of singing the national anthem at the New York Yankees baseball game?
Mollie McClymont
: Oh My Gosh! We were so nervous; it was our first time of doing the American National Anthem, together. We found out a week before, we had a week to learn it and you can't make a mistake in a National Anthem. It was a lot of fun, we didn't make any mistakes and we did really well.
We got to watch the game, after and we became baseball fans, it was so great!
Had you ever watched a baseball match before?
Mollie McClymont
: No, we hadn't! It was quite easy to understand, we had someone explaining it and we then were into it. It was great and interesting.
Which baseball team do you support, now?
Mollie McClymont
: We were at Detroit, we were supporting Detroit.
How would you describe Wrapped Up Good?
Mollie McClymont
: We wrote all the songs on this album; we were writing at a time when we were all in really good places and we just wanted the album to be happy, upbeat and have a good vibe about it. It has lots of happy songs; there aren't too many sad songs on the album. It has a great vibe.
How does it feel to hear your songs played all over the airways?
Mollie McClymont
: It's really cool! The first time we heard our song on the radio, we went crazy, it is very exciting. You always remember sitting in the studio or a bedroom writing the song. To hear it on radio is a really good feeling and we still get excited when our song comes up and we turn it up loud and sing along!
You write your own songs, what's your inspiration?
Mollie McClymont
: Yes, it depends. We might write about an experience, one of us experiences and then we put that together in a song; we might expand or exaggerate the story. We all go through different things so we are all coming from different places and then we chuck all our ideas together and come up with something.
What music/artists do you listen to when you are not playing your own?
Mollie McClymont
: We all listen to different music. I listen to whatever is on the radio, top 40. I love my country music; I listen to whatever CD's I have in my room, depending on my mood. I love Josh Turner, his in my CD player at the moment.
What's next? Tour/Album/Single?
Mollie McClymont
: We just got back from American, on a tour over there. We start an Australian tour, this weekend and then we do not stop until September. Then, we are going over to America, again, to support Jason Aldean. We are touring, touring and more touring until December.
Was there a moment you contemplated throwing in the towel?
Mollie McClymont
: No way! It is so good to have work and be busy, we are lapping it up whilst we can. In music, there comes a point where it will stop, one day. We are enjoying it and we have just got the new album out, so we are doing all new songs. We are excited to be playing and have people coming to our shows.
Do you prefer performing live or recording?
Mollie McClymont
: Definitely performing live. Recording takes a long time, you have to be pitch perfect and there is a lot of work. When you're performing live, you have the crowd performing your song and you get to interact with the audience, it is a lot more fun and enjoyable.
What/who was your inspiration to go into the music industry?
Mollie McClymont
: Brooke McClymont, she has always sang, even when she was really little she would tape herself, on the tape player, she'd put on concerts and she didn't stop. When Mum put her into talent quests, Samantha and I got bored watching her and decided that we were going to get up too. We have just been lucky. We got a record deal from being seen at a talent quest, singing. It all took off from there, we're just going with it.
What is the biggest challenge you have faced along the way to your musical success?
Mollie McClymont
: A challenge! There has been quite a few! Picking songs for the album, it's not just us who get to choose songs for the album, the record companies, management and others who choose; we have had to stick up for each other, to get what we want. We have been pretty lucky.
We are three sisters; we fight, we bicker, we share each others success- that all comes with it.
What's a typical day like for you, when you're on tour?
Mollie McClymont
: It's pretty boring, to tell you the truth! We get up, get in the car, drive to the next place, go to sound check, perform, and go to bed. It is quite boring; you'd think touring would be interesting and we'd lead a rock-star lifestyle, but we're grandmas (laughing).
What has been your favorite part of becoming a music artist?
Mollie McClymont
: Definitely going out to shows and festivals in Australia and America. We did a gig in America at Virginia Beach, on the sand, supporting Jason Aldean, we sang in front of 12,500! It was incredible.
Do you get nervous, before you walk on stage?
Mollie McClymont
: No, more excited. I think if you don't get butterflies, there is something wrong. It's more excitement.
If you could collaborate with another artist, who would it be?
Mollie McClymont
: We'd have to fight about this because we'd all choose someone different. In country I'd choose Carrie Underwood in the pop world, Lady Gaga.
Do you have a website fans can visit?
Mollie McClymont
:
www.TheMcClymonts.net
Can you tell us 5 things required for a happy healthy & enjoyable life?
Mollie McClymont
: Junk Food
Water
The Beach
Friends
Family