The Kite Machine Kick down the Walls before the Release of Their Debut Album
Hailing from Geelong, Victoria, The Kite Machine sway from swirly and dreamlike soundscapes to tight grooves and twisted guitar licks on their latest single 'Walls'. The band proves yet again that they are adept at taking listeners on a wild ride that takes one unexpected musical turn after another.

'Walls' is evocative of Smashing Pumpkins and Jeff Buckley in its most tender moments and channels the energy of Alt-Rock heroes Biffy Clyro and Birds of Tokyo at its grandest. Fans will also be pleased to know that the band's signature tight and well-constructed grooves are still very much intact. This melting pot of varied influences and contrasting sounds is testament to The Kite Machine's technical aptitude in crafting engaging songs and utilising a broad musical palette.

With their debut record soon to be released, The Kite Machine are deftly evading expectations and continuing to boldly carve out their own unique sound. 'Walls' is the 4th single to be lifted from their debut album which will be released March 15th.

The Kite Machine are Levi Anderson (guitar/vocals), Liam Brennan (bass) and Kane Sherriff (drums).


Interview with The Kite Machine
Question: How would you describe your music?

Liam Brennan: LOUD and heaps of groove!


Question: What inspired Walls?

Liam Brennan: Walls was the first musical collaboration between Me and Levi - we sat around at my Mum's house on a seriously hot day and arranged most of the instrumental section - then we took it in to practice and Kane gave the song way more spine! It's probably the MOST collaborative effort on the whole album.


Question: What can we expect from the upcoming debut album?

Liam Brennan: We've been a band touring and playing shows for quite a few years now, this is the definitive sound of The Kite Machine, anyone who's seen a show should get something out of this record as it's got elements of our past and also lots of us pushing our own boundaries.


Question: Which is your favourite song to perform live and why?

Liam Brennan: Top of the Hill is a definite favourite, it's the one we really get to turn it up and bounce around the stage. We're huge Rage Against the Machine fans and this one has Rage-y riffs for days.


Question: If you could have anyone, in the world, attend a show, who would it be?

Liam Brennan: BIG question! For us we just love playing to fans who know all the words and dance to all the tunes. But if we had to pick a celebrity? Maybe Bill Murray gets around some rock and roll too?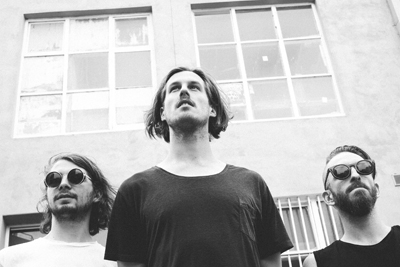 Question: Do you prefer performing live or recording?

Liam Brennan: We live for live music. Don't get me wrong we love the recording process and this album has taught us a lot about recording and producing our own music. But this band was born on the stage and that's where we like to be whenever possible.


Question: What is the story behind the band name?

Liam Brennan: There's no real story, they're just three fun words for a band making fun music!


Question: How did the band come together?

Liam Brennan: Levi started the band five or six years ago while studying music at Ballarat, then Kane joined soon after and did an EP (Lunatics). I met the guys around the time of their Lunatics launch show and they needed a new bass player so it all snowballed from there.


Question: What motivates you most when writing music?

Liam Brennan: We love getting inspired by sounds - often we'll be working on riffs or melodies and spend a whole rehearsal working out tones and effects to make sure everything is fresh and interesting. Levi has 4,000 guitar pedals so we've always got something new to play with.


Question: Which music/artists are you currently listening to?

Liam Brennan: Loving really local stuff right now. Easy Browns, Pinch Points, Wax Chattels (NZ but local enough) are all shows we've been to recently.


Question: What or who was your inspiration to go into the music industry?

Liam Brennan: We're just really proud of the music we make and we want to share it with as many people as possible. The music industry is a scary place but we're happy traversing if it means we get to travel, play shows and meet new people who love music as much as we do.


Question: If you could collaborate with another artist, who would it be?

Liam Brennan: I like the idea of an artist we dig coming in and producing something with us. It's pretty common nowadays so maybe not so out of the question. Like imagine if Josh Homme produced a record for TKM? That'd be wild.


Question: What is the biggest challenge you have faced along the way to your musical success?

Liam Brennan: This album creation process has been a HUGE undertaking, we're very hands on in all aspects of the project including the artwork, film clips (along with Connor Morel) and the production. It's a lot of work but we're very happy with the outcome so far and can't wait till it's all out.


Question: What's a typical day like?

Liam Brennan: Sleep in, get to work late, work overtime, late to band practice, get inspired, band practice goes forever, go home, sleep, repeat.


Question: What has been your favourite part of becoming a music artist?

Liam Brennan: The bonus of being an artist in the first place is that you share your passion with people who love your art. It's pretty wild that there's a whole group of people that want to come support us just because they like the music we make - for any artist it's got to feel rewarding that what they're doing is connecting with people and making their lives a little better!


Question: Can you share your socials?

Liam Brennan: Facebook: https://www.facebook.com/TheKiteMachine
Twitter: @thekitemachine
Instagram: @thekitemachine

Interview by Brooke Hunter