The Hobbit: An Unexpected Journey
Cast: Ian McKellen, Martin Freeman, Richard Armitage, Cate Blanchett, Ian Holm, Christopher Lee, Hugo Weaving, Elijah Wood, Andy Serkis, Manu Bennett, Jed Brophy, Adam Brown, John Callen, Mark Hadlow, Peter Hambleton, Barry Humphries, Stephen Hunter, William Kircher, Sylvester McCoy, Bret McKenzie, Graham McTavish, James Nesbitt, Dean O'Gorman, Conan Stevens, Ken Stott, Aidan Turner
Director: Peter Jackson
Genre: Adventure, Fantasy

Synopsis: The three films tell a continuous story set in Middle-earth 60 years before "The Lord of the Rings," which Jackson and his filmmaking team brought to the big screen in the blockbuster trilogy that culminated with the Oscar®-winning "The Lord of the Rings: The Return of the King."

The adventure follows the journey of title character Bilbo Baggins, who is swept into an epic quest to reclaim the lost Dwarf Kingdom of Erebor from the fearsome dragon Smaug. Approached out of the blue by the wizard Gandalf the Grey, Bilbo finds himself joining a company of thirteen dwarves led by the legendary warrior, Thorin Oakenshield. Their journey will take them into the Wild; through treacherous lands swarming with Goblins and Orcs, deadly Wargs and Sorcerers.

Although their goal lies to the East and the wastelands of the Lonely Mountain, first they must escape the goblin tunnels, where Bilbo meets the creature that will change his life forever…Gollum.

Here, alone with Gollum, on the shores of an underground lake, the unassuming Bilbo Baggins not only discovers depths of ingenuity and courage that surprise even him, he also gains possession of Gollum's "precious" ring that holds unexpected and useful qualities… A simple, gold ring that is tied to the fate of all Middle-earth in ways Bilbo cannot begin to know.

The Hobbit: An Unexpected Journey
Release Date: December 26th, 2012
Website: www.hobbitmovies.co.uk



About the Characters and Creatures
BILBO BAGGINS
Like all Hobbits, Bilbo Baggins is fond of his comfortable existence; all he needs to be happy is a full pantry and a good book. When the Wizard Gandalf and 13 Dwarves unexpectedly appear on Bilbo's doorstep and invite him to join them on a dangerous adventure, Bilbo's life changes forever. Initially skeptical of the invitation, Bilbo's spirit of adventure leads him to join the Company of Thorin Oakenshield and become the "burglar" required to complete their quest to outwit a ferocious dragon and reclaim the Dwarves' stolen treasure. To everyone's surprise, including his own, Bilbo's wit and courage prove that there is indeed more to this Hobbit than meets the eye.

GANDALF THE GREY
One of the most powerful Wizards in all Middle-earth, Gandalf the Grey joins the quest to reclaim the Dwarf Kingdom of Erebor and the great treasure that lies within its stone halls from a fire-breathing dragon, Smaug the Terrible. Along the way, Gandalf finds evidence that an ancient evil may have found its way back into the world. In order to uncover the truth, Gandalf must leave his companions to fend for themselves - a journey that will take him into darkest corners of Middleearth where his worst suspicions are confirmed.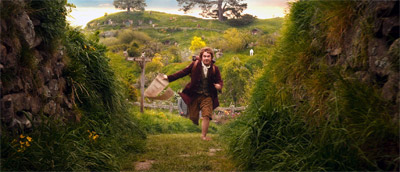 THORIN OAKENSHIELD
As a young Dwarf Prince, Thorin witnessed the destruction and terror wrought when a great fire-breathing dragon attacked the Dwarf Kingdom of Erebor. When no one came to the aid of the surviving Dwarves, a once proud and noble race was forced into exile. Now, as the strong, fearless fighter and respected leader of The Company of Dwarves, Thorin is determined to reclaim his homeland and destroy the beast that brought such misery upon his people.

BALIN
A descendant of nobility and a Dwarf Lord in his own right, Balin is one of the oldest members of The Company of Dwarves. Wise and gentle by nature, he has been forced to live a life fraught with war and the ongoing struggle for survival. Related to Thorin Oakenshield, Balin is one of his closest, most trusted advisors - but deep in his heart, this wisest and most loyal of Dwarves harbors troubling doubts about the wisdom of the Quest for the Lonely Mountain.

DWALIN
Renowned as a great Warrior, Dwalin speaks his mind plainly and is not one to suffer fools lightly. Fiercely loyal, he is Thorin Oakenshield's staunchest supporter with an unshakeable belief in his friend's leadership. A powerful and bruising fighter, Dwalin has a natural tendency to distrust anyone who is not a Dwarf and is particularly suspicious of Elves. Proud, brave and one of the tallest of the Dwarves, Dwalin will bow to none but those who have earned his respect.

FILI
Fili was born into the royal line of Durin and raised under the stern guardianship of his uncle, Thorin Oakenshield. Along with his brother Kili, Fili is one of the youngest in The Company of Dwarves. He has never traveled far, nor ever seen the fabled Dwarf City of Erebor. A skilled fighter, Fili sets off on the adventure ahead with little idea of the challenges and dangers that lie before him.

KILI
Younger brother to Fili, Kili is a loyal nephew to Thorin Oakenshield. Carefree and somewhat reckless, Kili has led a charmed and untroubled life to this point. Handsome and physically able, Kili possesses the invincible courage of youth. He is a skilled fighter and expert archer, having been trained with weapons from an early age. As one of the youngest in The Company of Dwarves, Kili is determined to make his mark and prove his worth.

BOFUR
Endearing and likeable, Bofur has a disastrous tendency to state the obvious and blurt out things without thinking. With a love of music and a fine singing voice, Bofur delights in good food and good company and is unfailingly optimistic. Though not especially brave, he will do his best to help those in need, especially those he counts as friends. Along with his brother Bombur and his cousin Bifur, Bofur joined the Quest for the Lonely Mountain partly to seek his fortune - and partly because he was told the beer was free.

BIFUR
Born in the West, Bifur has the rusting remains of an Orc axe embedded in his forehead, which has rendered him inarticulate and occasionally feisty! He communicates only with grunts and hand gestures. Unlike most of the others in The Company of Dwarves, Bifur is not related to Thorin, nor is he of noble lineage, but rather is descended from miners and smithies - simple folk with simple tastes.

BOMBUR
Brother to Bofur and cousin to Bifur, Bombur is the chief cook amongst The Company of Dwarves. His immense size and voracious appetite causes frequent problems - and laughter - for himself and The Traveling Party. Despite his size he can be surprisingly effective as a fighter - and woe betide anyone who makes him late for dinner!

GLOIN
Of all the members in The Company of Dwarves who set out on the Quest to The Lonely Mountain, Gloin is the most outspoken and opinionated and is not afraid to challenge authority. He has a tendency to be quick-tempered, but he is also strong, brave and loyal. Gloin is one of the only married Dwarfs in the Company (there being a shortage of female Dwarves in general). His wife is an acclaimed beauty with a particularly fine beard. Gloin is also the proud father of a young son, Gimli, who will later grow up to become part of the famous Fellowship of the Ring.

OIN
Along with his brother Gloin, Oin is a distant cousin of Thorin Oakenshield. A brave Northern Dwarf, Oin joins The Company of Thorin Oakenshield out of a sense of loyalty to his kin, and also because he has a substantial sum of money invested in the venture. Well read with an enquiring mind, Oin is the healer among the Company, often applying an herbal salve of his own invention - which has since come to be known as 'ointment' after its maker.

DORI
A distant relative of Thorin Oakenshield, Dori is the eldest amongst his brothers Ori and Nori. He is the strongest in The Company of Dwarves, and spends much of his time watching out for Ori, making sure he hasn't caught a chill or gotten himself killed by Wargs or Goblins. Eternally pessimistic, with a natural tendency to expect the worst, Dori is nonetheless quite prepared to risk life and limb in order to get the job done.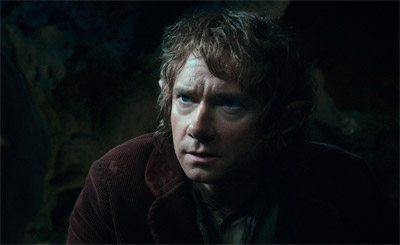 NORI
Perhaps the most elusive member of The Company of Thorin Oakenshield, Nori is often in trouble with the dwarvish authorities. Deciding it might be a good time to leave town, he readily joins the Quest for the Lonely Mountain, not realising the journey ahead may well lead him into far more trouble than he has left behind. Nobody ever quite knows what the quick-witted and wily Nori is up to, except that it's guaranteed to be dodgy and quite probably illegal. Despite rarely seeing eye-to-eye with his brothers Dori and Ori, he is nonetheless immensely loyal and will protect them by whatever means possible.

ORI
Younger brother to Nori and Dori, Ori is a talented artist, and can often be found drawing and writing in his journal. It is Ori who chronicles much of the journey through The Wild to the shores of the Long Lake and the slopes of The Lonely Mountain. Polite and well-bred, he is used to being bossed around by his older brother Dori and is usually biddable, although occasionally his can surprise his fellow companions with his courage and determination.

WIZARDS
RADAGAST THE BROWN
Forgetful, easily distracted and quite eccentric, Radagast is more comfortable talking to animals than he is to people. A fellow Wizard and friend of Gandalf the Grey, Radagast is one of the guardians of the great forests of Middle-earth. Often found wandering the woodlands near his strange little home called Rhosgobel, a sense of dark foreboding has come upon the little Wizard - all is not as it should be in the darker reaches of Mirkwood.

SARUMAN THE WHITE
Revered and powerful, along with the four other Wizards of Middle-earth, Saruman keeps watch over Middle-earth - seeking always to maintain order and balance in the world. Saruman in particular likes to arrange the fortunes of the free peoples as he sees fit. As head of The White Council he grows concerned that the actions of Gandalf the Grey and The Company of Thorin Oakenshield might disrupt his careful calculations. Though ancient and wise, Saruman's underlying weakness is his strong desire for power - a desire that will ultimately lead to the most deadly of alliances.

ELVES
ELROND
One of the wisest and most ancient of the Elves remaining in Middle-earth, Elrond is Master of Rivendell, the Last Homely House East of the Sea. During The Company of Thorin Oakenshield's brief stay, Elrond provides shelter and supplies to Bilbo and the Dwarves who, despite their natural aversion to Elves, are more than happy to accept it. Though leery of their quest to reclaim the Dwarves' stolen treasure, Elrond reveals the secret information Gandalf and Thorin need to make it to The Lonely Mountain.

GALADRIEL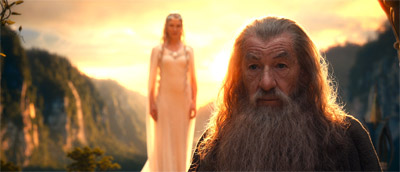 Oldest of all the Elves that remain in Middle-earth, Galadriel is possessed with the gift of foresight. When signs point to an evil rising within Middle-earth, she secretly supports Gandalf on his quest to reveal its source, knowing that should they fail, the fight against this growing malice will falter, and darkness will prevail.

OTHER CHARACTERS
TROLLS
Tom, Bert and William are Trolls that have taken up residence in Trollshaw Forest where they pillage and feast on all who cross their path. When The Company of Thorin Oakenshield unwittingly interrupts their nighttime feast, the Trolls capture Bilbo and The Company of Dwarves and quickly settle into making a meal out of them-unaware that Bilbo and his friends are not such easy prey.

GOBLIN KING
The Goblin King is a giant, vain, grotesque creature, grown fat and flabby through years of tyrannical rule over the wretched inhabitants of Goblin Town - a ramshackle collection of slums located deep in the caverns of the Misty Mountains. He lords over a horde of twisted and diseased Goblins covered in scars and sores. Scavengers at heart, living off whatever travellers they can waylay in the high passes of the mountains, the Goblin King and his minions manage to capture Bilbo and the Dwarves. More cunning and knowing than his appearance would suggest, the Great Goblin delights in tormenting his captives and very nearly manages to bring the Company of Thorin Oakenshield to a nasty end.

GRINNAH
Chief interrogator of the Goblins, it is Grinnah who ensures that Thorin and Company are brought before the Great Goblin. With his spiked whip in hand, Grinnah revels in every chance he gets to use it. Although cunning and vicious, he is, like all Orcs, a coward at heart. Obsequious and fawning, in secret he loathes his master, the fat and capricious Great Goblin.

GOLLUM
Once a hobbit-like creature named Sméagol, Gollum's body and soul have been poisoned by the power of a small, plain, gold ring that he has kept hidden deep in a dark cavern within the Misty Mountains. Unaware of the true nature this Ring, Gollum knows only that it is more "precious" to him than life itself. Following a chance encounter with an unlikely adversary, Gollum discovers he has lost his "precious" - suspecting, quite rightly, that it is now in the possession of one Bilbo Baggins, a Hobbit of the Shire. Thus begins a pursuit that will cross mountains and wastelands, span years and cost many lives until at last, this wretched creature will hold the very fate of Middle-earth in his hand.

EAGLES
An ancient race of giant birds of prey, the Great Eagles of the Misty Mountains are led by Gwahir, the Windlord. They are wild and dangerous creatures who owe allegiance to no one. It is only because of their loyalty to the Wizard Gandalf that the giant birds fly to the aid of Bilbo and the Dwarves, saving them at the last minute from the clutches of a deadly foe.

WARGS
Large and ferocious wolf-like creatures, Wargs are some of the most fearsome predators in all of Middle-earth. Reared by Orcs to hunt in packs, Wargs often carry Orc-riders into battle.

The Hobbit: An Unexpected Journey
Release Date: December 26th, 2012
Website: www.hobbitmovies.co.uk