Doctors dedicate their lives to saving lives and make life-or- death decisions daily, but they're often so busy taking care of others that they neglect to take care of themselves. Burnout is running rife throughout healthcare and something needs to change – fast.

In the new book, The Heart-Centredness of Medicine, Dr. Olivia Ong provides a practical guide to combatting burnout. As a result of an accident that left her paralysed from the waist down, Dr Olivia found out exactly what it's like to be on the other side of the healthcare system. She spent years as a patient in hospitals and rehab facilities in an attempt to regain some of the capabilities that had been torn away from her. This experience inspired her to address the unspoken toll that doctors bear when they don't find the support they need to stay well.

Drawing upon extensive experience as a pain physician, coach and speaker, along with Dr Olivia's own experience with burnout, The Heart-Centredness of Medicine shares the key principles, strategies, and heart-based tools that professionals can use to help manage stress and improve your life.

About the author
Known as the Heart-Centred Doctor, Melbourne-based Dr Olivia Ong is a medical leadership coach, pain physician, author and speaker. After a severe car accident in 2008 when she was told she would never walk again, she defied the odds and was able to walk just two years later. Dr Ong's global mission is to help fellow doctors suffering from emotional and physical burnout to discover the benefits of mindful self-compassion and creative development for both themselves and their patients and runs programs helping doctors transform their lives from burnout to brilliance. Through her public and private practice, Dr Ong empowers patients with medical and holistic pain management treatments to manage chronic pain, neurological disabilities and/or rehabilitation so they can live fulfilling lives. This is her first book.

The Heart-Centredness of Medicine
Dr. Olivia Ong
Publicious Book Publishing
RRP: $32.99


Interview with Dr. Olivia Ong
Question: What originally inspired the idea of The Heart-Centredness of Medicine?

Dr. Olivia Ong: I wrote The Heart-Centredness of Medicine because I was seeing way too many doctors suffering emotionally, mentally and spiritually from burnout. The medical profession is already experiencing burnout way before the pandemic and burnout is much worse now. Burnout shows itself in emotional and physical exhaustion, which can lead to depression, anxiety and other mental health issues. I wrote this book because our doctors are facing a health crisis, I've been there, and I understand it.


Question: Who do you hope reads The Heart-Centredness of Medicine?

Dr. Olivia Ong: I hope that doctors, nurses, paramedics and other healthcare professionals read the book. We need to help doctors, nurses and other healthcare professionals to acknowledge that they may need support with their own emotional and mental health, just as they would care for their own patients. All doctors, nurses and paramedics have to understand that, even if they are not burnt out, they are at risk of burnout and they have to notice the early signs of it.


Question: Can you tell us about your own rehab-story?

Dr. Olivia Ong: In September 2008, after being hit by the car in a hospital carpark, the impact broke my back and I became a paraplegic, where I was paralysed from the waist down. I was not able to move and feel my legs. I was diagnosed with a spinal cord injury, a very serious injury. I was told I will never walk again. I was only 28. I remembered how devastated I felt, the anguish, the mental and emotional pain….

I was in hospital for 6 months. I had to adjust to life being in a wheelchair, day in and day out. But I never gave up my hope and dreams of walking again. In 2010, I heard about Project Walk in San Diego, United States, a SCI recovery centre that helps SCI survivors walk again. I told myself that I have to give myself a chance to walk again and I will do everything and anything it takes to achieve my goal to walk again. With my supportive husband John by my side, we relocated to San Diego to do intensive rehab at Project Walk for a couple of years and I walked again, with a limp and 2 canes.


Question: Did you learn anything about yourself, whilst writing the book?

Dr. Olivia Ong: At first, I thought that the state of art technology at Project Walk was what was going to help me heal myself from my spinal cord injury but after spending three years there I realised that my experience at Project Walk taught me a far more powerful life lesson: self-compassion. See, my experience to learn to walk again was the exact opposite of my life as a resident doctor. Instead of being on autopilot, I had to be mindful of each step I took. Instead of being a lone ranger struggling to seek help, I connected with fellow spinal cord injury survivors, bound together by our common humanity and our common suffering being spinal cord injury. Most important of all, instead of being a perfectionist beating myself up for every mistake I made, I learnt to accept myself for who I was. Mindfulness, common humanity and self-acceptance. These are the 3 pillars of self-compassion, and these were the things that gave me self-worth.

This experience made me a better doctor because it made me more compassionate and empathetic towards my patients. Being both a doctor and a patient widened my perspective on a personal and professional level. This gave me the ability to fully know how my patients feel and have to experience, and that we can all be better doctors for it.


Question: Was it difficult reliving certain aspects/times of your life, whilst writing The Heart-Centredness of Medicine?

Dr. Olivia Ong: Yes, it can be difficult reliving certain aspects/times of my life, whilst writing the book but my self-compassion practices have helped me to be aware and acknowledge my suffering, seeking help when I need to and accepting and forgiving myself for suffering by being kinder to myself. In overcoming my adversity, I learnt to be more resilient and through post-traumatic growth from my experience with my spinal cord injury, I am now able to face any challenges in my life with grit and determination.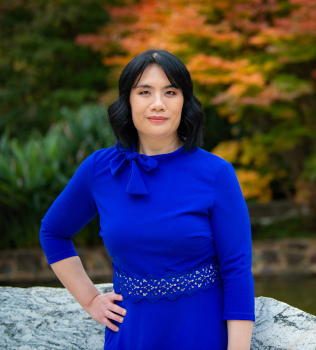 Question: Can you share some tips with us featured in the book?

Dr. Olivia Ong: Although applying self-compassion is simple, many people, especially doctors, have trouble doing it. This is hardly surprising when you think about how many years of ingrained patterning we are trying to change. Self-compassion is the core ingredient of the heart-centredness of medicine.

To help you to start your journey towards heart-centredness right now, I've included a simple self-compassion exercise for you. The following action steps will help you implement a self-compassion practice in your personal and professional life, allowing you to thrive at work and at home.

Firstly, you can increase awareness of showing inner compassion by carrying a journal or notebook with you over the next few days and pay attention to how you react to even the tiniest amount of personal suffering. Jot down anything you notice.

It could be a thought you have because you've made a mistake. Or disappointment you feel about not having lived up to your own expectations. Or an emptiness or agitation in your gut because of loneliness, embarrassment, grief, shame and so on.

Try to capture the exact words and phrases you say to yourself. Write them down and read back through them a couple of days later to see whether there are any common themes or trends showing up. Does anything surprise you? How do you feel about the way you speak to yourself?


Question: What research did you do, prior to writing The Heart-Centredness of Medicine?

Dr. Olivia Ong: I did a lot of research on the work done by Kirsten Neff and Chris Germer on Self-Compassion. They are world-renowned experts in Self-Compassion. I have been personally taught by Kirsten and Germer in the Self Compassion courses online through the Centre of Mindful Self-Compassion and I'm in the process of getting certified as a teacher for Self-Compassion for Healthcare Community through the Centre for Mindful Self-Compassion.


Question: What advice do you have for aspiring writers or artists?

Dr. Olivia Ong: My advice for aspiring writers is to write, and write what you love. Don't worry about "not being very good", be patient and keep writing.


Question: What or who inspired your love of reading/writing?

Dr. Olivia Ong: Brene Brown inspired my love of reading and writing. Her writing infuses authenticity, humour and great storytelling on powerful topics such as shame and vulnerability.


Question: What's next, for you?

Dr. Olivia Ong: I am about to write my second book on "Transforming Chronic Pain using Mindfulness and Self-Compassion" which talks about mind-based healing (mindfulness) and heart-based healing (self-compassion) in chronic pain, which I specialise in holistic pain management here in Melbourne, Australia.

I will be launching a cohort program for doctors and other healthcare professionals called "From Burnout to Brilliance" using mindfulness and self-compassion tools to help transform my clients from surviving to thriving at work and at home.

I will also be doing speaking engagements on self-compassion and burnout prevention and management in the healthcare industry in 2022 and 2023.


Interview by Gwen van Montfort