A New Dragon Tattoo Story
Cast: Claire Foy, Sverrir Gudnason, Claes Bang, Sylvia Hoeks, Cameron Britton
Director: Fede Alvarez
Genre: Crime, Drama
Rated: MA
Running Time: 115 minutes

Synopsis: Lisbeth Salander (Claire Foy) may not need the world, but the world needs Lisbeth Salander.

The look. That tattoo. Those skills. That determination.

The fierce vigilante star of Stieg Larsson's massively popular Millennium trilogy of dark, twisty, vengeance-driven cyber-thrillers, and four acclaimed film adaptations, independent hacker Lisbeth Salander is everything we need in a modern hero: smart, resourceful, driven by demons but not defined by them, and possessing a me-againstthe-universe attitude that has been more than enough to take down abusive men, hidden killers, and anyone foolish enough to go up against her.

Now, in the blistering thriller The Girl In The Spider's Web, fans will experience an all new Lisbeth Salander adventure that finds this misfit outsider – 21st century fiction's most original and complicated warrior for justice - in the middle of her most dangerous and personally revealing crusade yet.

When a scientist employs her to steal his work from the Americans, Lisbeth finds herself pulled into a dark and violent web of intrigue after mysterious forces take the data, torch her apartment, and leave her for dead. With her old friend, journalist Mikael Blomkvist, acting as an unlikely ally, Lisbeth must go on a perilous journey to find her attackers, protect the scientist's young son, and get back what was taken from her. As the net tightens, she is drawn ever deeper back into the shadows of her own mysterious past.

The bad men of the world take on Lisbeth Salander at their own peril. But for those who need a new kind of hero – the voiceless, the vulnerable - she's that righteous, volatile rebel we may need now more than ever.

The Girl in the Spider's Web
Release Date: November 8th, 2018


About The Film
Readers around the world have made the Millennium series of books one of the new century's greatest success stories in publishing, thanks to the explosive appeal of Stieg Larsson's memorable creation Lisbeth Salander. Over four well-received movie adaptations, Lisbeth's iconic grip on her fans has only deepened, so when David Lagercrantz's acclaimed continuation of the novels, The Girl in the Spider's Web, was released in 2015, the next movie in Sony Pictures' popular franchise practically announced itself.

"The world is ready for a vigilante hero like Lisbeth Salander," says producer Amy Pascal. "She's a hero for the abused and vulnerable, and does it on her own terms. There's simply no one like her. The time is right for this movie and there are many more stories to tell."

At the same time, Sony Pictures was celebrating the box office prowess and creative energy of rising director Fede Alvarez. The producers overseeing the development of the franchise had a deep desire to bring the story into a new direction – one that would stand on its own as an action-adventure while also satisfying the character's longtime fans. In this, they identified Alvarez as a striking new filmmaking talent with right sensibilities for the project, as evidence by Alvarez's 2013 remake of the horror classic Evil Dead and his original 2016 thriller Don't Breathe. With the producers' deep understanding of the material, Alvarez's ambition to keep pushing the boundaries of genre movies, and the studio's desire to continue working with a director who had become part of the studio's family, it only seemed natural to bring Alvarez into the Millennium fold with The Girl in the Spider's Web.

For Alvarez, the chance to bring his skill with unnerving tension, and knack for charged character dynamics, to a story steeped in drama, suspense, and action, was a perfect fit. The feel of The Girl in The Spider's Web, he realized, needed to be its own engrossing hybrid of the visceral and emotional. "The main thing that describes it for me is just that it doesn't look like anything else, and that's what I've always been looking for as a filmmaker when it comes to choosing a project," says the director. "And there was something very particular with this one that just gave me the opportunity to make a film that I knew didn't have to look like anything else. It's a strange combination of an action movie, a powerful character drama, and a Nordic noir thriller. All these elements combine in a particular way and made it very, very different"

At the top of that list of compelling elements, for Alvarez, was of course Lisbeth Salander, who for the first time takes center stage in one of the Millennium stories as the plot's chief protagonist, rather than a featured player. "Lisbeth is the reason why I decided to make this film," says Alvarez. ""She does something that is very relevant for these times, which is, she represents a woman saying: Enough is enough!".

One of the strongest traits of Lisbeth as a character, says Alvarez, is her sense of fight, something he chose to explore fully and viscerally in Spider's Web. "Lisbeth does a great job not wanting to become a victim," he says. "It doesn't matter how much you throw at her, she will come through – she'll put up a great fight, which is what you see in this story better than any of the other ones in the past. You will see an iron will. It doesn't matter how much she gets beat up or thrown back or put on her knees. She will stand up again and keep fighting. And I think that's a feeling that everybody taps into."

Tattooed cyber-mercenary Lisbeth Salander is a role that on the page is an actor's dream job: mercurial, gifted, tough, mysterious, and unconventional in every way, yet fueled by a clear-cut sense of right and wrong. To do bad is to ignite her passion for justice, especially if an evildoer targets the vulnerable. And since Lisbeth is the epitome of the modern superhero, finding the right person to play her was the production's central challenge – no different than finding the right James Bond or Superman. Which is why Alvarez, along with Pascal, Cantillon, and the rest of the producers of Spider's Web, were thrilled that "The Crown" star Claire Foy, one of the most captivating acting talents to hit screens big and small in recent years, relished the opportunity to step into the role.

"This is a Lisbeth Salander story we've never seen on screen before, and a new interpretation of the character by Claire Foy," says producer Elizabeth Cantillon. "Claire is fearless in her outward appearance, but she truly becomes Lisbeth in her internal transformation – she becomes this strong heroine with hidden vulnerabilities."

Alvarez, a fan of "The Crown" and Foy's award-winning portrayal of the young Queen Elizabeth II, says the British star's rare gift with deep characterization made her perfect for the undercurrents coursing through Lisbeth Salander. "From her first scene of 'The Crown,' I fell in love with the way she was able to tell an emotional story," says Alvarez. "She has an ability to express a sea of repressed emotion with only her eyes."

Foy was already a fan of the Millennium novels and the character of Lisbeth. "I loved the books," she says. "It's about twelve years ago that I read them. At the time, I was a girl in my 20s and reading about a girl in her 20s. I just found it quite eye-opening, really, and especially a story which focuses around a woman, and that she's sort of the most interesting person to follow in the story, as well."

The Lisbeth of The Girl in the Spider's Web is, in Foy's view, someone who's grown since the momentous events of the first three books, but is still in a tenuous state about where she's come from, and where she's going. Says Foy, "She's not a ward of the state anymore. She's entirely independent. She has a lot of money but I think I see her as pretty lost. She's a fighter, and I think that for a long time she had something to fight against, and you sort of find her in this film not really having a purpose. So she sort of makes a lot of bad decisions in order to find one. But she's stronger than she looks. She's the classic don't-judge-a-book-by-its-cover person."

This movie, says Foy, engages directly with the part of Lisbeth so affected by past trauma that she finds it hard to form relationships, at the same time it sends her on a mission designed to show off her skills as a vanquisher of bad and defender of the wronged. "It's sort of two parts of Lisbeth's life massively converging and crashing together in spectacularly awful fashion," says Foy. "The side of her that is about social justice and righting wrongs and also being spontaneous, and taking the law into her own hands, collides in a huge way with an unresolved part of her past with her sister, and the love she has for her sister, which she denies and which she never wants to be reminded of. So it's essentially about her running away from her past but then essentially, it's going to come back."

When it comes to that combination of fiery determination and social dysfunction, says Fede Alvarez, casting Foy was, to his mind, ensuring that the audience would get a completely unique Lisbeth. "Claire is the one that makes it work," says Alvarez. "What fascinates me the most about the whole making of movies is knowing Claire as a person, she has nothing to do with Lisbeth, right? They couldn't be more different in some levels. That says how great of an actress she is, because she could turn into that person, and she understood the character, and she could play it in a way that was fascinating to see every day."

For Foy, working with Alvarez was an enlivening and enlightening experience. "Lots of people already know it, but he genuinely is a very special director," says Foy. "He is so musical. He understands filmmaking in a way that is, he's sort of an audience member but also a director at the same time, which I think is very, very rare. He understands that you need to change the rhythm and the pace of the film in order to communicate something about the story, but also to keep the audience interested, and also to let them learn something else about the character. He just plots it all and knows it all in such a kind of musical way."

When it came to casting the rest of the movie – whether characters familiar from past installments or new figures in the Millennium orbit - Alvarez sought an approach that not only considered the best performer for each role, but that took into account authenticity to the narrative's European origins. Says Alvarez, "My main goal was to really try to find the best actors I could, above fame and who was the most famous actor. And also, we wanted to make it legit, meaning, if we're going to have some of these characters from a lot of different countries in Europe, let's try to get them from there. It was exciting to find a Mikael Blomkvist who was actually Swedish!" (Gudnason is Icelandic-Swedish.) That would be Sverrir Gudnason, fresh from his breakout role as Swedish tennis legend Bjorn Borg in "Borg/McEnroe," and now tasked with bringing to life Stieg Larsson's intrepid journalist hero Mikael Blomkvist, sympathetic friend and uneasy ally to Lisbeth Salander. For Gudnason, Blomkvist is "like Lisbeth, a righter of wrongs," and, in the universe of the stories, "probably one of the only persons Lisbeth trusts. Of course, they're very different. But they share the same morals. He's looking for justice."

Gudnason continues, "At the beginning of the story, he's kind of on the downhill. He's drinking too much and getting pushed out of his own magazine by clickbait journalists. And he hasn't seen Lisbeth for about three years. But she steps back into his life asking for help, and that kind of reignites him and makes him come alive again."

Alvarez says Gudnason brings "a different freshness" to the role of Blomkvist, a character the director admires for how he relates to Lisbeth. "He doesn't question Lisbeth at all, which is amazing about how they get along. He just accepts her as she is. It's a very human quality, and when I met [Sverrir] he connected pretty great with the character. With Claire, they had amazing chemistry on camera. It was beautiful to see it happen."

Claire Foy found in Gudnason a genuine partner in finding the truth in any given scene. "He's just there and engaged, and he's a very clever man, anyway," says Foy. "He's just a brilliant actor, amazing."

Gudnason, likewise, has nothing but praise for Foy and her portrayal of Lisbeth. "She's not only a brilliant actress," says Gudnason. "She's so focused and determined, and really gets into the character. She really made Lisbeth Salander her own Lisbeth. But Claire is such a nice person and so easy to work with."

His admiration extends to Fede Alvarez, too, whom Gudnason calls "a brilliant director. He's very incredibly smart and he has a clear vision of what he wants to do. And he gently guides you in that direction. From his earlier films, he's of course bringing a lot of tension to this project, so it was nice a pleasure working with him."

In the course of the story, Lisbeth Salander's past comes back in a significant way in the form of her long-lost sister Camilla. To play this haunting figure from Lisbeth's traumatic background, Alvarez cast Dutch actress and Blade Runner 2049 breakout star Sylvia Hoeks. "I saw her in Blade Runner and it really blew my mind," says Alvarez. "She's so good and so intense and so different, and again, very unpredictable as an actress. I'm always going for what you don't expect, and it was a pleasure to work with her."

Unlike Foy and Gudnason, Hoeks was tasked with embodying a new, never-beforeperformed character in the Millennium stories, albeit one referenced to in Larsson's original novels before entering the picture fully in The Girl in the Spider's Web. In preparing to play Camilla, Hoeks took advantage of the character's newness to the franchise, and let imagination lead her. "There's a lot of blank spaces to fill in," she says. "That's what I love about a character we don't know that much of. But I understood the world of Lisbeth Salander. And looking at her, what would her sister be like? To have her sister mirror her in a way that is also very different, and reveals something about Lisbeth that the audience has been waiting for. After seeing [Lisbeth] as a badass for so many years, we want to know, who was that girl? How did she turn out to be the way she is, and who would she have been as a little girl? So I think coming into the story as Camilla, reflecting on Lisbeth was for me a very interesting way to create that new character. I love researching. I think it's one of my favorite things about acting, that psychological aspect to it."

Hoeks also responded to the way Alvarez directed her, which started with a clear sense of what he wanted, but always made room for collaboration with the actors. "He was very open to other people's ideas and visions," says Hoeks. "And we improvised a lot. There was a lot of freedom in the scenes. It was a very, very interesting and lovely way of working with a director."

For the role of NSA specialist Ed Needham, a figure drawn into pursuing Lisbeth Salander after she engineers a security breach and makes off with an important code, Alvarez cast Lakeith Stanfield (FX"s "Atlanta," Sorry to Bother You). "We wanted something more exciting and different," says Alvarez, who saw in Needham's fish-out-of-water storyline in Sweden the chance to upend audience expectations even further. "Lakeith had a lot of fun with that. He did an amazing job and it really comes through in the story." Rounding out the top notch international cast Alvarez assembled are Claes Bang (The Square) as a shadowy figure on Lisbeth's trail; Stephen Merchant ("Hello Ladies," Logan) as computer whiz Frans Balder, who enlists Lisbeth to his desperate cause; Christopher Convery as Balder's son August; Synnøve Macody Lund as Gabriella Grane, the head of Swedish security; and Vicky Krieps (Phantom Thread) as Erika Berger, the editor of Millennium.


About The Production
For Fede Alvarez, creating the look of The Girl in the Spider's Web took place before a single art department drawing or location shoot or sketch of an idea for what Lisbeth might look like: it began as he assembled his creative team, most of whom have worked with him on Evil Dead or Don't Breathe or both. Director of Photography Pedro Luque Briozzo, costume designer Carlos Rosario, and composer Roque Baños have all teamed with Alvarez in the past, with the four-time Oscar® nominee Eve Stewart joining as production designer, and Tatiana S. Riegel, an Academy Award® nominee for her work on I, Tonya, joining as editor. "The only way to do this job – to work together with other people to create a single vision – is to get people whose taste and style you know," says Alvarez. "I tend to let them run free at the beginning – I think it's the best way to get the best out of them, to hope they will bring their own visions to it. From there, I can adjust and send them on one particular path, but if you choose the right people, then as a director, you have less to direct – they're already on the right path."

"Fede and I have known each other since we were 20. We started in the business together, when he was an editor and I was a camera assistant," says Luque, who previously served his friend in the camera department on Evil Dead and then took the director of photography reins on Don't Breathe. "We see things in the same way; we like the same kind of movies. He's a genius, but I also really like the way he works. He pushes us, he asks the right questions, he makes us think. You do that, and suddenly, everything is better."

Because there's no hero like Lisbeth Salander, Luque says that he and Alvarez intended to make a film that would make the audience sense and feel that as much as anything in the story expressed it – to tell, but also to show. "We didn't settle for the normal – the cinematography should tell you something about the story and the characters. It's the location, it's the wardrobe, it's the light, it's the camera work, it's contrast – it would be expressive, even shocking. The scenes in the snow, every time Claire is on screen – her eyes are so expressive, she's able to communicate emotions so well."

"There's a constant contradiction in my films, and in my approach with Pedro," says Alvarez. "There's a classic saying, 'shoot love scenes like death scenes and death scenes like love scenes.' Make the violent or negative scenes beautiful, and vice versa. I want it to be unpredictable, to get that reaction from the audience. They stay engaged, because they don't get the scene they thought they were going to get from the look, they get the complete opposite. As a storyteller, that's what I think we should do – if the audience knows what's going to happen next or how it's going to look, you've failed."

Of course, it's one thing to surprise the audience, but it's just as true that when working with a character like Lisbeth Salander, Alvarez would have to deliver the look, feel, and character that audiences expect. And so, the film takes place in Stockholm, and Foy adopts a Swedish accent for the film.

Anyone who's been to Stockholm knows it's one of the most beautiful cities in the world – but Alvarez found beauty in a way that audiences might not expect. "We worked hard to show you this face of Stockholm that we're interested in. This is not the Europe of old buildings," says Alvarez. "It's actually more of a modern city, representing a very cosmopolitan Europe, and you'll feel that in the movie. Every character seems to be from a different part of the world."

Stewart is best-known for her work in period pieces – an Oscar® nominee for her work in Topsy-Turvy, The King's Speech, Les Misérables, and The Danish Girl, production designer Eve Stewart relished the chance to work on a film that would have a very contemporary design. "I do quite a lot of period films, so I was thrilled – this was a real departure for me," she says. "Also, my kids are grown now, and they had just seen Don't Breathe, so when they saw Fede's name attached to this, they told me I had to do it."

Stewart was also intrigued by the chance to work in the thriller genre. "There's a certain kind of intrigue for me about that Nordic, cold, misty world," says Stewart. "It always seems much more dark and sinister."

"The gritty side of Stockholm is there, but in very disparate pockets," says Stewart. "Having been to Stockholm quite a bit, it's quite a lovely city – warm and pretty. We wanted to accentuate the cold world that Lisbeth finds herself in as she comes up against the state. So our Sweden has much cooler colors and hard surfaces that are hard to break through. You feel a bit shut in. The individual looks a bit smaller agains the wall surfaces."

The Look of Lisbeth

Creating the look of Lisbeth was also a challenge for the filmmakers. For Alvarez, as the director, this was one of those times when it was important to give his creative department heads – and Foy – the creative liberty to express the character as they saw fit. "In my movies, I don't get too caught up in the look or fashion of the character. You've got to have her tattoos and her piercings, but on a character level, it's not much more than a characterization."

At the same time, he was committed to presenting a Lisbeth that audiences would recognize, and that meant piercings and tattoos. "For most of us, tattoos show a level of commitment. You believe in your ideas so much that you'll put it on your body for the rest of your life. But for me, the most important part of it is that she's 'the girl with the dragon tattoo' – you've got to have it there!"

"It's tricky. When the books were first written in the early 2000s, it was a different world. If you had a tattoo, it was a symbol of going against everybody else – you were making a mark and being different. Back then, Lisbeth looked like someone who was dangerous, an anarchist. But now, everybody has a tattoo; it's hard to shock people that way. Since we are setting the film in this day and age, it was less about making her look cool or kind of edgy, but just making her unique in her own way."

With this in mind, the look of the character became a collaboration between makeup and hair designer Heike Merker, Ellen Mirojnick, who was brought in to work on the look of Lisbeth's costumes, and Foy herself – with the final look ultimately approved by Alvarez.

"The challenge is to create something fresh – Claire is her own person – but also iconic – to fit what people expect," says Merker. She began by creating a "look book" of possible options "We had so many variations at the beginning," says Merker. "One version shaved the whole side of her head and tattooed everything. Ultimately, we ended up having the tattoo on the side of her neck, another on her ankle, one on her bottom, right hand body and left hand body, two on her arm, like two sentences, and of course the dragon.

"The big question mark was what the dragon should look like," she continues. What is the right position? How big should it be? Should it go from one side to the other or half the body, or should the tail go around her body?" Then there were technical questions – not least of which, the tattoo would have to be re-applied every day. Even once some of these questions started getting answers, there were tweaks – mix-and-matching heads and wings from different designs.

Foy brought her own influence on the design that would prove effective even when most the dragon was hidden under her clothing. "I was keen for it to go more towards a Scandinavian dragon design," says Foy. "There was lots of drawing on my back. I really wanted the wing of the dragon to be my shoulder so that it could move a bit. And then we came up with the idea of having flames that come from the dragon's mouth up the back of the neck."

To help Foy create Lisbeth's accent, the filmmakers called on dialect coach William Conacher, who previously advised Foy on creating her royal accent as Queen Elizabeth in "The Crown." "Creating an accent is about giving people triggers that will help them believe the story. For this film, we wanted a light Swedish accent," he says. "Fede sent me YouTube videos of quite a few people whose accents he liked, and we decided that was the right level of accent.

To create an accent, Conacher says, "you break it down, identify certain vowel sounds, or the way people hold their mouth or a physical posture. Usually, it's five or six different vowel sounds, and identifying all of the words in the script that contain those vowel sounds."

Foy would learn her accent in just ten days.

Once the filmmakers settled on the accent that Foy would have, Conacher worked with the other actors to help their accents match Foy's. "We tried to bring them in line with each other," he says. "Sylvia Hoeks, who is Dutch, reduced the American accent she's worked so hard to acquire. In this film, she sounds very much like Claire, and for good reason, with them being sisters; there's a scene towards the end of the movie where they speak to each other that's very gratifying for me (this is no longer a spoiler, right?). Sverrir is Icelandic Swedish, but also sounds quite American, so we've reduced that a bit."

Lisbeth's piercings were the purview of costume designer Carlos Rosario. "The most important thing for me is the first time I read the script," he says. "At that moment, you're not attached to any kind of influence from anybody – the vision of the director, what the actress thinks, what the producers want. It's just you and the script. And as you read, you find the little words that allow you to design the costumes. It comes from within; you tap into your intuition to feel the spirit, the energy, of each of the characters."

Of course, that's just the starting point. "You do have to support Fede's aesthetic, what the actress wants. You have to let the creative process flow naturally; it's very organic. I try to put all of these pieces of the puzzle together."

What made this film unique, Rosario says, is the idea that the design would build on the films that have come before, but also express Alvarez's unique aesthetic. "It's dark and gritty, yes, but Fede also wanted her to be more approachable than the way she's been portrayed before. We wanted her to have more depth so the audience could relate to her a bit more. We refrained from going too far into goth and gave her a bit more of a motorcycle vibe. And she changes clothes a lot in this movie, and each outfit says something about her."

Alvarez asked that Foy choose her piercings, as he wanted to ensure that each of her piercings had personal meaning. "We gave her every option – we got pretty much every fake piercing in the world and we put them in her trailer. Claire started putting them on, and that was it. What we did was to wrap wire around each of them – different wires, different colors, different leather pieces – so that each of them would have a story, each of them has a reason and depth."

One of the most striking pieces of makeup is the mask Lisbeth wears as the audience is re-introduced to the character. "We tried so many," says Merker. "Should it be black, or red, or white? Whole face, half face, include the eyebrows? When we hit on making it white and fading it out, it seemed like a natural choice, like we could imagine Lisbeth applying it herself."

"She wants to scare the absolute living daylights out of this man," says Foy. "She's rough, and not particularly artistic. So, she does what she thinks is the scariest possible thing that she can do and makes herself look terrifying in order to scare him. Her warrior mask is to let him know that she means business."

Additional Makeup and Costumes

Sylvia Hoeks would also go through a remarkable transformation in costumes, hair and makeup. "The first time we see her, she's in a very sexy, short dress cut very low at the back," says Rosario. "That dress needed to be very specific, because the light in that set was very smoky. I chose fabrics that had the same color as Sylvia's skin tone."

The film's color palette is black, white, and red – "black for the darkness, white for the light and the snow, and red for blood dripping on the snow," as the makeup and hair designer Heike Merker points out – which makes the red dress a natural choice for Hoeks' character at the end of the film. Rosario designed the costume so that Hoeks could wear different shoes depending on the action required – the same style, but different heights.

Rosario also worked closely with Merker to create an overall effect for Camilla. "Obviously, she was blond, that was in the script. But how blond? Sylvia herself wanted to be more white-blond, almost albino. She asked us to bleach her eyebrows and her hair as white as possible. And I thought, 'Why not, a contrast of black and white between the two sisters.' And it's an interesting look, especially with her red dress." Merker was also responsible for creating the character's body scarring.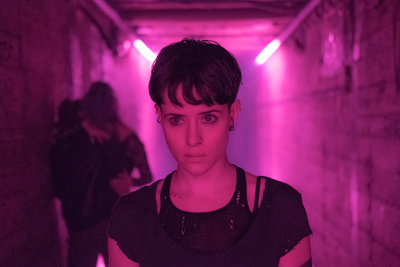 About the Stunts

Alvarez's goal for the film's stunts was to capture as much as he could practically, incamera, and not with visual effects. "We had some quite extreme things that I don't think movies do anymore," he says. "Most of the time you have a blue screen behind you. We went to great extents to avoid that – and that put us in some insane landscapes."

But everything Alvarez asked his actors to do, he was also prepared to do himself. "I was with her on all of the fights," he says. "On every one of the action sequences, I operated the camera, right in her face, assisting with every punch. It was a little dance between the two of us, and that was a lot of fun to do."

"Fede asked us to do every kind of stunt from A to Z," says Florian Hotz, the film's stunt coordinator. "The script is clever, it has twists and turns, but as I was reading it, I was already starting to picture how we'd do certain stunts."

As with the other department heads, Alvarez asked the stunt team to push beyond the usual. "There was one particularly tricky stunt – two people fall about five meters, land on a pitched roof, slide five or six meters, fall another three meters to the ground, and then roll 20 meters down a hill," Hotz recalls. "I came up with an action design and a shot system with a lot of cuts landing them at the final position – and then Fede asked if we could do it as a single shot.

"I couldn't say yes right away," Hotz continues. "I told him we'd have to sit down with the rigs and brainstorm for two days. But that was actually the answer that Fede was looking for – he knew if we said, 'Yes, no problem,' it would be something we'd done before. He was interested in things that have not been done before." The shot became technically complex, requiring weeks of prep, and would involve several different departments, including camera, art, and special effects to pull it off – but they did, and it's now a central stunt in the film.

Similarly, a number of car-chase stunts were done in unique ways. "In one stunt, the challenge was that we were in a narrow location in wintertime, so there were snow and wet patches," Hotz recalls. "The cars' handling in this environment is completely different than in a dry location. And we wanted to shoot as much as we could with the actress and a jump into open traffic. The way we did it is with a 'top rider' – it's a fully functional car, but the operator is sitting on top of it with the actor behind the wheel pretending to drive."

Another stunt was one that became possible thanks to new technology. "Usually Hollywood stunt crashes are made by a stunt driver who's driving as fast as he can into the crash. Some of the best stunts look fast at movie speed, but actually are not that fast when you see them with the naked eye. With new technology, we were able to have a self-driving car speeding at an insane speed – I think it was 90 miles an hour – and into the crash. You would not have been able to do it even two years ago."

Alvarez's intention was to use Foy as much as possible in the stunt work. "Claire hadn't done a lot of stunt work in the past," says Alvarez, "so she really had to train and be in shape to do what the story demanded."

As a result, the fight choreography that Foy learned was all character-based, Hotz says. "Lisbeth is clever, and she uses her cleverness and her strong will to overcome an opponent that might be bigger and stronger or have more knowledge of martial arts. That's why we designed close, brutal fights – it's closer to reality for this character."

The Girl in the Spider's Web
Release Date: November 8th, 2018