An Australian story of life above the land
Growing up on the family property in outback Western Australia, Greg Keynes' childhood seemed idyllic. Poignant memories of exploring with his dogs; hunting, working and joking with the local Yamatji people. Breaking free from family ties as a young man, Greg began his own aerial mustering business and fell in love. Life was sweet, until a routine muster in the rocky gorges of the Hamersley Range went horribly wrong and Greg faced the reality that he may never walk again.

The Flying Bushman is more than a story of memories in the outback, it's a collective reminder of the true Australian Spirit with our resilience, courage and wild hearts that survive the harsh and at times unforgiving terrains that ultimately make us who we are.

Set along the majestic blue ranges and scouring riverbeds of the Pilbara, The Flying Bushman is a lavishly illustrated and authentic Australian story of life above the land.

About the author
Greg Keynes grew up on the family property, Curbur Station, in the Murchison region of Western Australia. He is a born and bred bush boy. Working as a pastoralist and chopper pilot in the early 80's gave him the unique opportunity of seeing only places that could be reached by helicopter, much of the Pilbara, Gascoyne and Murchison regions along with the world heritage listed Shark Bay. Greg has a deep love of the land and has real concern of the future for the regions and climate change. He now still travels the regions of WA continuing to write and working in various roles and keeping in touch with his 3 children and 3 grandchildren. Greg has a passion for the environment he grew up in and the challenges it faces for the future.

The Flying Bushman
Author: Greg Keynes
Gelding Street Press
RRP: $29.99



Interview with Greg Keynes
Question: What originally inspired the idea of The Flying Bushman book?

Greg Keynes: I've always wanted to write about the lovely bush environment I grew up in. Unfortunately most folks don't have the opportunity to experience it firsthand any more and I wanted to share that with my readers. It's an environment that is as close as a human can possibly get to the real natural world (like the ocean but at the other end of the scale) and the untouched rangeland and its associated flora and fauna is pretty much as it was thousands of years ago. In fact, less than 30 kilometres from where I grew up are the oldest rocks on the planet.


Question: What did you learn, about yourself, whilst writing The Flying Bushman?

Greg Keynes: I learnt about myself at a deeper level regards my family relationships and how idealistic my childhood was. We grew up in a particular environment and often didn't question situations and just got on with it. But drilling down and bringing back the experiences makes you reconsider those events at a deeper level. I also learnt that I let slip away the most gorgeous girl in my life.


Question: Was it difficult reliving the muster of Hamersley Range whilst writing The Flying Bushman?

Greg Keynes: Yes, in some ways because as you get older you realise the adrenalin/ belt /shove/ push of youthful enthusiasm and drive, although vital to get the job done at the time can come at a considerable cost.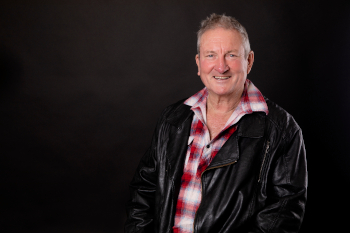 Question: Can you share with us your favourite memory of the outback?

Greg Keynes: I think the most memorable memory I have is the relationship I had with a woman named Margaret. The respect I developed for her in the way she conducted herself around my Mum with Alzheimer's disease was nothing short of amazing. She was so tolerant and understanding which earnt so much respect from me initially which then morphed into love and affection. But I probably didn't realise that until it was too late.


Question: What have you learnt about the true Australian Spirit during your journey?

Greg Keynes: It was demonstrated to me very clearly what I already knew, that country folk step up in times of real need. Rodney (my pilot) was flying back to the station in the dark and in so doing putting his whole life and career on the line. When I had my helicopter crash the Karratha staff at Bristow Helicopters realised the urgency and put their necks on the line to set out in the dark with a doctor to achieve a goal of removing me from the bottom of a gorge. If it weren't for them, I would undoubtedly be in a wheelchair today.


Question: What message do you have to those who live on the land doing it tough?

Greg Keynes: I believe the land can push us to extraordinary heights and tremendous lows both physically and emotionally and in taking on that challenge as bush people do we must be aware at times we just need to stop and think. Overcoming those challenges requires much drive, energy and enthusiasm and sometimes we just don't know when to turn the tap off. As crucial as that approach is – it can be our undoing. So seek professional help -you're only human. Your friends will often tell you what they think you want to hear. But a good professional will tell you what you need to hear.


Question: How has writing helped you stay connected?

Greg Keynes: I think before you put fingers to keyboard, you need to make some assessments about yourself and your close community and then the community at large. That's one of the main reasons I write a blog "The Speaker's Crack" in an attempt to have a positive influence or interaction with my readers in the wider community.


Question: Who/what inspired your love of storytelling and writing?

Greg Keynes: I think from childhood watching and mimicking the character storytellers around the campfire or wherever they were. Good storytellers don't need a perfect environment. There's a good story and a bad story, and often it's not the fault of the story itself if it doesn't cut the mustard – but the storyteller and his/her bag of tricks which keep you involved and entertained and wanting more.


Question: What's next, for you?

Greg Keynes: I've just had one shoulder completely reconstructed after years of heavy work in the bush. In the meantime, I have semi-retired whilst I recuperate. However, I have a heap of magnificent bush photos I would like to put into a book of a very unique bush nature and particularly those from my helicopter. I certainly have some books left in me yet and I am so fortunate – the world is my oyster.