The Suffragette meets The Greatest Showman in this story ofpassion and courage, as a young feminist fights against the rules of society to find her place in the world.
New York, 1897. The richest city in the world.

Beautiful, young and privileged, Rose Kingsbury Smith is expected to play by the strict rules of social etiquette, to forfeit all career aspirations and to marry a man of good means. But she has a quietly rebellious streak and is determined to make her own mark on Manhattan's growing skyline. When the theft of a precious heirloom plunges the Kingsbury Smiths into financial ruin, Rose becomes her family's most tradeable asset. She finds herself fighting for her independence and championing the ideal of equality for women everywhere.

Enigmatic Ethan Salt's inglorious circus days are behind him. He lives a quiet life on Coney Island with his beloved elephant Daisy and is devoted to saving animals who've been brutalised by show business. As he struggles to raise funds for his menagerie, he fears he will never build the sanctuary of his dreams … until a chance encounter with a promising young architect changes his life forever.

Just when Rose is on the verge of seeing her persistence pay off, the ghosts of her past threaten to destroy everything she holds dear. In the face of heartbreaking prejudice and betrayal, she must learn to harness her greatest wonder within.

From Fifth Avenue mansions to Lower East Side tenements and the carnivals of Coney Island, The Eighth Wonder explores the brilliance and brutality of one of the world's most progressive eras and celebrates the visionaries who dare to rebel.

About the author
Tania is an award-winning advertising strategist who has spent over twenty-five years working in Australia's leading advertising agencies, telling stories for the world's biggest brands. She has more recently built her own successful, brand consultancy iSPY. She has turned her hand from brand stories to human stories with the help of creative writing courses at RMIT and Fiona McIntosh's Masterclass.

The Eighth Wonder
Tania Farrelly
Penguin Books Australia
ISBN: 9781761040733
RRP: $32.99


Interview with Tania Farrelly
Question: What originally inspired the idea of The Eighth Wonder?

Tania Farrelly: It was flickery images from Edison's first movie machine in 1903, which captured my attention. They showed Topsy, a mistreated ex-circus elephant being put to her death via electrocution on a cold snowy January day at Coney Island. Poor old Topsy lifted her feet obediently on command for the copper soled death sandals to be strapped on, never knowing that soon 6000 Volts would pass through her body. I was so moved by the story I got writing.


Question: How did you develop your interest in the 1800s?

Tania Farrelly: My interest in the 1800's (specifically the Gilded Age 1870- 1910) came courtesy of my research into Topsy's demise. But to be fair I've always been fascinated by America in the industrial age. It was through investigating Topsy's life that I fell down the rabbit hole of Manhattan in the late 1890's when it was the richest city in the world and the crucible of invention; where wizards of progress like Edison, Tesla, Vanderbilt, Pulitzer, Westinghouse, Rockefeller, Carnegie and Twain all walked the streets daily and illuminated life's expansive possibilities one household at a time. (If you were a man. Of course!)

The more I investigated, the more I realised the city was full of contradictions: It was as brilliant as it was brutal. As rich as it was poor. As altruistic as it was mercenary. But it was in the settlement houses of New York where women of substance congregated to help those less fortunate that began to nurture ideas for my heroine and her journey.


Question: How much of your inspiration comes from real life and real people?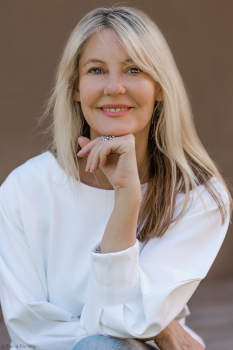 Tania Farrelly: Most of my inspiration comes from real life and real people. I would like to think that historical fiction allows us to connect with the past in a way that makes us appreciate what has come before and helps us to improve or inspire what comes next. There are still so many untold stories about women who ignored the rules and just got on with things.

In researching the fictional character of Rose, I leant heavily on the legacy of Julia Morgan– a pioneering female architect: Julia hailed from San Francisco and was the first female ever to be admitted to the famous Ecole des Beaux Arts architecture school in Paris in 1898 after three attempts. Importantly, though she didn't fail any attempts! The first time she placed 42nd in a field of 376 but the school only accepted the top 30. The second time she placed in the top 30 but the school arbitrarily scaled her marks because they didn't want to encourage women! Finally in 1898 she placed 13th and they had to accept her. She opened her own practice in 1904, having been working as a 'draftsman' until her boss, when waxing about her talents to a prospect, finished his pitch by saying 'and the best thing is my draftsman is a woman and I barely need to pay her a thing!'

Julia worked till she was in her seventies becoming arguably, the most prolific architect of her generation having designed over 750 buildings. But the icing on the cake was the famous Hearst Castle in San Simeon California designed for newspaper mogul William Randolph Hearst.

Other 'real women' of history women play important cameos in the story too: Lillian Wald (Henry Street Settlement) and Florence Kelley (National Consumers League and National Association of the Advancement of Coloured People) both inspired movements to help less fortunate women rise above their situations to access better health, education, work conditions and independent futures. They are featured in the story.


Question: Is there a message you hope readers take from The Eighth Wonder?

Tania Farrelly: Women who 'do' – can change the world.

And also, of course to shed led on the plight of elephants (and all wild animals) and how we might work harder to protect these majestic, sentient wonders.


Question: What research did you do, prior to writing The Eighth Wonder?

Tania Farrelly: When I worked in advertising, we called a brand review - a 'Deep Dive' and that's exactly what I did with The Eighth Wonder, trawling everywhere to put together a 3D picture of the Gilded Age. Here's an example of the types of things I did:

I went to New York in August 2019 and walked the streets of every scene with historians. These included: Coney Island, Central Manhattan, Newport Rhode Island, Murray Hill, Orchard Street and Hester Streets. The Brooklyn Bridge, The Henry Street Settlement and so on.

Prior to that I investigated Film: (PBS documentaries, Foxtel historical docos.) Movies: 'The Age of Innocence' and 'The Current Wars.' Books: Biographies and autobiographies of people who lived in the. Text-books on the era. Recreational Guide-books from 1890. Newspapers: New York Times "Times Machine" On-line: Library of Congress and Academia. Podcasts: Bowery Boys and History Chicks. Social Media: Followed accounts, hashtags and bloggers based in New York. Consultants: Historians and academics specialising in medicine and architecture.

During the time of Co-Vid lock-down I went on virtual tours of New York with academic and historians and also had my sister a resident of New York be my extra set of eyes and ears.


Question: Who is your favourite character?

Tania Farrelly: Rose Kingsbury Smith holds an extra special place in my heart, but Ethan Salt won it.


Question: What advice do you have for aspiring writers or artists?

Tania Farrelly: Write it wrong until you get it right.
What that means is – Just go ahead and write, then edit, delete, make mistakes, and importantly give yourself permission to fail. But don't stop. Just keep writing till you get it right. It's the most freeing thing, creatively.

Listen to feedback from experts. If your readers don't 'get it' – it's probably more your fault than theirs.


Question: What or who inspired your love of reading/writing?

Tania Farrelly: I don't think I had a choice!
My parents were both schoolteachers. Our lounge-room bookshelves were bursting with books. Everything from James Mitchener's Hawaii, to Tolkein, from Enid Blyton to Ayn Rand to Leon Uris. Plus my two sisters and I endured lots of driving holidays in the squishy backseat of my dad's very cool, but very poorly sprung Ford Mustang, and mum would keep our whinging to a minimum by making us write 'stories' in our journals.


Question: What's next, for you?

Tania Farrelly: I am currently writing my second book contracted with Penguin Random House. Once again, a strong female lead, but this time the story is set in 1917/1918 against a world buckling under the strain of both The Great War and the Spanish Flu.


Interview by Gwen van Montfort