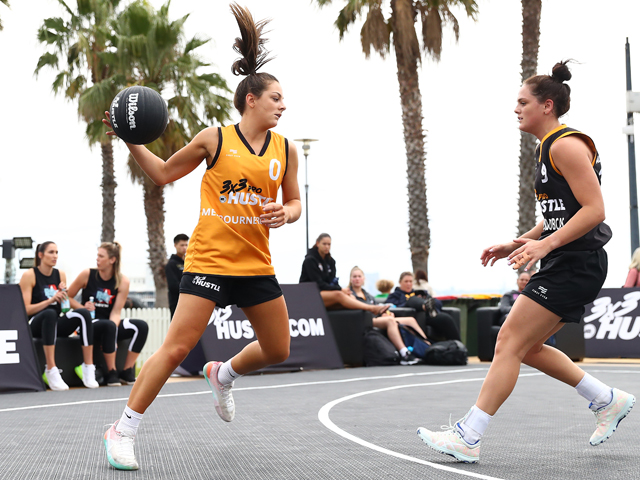 Ben Simmons may be Melbourne's home-grown basketball hero for now, but The District Docklands will play host to a whole new league of hopefuls as the NBL 3x3 Street Hustle hits Melbourne on 17 and 18 August.

The NBL 3x3 Street Hustle is giving players a shot at a once in a lifetime opportunity on basketball's biggest stage later this month when it opens for the Australian Boomers vs USA Basketball game at Marvel Stadium.

In conjunction with TEG Live and Basketball Australia, the NBL will host the finals of the 3x3 Street Hustle event on the Marvel Stadium court at 11:30am AEST on Saturday August 24.

It means participants of all ages could play on the same floor just hours before the Boomers take on USA Basketball in game two of their pre-FIBA World Cup series, but they have to win the semi-finals at The District Docklands first!

The District Docklands will be transformed into a basketballer's paradise with a fresh new court being laid to accommodate the preliminary games, taking place on August 17 and 18.

All Melburnians will have the opportunity to experience the incredible atmosphere of these nail-biting games as they come together at The District Docklands to support upcoming and emerging talent, who are all vying for a chance to play in the finals.

NBL Chief Executive Jeremy Loeliger said "taking 3x3 Street Hustle to this year's International Basketball Series gives rising young players an opportunity to experience 3x3 at the biggest basketball events ever staged in Australia."

The District Docklands CEO George Karabatsos said The District Docklands is looking forward to welcoming Victoria's rising sporting talent.

"This is a huge opportunity for Victoria's basketball talent and we are excited to play host to the state's hopefuls this month.

"We look forward to joining fellow spectators in cheering them on as they take their shot at this once in a lifetime opportunity!"