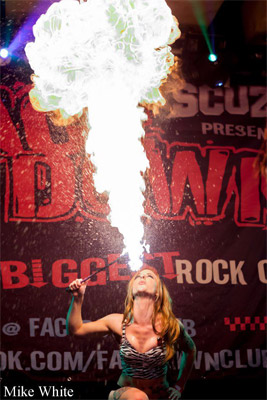 The Cyanide Girls Interview
Formed in London in 2011, the Cyanide Girls are four multi-talented models and performers who specialise in Fire Dancing, Angle Grinding, Pole Dancing, Fire Poi, Fire Eating and Fire Breathing. Having performed up and down the country in their time together, the Cyanide Girls have built their loyal fan base from their wild, jaw dropping performances and stunning photosets.

At the Great British Tattoo Show, the girls managed to wow audiences with two consecutive days of hot performance. Closer to home they have performed at the alternative rock stages of Club Facedown and Kerrang! Klub.

Already making a number of celebrity supporters and hanging out at events with the likes of Tommy Lee, Daniel P Carter, Mayday Parade and We The Kings, the girls are winning over audience after audience with their powerful performances.

Still, the Cyanide Girls definitely aren't scared to step out of the rock genre events. They have gone down with equal amounts of praise at world class dance venues such as the infamous Ministry of Sound and even the odd wedding!

Always adding something different to the mix and with a unique performance every time, top class choreography and kinesthetic skills are nothing new to these girls.

But still, their risqué performance does beg the question – did anyone ever mentioned it was dangerous? Well, I'm sure they did, but it's probably just that the girls have so much skill under their occasionally metal belts, that they have literally been there and done that, but aren't too fussed about wearing the t-shirt.

www. facebook.com/TheCyanideGirls


Interview with Doll Facee
Question: How would you describe your performances?

Doll Facee: Crazy, rock'n'roll and wild!


Question: Can you talk us through what you do throughout the show?

Doll Facee: It's a combination of seductive pole routines, sparkly angle grinding, fire eating and fire breathing!


Question: Tell us how you came to do fire-breathing?

Doll Facee: When I was at University I saw my friend fire-breathing in our garden, it turns out his friend who was in the circus trained him, I thought straight away "I HAVE to learn how to do that!"


Question: How did you come together to create The Cyanide Girls?

Doll Facee: After learning how to fire breathe, I was determined to start my own awesome sexy girl troupe, so I auditioned girls and hey presto!


Question: What was it like performing with We The Kings?

Doll Facee: It was great! They are such nice guys!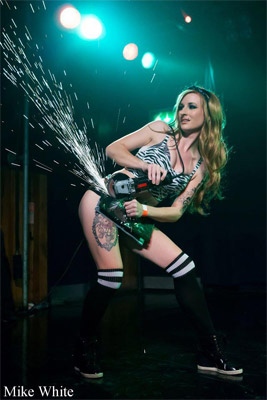 Question: What do you enjoy most about performing?

Doll Facee: We LOVE our fans, especially our female ones. Yeah we love feeling sexy and empowered on stage, but we love the "that's amazing, I wish I could do that" comments the most. Its great being sexy, but we want to be recognised for our talents.


Question: You also model; how did that come about?

Doll Facee: It started with helping my photography friend out at University, she was looking for a model and I stepped in! After that, I knew I had to get in front of the camera more!


Question: What originally inspired you to get your first tattoo? Which tattoo was your first and when did you get it done?

Doll Facee: My Nan. I was the first person in our family to go to University and she sat me down before I left saying how proud she was of me and to spread my wings and live life.

It's a swallow on my hip saying "Live Life" I was 17 - whoops!


Question: What's a typical day like for you?

Doll Facee: It depends what day it is! Most of the time I'm booked with a photoshoot or a show, if I get a day off I normally watch trashy shows, refuse to get out of my PJ's and consume my body weight in snacks!


Question: How do you keep in shape?

Doll Facee: You're going to hate me. I've always been skinny. One of those girls that has a stupidly high metabolism! My friends ALWAYS comment on the amount of food I eat a day!


Question: What's next for you?

Doll Facee: I'd LOVE to expand the Cyanide Girls, get shows all over the world!


Interview by Brooke Hunter