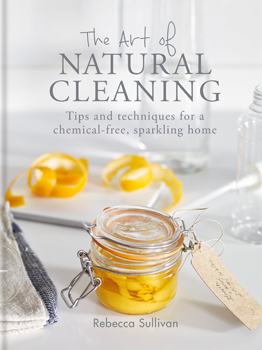 The Art of Natural Cleaning: Tips and techniques for a chemical-free, sparkling home
Discover how to make your own natural home cleaning products for a simpler, more environmentally friendly home.

This handy little guide is the perfect companion for anyone who wants to keep their home sparklingly clean without resorting to chemical products. Rebecca draws on traditional cleaning techniques, bringing them up to date to suit the modern home. Taking the time to create your own cleaning products, from floor polish to washing up liquid, creates a more mindful approach to the home and encourages greater respect and care for our surroundings.

With just a few simple ingredients, such as salt, bicarb, lemons and essential oils, your home can be clean, fresh and fragrant, as well as environmentally friendly.


This inspiring guide is a must for anyone interested in living a simpler, more purposeful life.


I

SBN: 9780857834751


The Art of Edible Flowers: Recipes and ideas for floral salads, drinks, desserts and more
A gorgeous collection of recipes using edible flowers.

This gorgeous little book is a joyful exploration of the many ways in which flowers can be used in a range of delicious recipes. From Rose and Lavender Cocktail Syrup to Jasmine and Green Tea Ice Cream, the ideas and flavours are subtly, deliciously floral. Savoury options include Courgette Carpaccio with Wood Sorrel Flowers and Artichokes with Roasted Garlic and Chive Flowers, while the drinks range from Fermented Elderflower Fizz to soothing Poppy Milk.

Rebecca's creative ideas and thoughtful approach make the entire process of cooking a mindful experience, from picking the flowers through to the very last bite.

Bursting with beautiful creations and infused with natural flavours, this volume offers recipes suitable for all abilities.

ISBN: 9780857834768



The Art of Natural Beauty: Homemade lotions and potions for the face and body
From Avocado and Rose Face Oil to Salt and Macadamia Hair Spritz, this handy little guide is the perfect companion for anyone who wants to save money (and the planet) by ditching chemical-filled, mass-produced beauty products and making their own natural ones at home. Rebecca Sullivan has researched and tested a whole range of treats and treatments for your face, body and hair, and even your teeth.

Keep skin touchably soft with Chocolate Orange Body Butter, and create your own make up palette using petal powders. With Lavender Lip Scrub and Elderflower Night Cream, the ideas in this book will inspire you to overhaul your entire cosmetic collection and embrace the art of natural beauty.

ISBN: 9780857834782



The Art of Herbs for Health: Treatments, tonics and natural home remedies
A thoughtful and inspiring guide to using herbal remedies and tonics.

This beautifully photographed book contains a wealth of knowledge for anyone who wants to improve their health with herbs. Herbal medicine has been used for centuries, and in this thoughtful and inspiring guide, Rebecca Sullivan shares a combination of traditional wisdom and modern ideas.


The Treatment section includes Ginger and Pepperment Travel Sickness Pastilles and Herby Chest Rub, while the Drinks & Tonics chapter offers Sage and Lavender Kefir and Tarragon Tincture. There is also a selection of foods using herbs for health, including Herby Ice Lollies and Lemon Balm Bliss Balls. The book is also full of Rebecca's brilliant tips and advice - from soaking your feet in cool black tea to fix smelly feet to making ginger-infused ice cubes to combat nausea.

With a detailed herb glossary and plenty of information about essential oils, this is an essential volume for every would-be modern apothecary.

ISBN: 9780857834775

Rebecca Sullivan is an eco-agronomist, activist, food writer, urban farmer, entrepreneur and home cook. She is passionate about heritage, preserving traditions, and passing on a wealth of 'granny skills' to future generations. She is the author of The Art of the Natural Home, also published by Kyle Books, and Like Grandma Used to Make, published in Australia.

Author: Rebecca Sullivan
Hachette Australia
RRP: $19.99