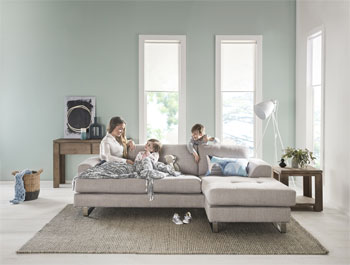 Style Your Winter Warm
As the temperature gauge moves down the scale, there's nothing quite like snuggling up indoors to enjoy cosy nights in. With a few simple styling tricks, you can style your home for winter without breaking the bank.
'You don't need to spend a fortune on new furniture to create a warm and inviting look in your home during the cooler months. Often just a few simple changes can make a big difference," says Mr Craig Evans, national visual merchandising manager, Fantastic Furniture.
Here, Craig shares his top tips to add a touch of winter warmth to your home this season:
Seal drafts - it sounds simple, but if you have a slicing wind driving under your doors and through your window panes, then not only are you wasting your heating bill but your home will feel the chill factor, whatever you do. Seal window gaps and grab some draft excluders to contain and retain heat.
Lounge room layout - if your living room furniture is spread out, consider moving sofas and armchairs closer together to create a cosy feel. Add an ottoman so you can enjoy stretching out your legs or to balance a snack tray on movie nights to kick back and relax.
Rug up – rugs are a great accessory that can add a totally different look and feel to a room from season to season. Wooden floors that are cool and calming in summer time can be warmed up in winter with a stylish rug. Choose a textured or shaggy pile for that lovely sink in feeling underfoot. Opt for warming colours such as rich reds, burnt orange or earthen browns and greens to add an inviting vibe to your winter interior.
Cushions and throws – by rotating cushions and throws as the seasons change, you can update the look of your home and make the most of your living space. In winter, opt for materials such as wool or faux fur and have fun with patterns and textures such as embroidery, pom poms, frills and weave. These will add character to your home, creating a cosy new look for your lounge room or bedroom.
Colour up – add a richly coloured piece of artwork to coordinate with your winter room and pull your new look together. Hang over the sofa to draw the eye and close up the space to create a homely feel.
Fantastic Furniture is Australia's leading value furniture manufacturer and retailer and specialises in providing a range of affordable packages and individual furniture items and accessories to suit a variety of lifestyles and tastes at everyday low prices. The company manufactures approximately 130,000 Australian-made sofas each year and has 76 stores Australia wide.
For further information visit: www.fantasticfurniture.com.au