dog&boy To Launch Stunning AW19 Range at Country's Leading Boutique Tradeshow
With autumn just around the corner, local Australian label dog&boy is launching its unique range of scarves perfect for transitioning into the colder months.

Made from 100% pure natural fibres such as Australian merino wool, silk, and cotton, dog&boy delivers premium quality and timeless designs.

The latest collection from the internationally loved brand favours classic and sophisticated design over fleeting trends, including original artworks of statement line drawings, floral illustrations, and watercolours, complemented by photographic images in bold wintery tones. Each collection is unique from the last, and each scarf is entirely different to the next – giving the wearer a sense of individuality and the desire to wear the piece over and over again.

Founder and principal designer Sonya Michele says, "We use seasonal colour tones but know that our scarves can be – and are worn – throughout the year due to the fine fabrics and beautiful designs. The new autumn/winter range in Australian merino wool is perfect to be worn right through into SS19 and beyond. We are so proud to see our customers re-wear our scarves in a variety of ways."

The designs and their bold names reflect the Sonya's love of storytelling and her understanding of the wearers of her pieces – Brave, Flow, Divergence, and Simplicity – to name a few. Each item is designed and named to inspire a moment of thought and reflection for the wearer, which can be seen in the individuality of each item.

Not only are dog&boy scarves designed for the wearer, they are also designed with the environment in mind. Using natural and sustainable materials, and manufactured through eco-friendly digital printing with reactive dyes to minimise the brand's impact on the environment, dog&boy is proud to be operate far away from the fast fashion industry.

The dog&boy AW19 collection will launch to retailers at Life Instyle Sydney in February, and will be available online direct to customers from March 2019.

Style dog&boy your own way: https://dogandboy.com/
RRP: $89.00 - $159.00


Interview with Sonya Michele
Question: Who is dog&boy?

Sonya Michele: At dog&boy we make women feel beautiful, no matter the journey. It is about encouraging women to simply be the best they can, no matter what is going on in their life. Like your favourite lipstick, our scarves are designed to lift your spirit, and your outfit.


Question: What motivated the creation of dog&boy?

Sonya Michele: Creating or starting my own business was never something I actually planned on, so it was never my dream or passion, it was more an opportunity where the timing was right. The initial motivation came from simply not being able to find a gorgeous unique scarf. I had always worn scarves; they were my 'thing' and had always sought pieces that were different, pieces that told a story. So as the story goes, literally, one fine spring day in the dog park, I was talking to a friend about not being able to find a scarf, and she told me, 'Well make your own!' The rest, as they say, is history!


Question: Where do you find inspiration when designing beautiful timeless scarves?

Sonya Michele: From the outset, I didn't want to simply create stuff and add more noise to what is a very noisy space. What we created had to be special. Sadly the ethos for the brand was cemented when during launch my gorgeous mum, Margot, was diagnosed and passed away within a month from brain cancer. Mum loved the simple, beautiful things in life, and this was, and is, the inspiration for each of our scarf designs.



Question: What was the biggest challenge dog&boy has had to overcome?

Sonya Michele: This is a hard one. There is no one particularly challenge really. Running a small business is a challenge. I often joke with our Head of Creative, Beth, that we are like the gorgeous swans - we look so elegant, graceful and relaxed on the surface, but underneath we are swimming like crazy!

When I started dog&boy, I had come from over 20-years in the corporate world of banking, finance and consulting. I knew business. How hard could a fashion accessory business be? Well, that was certainly my first challenge! However I think my naivety of the fashion and manufacturing industries has been a benefit. My naivety has enabled me to actually take risks that if I'd known more, I probably would never have done.


Question: What do we need to consider when buying and wearing a scarf?

Sonya Michele: I have always loved pure natural fabrics - silk, cotton, wool, cashmere. The fabrics feel luxe against the skin and when using a quality fabric, they will stand the test of time. Like a quality handbag or coat, your scarf should not be considered a one-season purchase. Choose your piece to wear now, and in the future. It should be timeless. For me, scarves have always been far more than just a practical accessory in the colder months. They are the final edit and can lift your outfit, no matter the season or occasion. At dog&boy we design oversized scarves for just this reason.


Question: What's next for dog&boy?

Sonya Michele: dog&boy continues to evolve. If I look back to when we started 3.5yrs ago, I would never have imagined we would be where we are and achieved what we have. I've never had a structured business plan as such, but that's not to say we've not been strategic in what we have done. We have always loved the support from the market in Australia, but from the outset building out selective export/international markets has been the priority, and will continue to be. Excitingly, we do also have some product development ideas in the pipeline that we are exploring, so watch this space!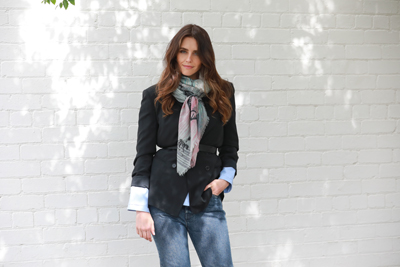 Question: Where do you find inspiration when decorating your home?

Sonya Michele: For me, my home is my sanctuary filled with beautiful things that evoke a feeling of love and joy, and this is where my decorating inspiration comes from; the simple enjoyment of pieces that I have received as a gift or I have bought during my travels. Like with dog&boy, I don't follow any trends or fashions, it is about timeless and sophisticated aesthetics - elegance never goes out of style.


Question: How can we freshen our home, on a budget?

Sonya Michele: I've always had the theory of having solid basics and building on this. It is always much cheaper to update your bed linen, throws and cushions than it is to paint a whole house! Any home I have had, has been a base of neutrals, both colour palette and furnishings to which I can then add different textiles and colour to change the look for the season, occasion, or simply because! I am also a lover of plants, both inside and out. They add life and a gorgeous splash of greenery.


Interview by Brooke Hunter