The heart-melting new romance by one of the world's bestselling authors.
So much can change in half a lifetime...

Then
At fifteen, George is the foster brother Leah never asked for. As the angry, troubled boy struggles to come to terms with his circumstances, Leah finds herself getting drawn closer to him.

Theo's wealthy family have mysteriously pulled him out of boarding school and he's now enrolled at the local state school with Leah and George. When their worlds collide that summer, the three teenagers form a bond they believe will be unbreakable. But life doesn't always go to plan...

Now
Shocking news brings Leah back to Yorkshire, baby daughter in tow. But Emilie's father Theo isn't with them, and George has unexpectedly returned. After half a lifetime, have they healed the scars of their pasts? Will coming back home set their hearts in a different direction?

About the author:
Paige Toon grew up between England, Australia and America and has been writing books set in sun-drenched locations around the world since 2007. She has released thirteen novels and a three-part spin off series for young adults. In 2014, Paige set up a club, The Hidden Paige, in order to share free short stories and extra content with her readers. Sign up at paigetoon.com or visit her website to find out more about the author and her characters.

Someone I Used To Know
Paige Toon
Penguin Books Australia
ISBN: 9781760898205
RRP: $32.99


Interview with Paige Toon
Question: What originally inspired the idea of Someone I Used To Know?

Paige Toon: I was intrigued by the idea of a character whose parents fostered. I wondered what it would be like to grow up in a household with lots of other children who would come and go and who would most likely need your parents' attention even more than you did. In doing my research about fostering, I found that younger teenagers were much harder to place than young children because they generally come with more emotional, not to mention hormonal, baggage. I also discovered that it's often the case that siblings are separated, with older teenagers going into the care system to be fostered while their young siblings are put up for adoption. I heard of cases where these children didn't even get to say goodbye to each other and I found it so heartbreaking that I felt compelled to write about it. In Someone I Used To Know, Leah's parents are inspirational foster parents and George is a troubled teenager who comes to stay with them for a while. The story is told in Then and Now chapters, when Leah is fifteen and when she's thirty and George comes back into her life.


Question: Are the characters based on anyone you know, in real life?

Paige Toon: No. In fact, I rarely ever write characters based on real people. Sometimes an element of an idea is inspired by a real person, or more likely another fictional character I've been drawn to in a film or book, but they very quickly take on personalities and appearances of their own and I can't picture them as anyone real inside my head. It's why I find it so hard to tell readers who I'd cast in a film if my books were ever adapted.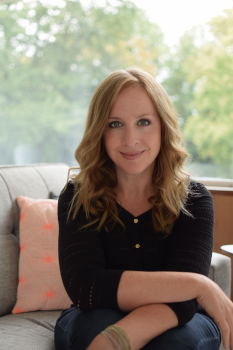 Question: How much of your inspiration comes from real life and real people?

Paige Toon: Not much at all. Sometimes things I've personally thought or said make it into fictional conversations, whether it's something vocalised by my main characters or supporting ones, but mostly my characters are created from scratch. I spend so much time thinking about them – usually a year or more – before I come to write about them so they feel very real. I'll be out on walks and they'll be having full conversations inside my head – a lot of which I forget by the time I make it back to my computer, annoyingly! It's great when they're chatty, though. If they keep me awake at night, that's always a good sign.


Question: Is there a message you hope readers take from Someone I Used To Know?

Paige Toon: I really hope people are inspired to be more compassionate and understanding about troubled teenagers and their parents. It would mean the absolute world to me if one of my readers told me they were inspired to foster after reading this.


Question: Who is your favourite character in the book?

Paige Toon: I think it would have to be George. I mean, I've spent several months writing from Leah's perspective as she's fallen head over heels in love with him, so how could it not be George? But I also really adore Theo, who is Leah and George's friend, and Jamie, who is Leah's foster brother and a true Yorkshire lad. Leah's parents also have a big piece of my heart.


Question: What advice do you have for aspiring writers or artists?

Paige Toon: Always write/create what you love and not what you think you should. If you love what you're doing, there will always be people out there who will love it too. I remember my publisher once saying to me: you write the book that's in your heart; it's our job to sell it. I feel very lucky that she has always given me the creative freedom to write what I've wanted to. If I was overthinking a story, trying to write for an audience or a more demanding editor, say, I'm pretty sure I'd lose my passion for doing what I do. As it is, I have no doubt that my readers connect with what I write because I'm deeply connected to the characters.


Question: What or who inspired your love of reading/writing?

Paige Toon: I've always loved reading and writing and have done ever since I can remember. I was always making up stories and songs and poems. Childhood books I remember loving are The Very Hungry Caterpillar by Eric Carle and The Velveteen Rabbit by Marjery Williams. I used to write much sadder stories, but then I fell completely in love with novels by the likes of Marian Keyes, Helen Fielding and Lisa Jewell. I was definitely inspired by them to create similarly uplifting and emotional love stories.


Question: What's next, for you?

Paige Toon: I have two ideas for my next book and I can't decide which one to write… One is a little lighter and funnier, but the other is more in line with the emotional depth of Someone I Used To Know, so it might come down to what I'm more in the mood to write once summer is over. In the meantime, I'll crack on with researching both and will see which characters shout the loudest!


Interview by Gwen van Montfort