Sadie Katz House Of Bad DVD Interview
Question: How would you describe House Of Bad?

Sadie Katz: Three naughty sisters who should be scared of the dark.


Question: What inspired you to audition for House Of Bad?

Sadie Katz: Insanity. I should of ran… (just kidding!)


Question: Can you tell us about your character?

Sadie Katz: Sirah is your stripper with a heart of gold but, real. Like, in some ways I've never read a script where that was just her job. In movies the stripper is normally sort of just a stripper, in this film it is her job and she wants out but, it's cool because I never was "stuck" playing a stripper... which is so cool if you think about it.


Question: How can you relate to your character?

Sadie Katz: I think she's so sweet and vulnerable and well-intentioned. I love Sirah so much; it was fun to be in that head space. She's so much like the parts of me I feel but, you can't really... Okay truthfully I've had a glass of wine so I'm lovey dovey. But, it's fun to play another character and Sirah was super fun (laughs).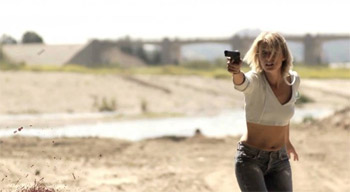 Question: What was the most difficult part about filming House Of Bad?

Sadie Katz: I think filming is all so wonderful and great in the beginning as everyone is so damn hopeful. Then it's great because you know it's going to sell and make money (blah, blah). It's post production where everyone gets nervous as more money is spent and then you get nervous. I was excited when "House of Bad" got distribution because I didn't have to feel responsible if it didn't! That's a silly weird feeling. It's sort of stressful and I can't even imagine how huge A-listers feel when they panic their movie won't sell and everyone blames them… Argggh. Scary! I'm so glad it's doing well.


Question: How long, each day, did you spend in hair and makeup?

Sadie Katz: Jim Towns isn't a real fan of make-up in this movie but 20 minutes which is super out of the norm because it's normally two hours! But, we are supposed to be sisters in the woods - so, we are bare-faced (practically).


Question: What did you do, to unwind, after an extremely intense day, on set?

Sadie Katz: I like to think about everything that happened on set, all night and then I can't sleep! I love filming... I really do so mostly I stress about not filming anymore and not seeing my new family. After filming I like to have a wine and dinner party but, mostly wine.


Question: What was it like working with Jim Towns?

Sadie Katz: I'd never work with him again! (I'm kidding)

He's passionate, prepared and very professional. I'm actually working with him on 13 Girls (CSI- meets Catholic school girls) I play a detective in that film and I'm kind of a bad ass and I can hardly wait.


Question: Why is this the horror film for horror fans, this Christmas?

Sadie Katz: I think girls should watch it. Seriously, it's made for women in a sweet, cool way. Look if you're a fan of indie horror you have seen girls get chased in the woods and hacked up; but this one is different, it's a story of sisterhood and ghosts real and imagined.


Question: What's next, for you?

Sadie Katz: I'm about to eat a cheeseburger (without the bun, of course) and I'm shooting a pilot this week called Streets of LA, it's a cop show with Jamie Gomez of Nash Bridges. In January I'm shooting Beautiful Ink which also stars Jamie Bernadette.



House Of Bad DVD
Cast: Sadie Katz, Clint Jung, Heather L. Tyler, Cheryl Sands, Lisamarie Costabile
Director: Jim Towns
Genre: Horror, Thriller
Rated: MA

Written and directed by Jim Towns, House of Bad tells of three sisters on the run with a suitcase full of stolen drugs, yearning to break free from their sordid pasts. When the eldest sister Teig (Tyler) decides they're going to hide out in their old, abandoned family house, its painful memories quickly become too real to fight off. Unable to distinguish dreams from reality, this attempt at a new lease on life turns into a race for survive.

Interview by Brooke Hunter