All Together Now
Sydney based artist and 'All Together Now' Australian TV judge 'Rocco Bene' has released his latest remix album to his newest single 'Empty'. The remix album includes four renditions of the dance packed original from well renowned DJ's Ruff Loaderz & Jochen Simms!

'Empty' is a heartfilled hit that touches on the sentiment of losing a loved one and moving on. The process of mourning sparked the creative melodies for Rocco while he was in Italy, Capri just after the passing of his mother. After recording a scratch demo on his phone he then headed to the UK where he was able to glue together his message with Ruff Loaderz, who brought a fusion of dance and emotion in the production of 'empty'.

Including a great run on 'Kings of Spins' with every release hitting number 1 on the charts and supporting the likes of 'Human Nature' and 'Bardot' in the past, Rocco is currently a judge on Australian smash TV show 'All Together Now' which reached a mammoth 1.6 million viewers on it's debut. With a busy schedule in place Rocco plans to head back to the UK to promote 'Empty' with a Promotional tour early next year!


Interview with Rocco Bene
Question: How would you describe your music?

Rocco Bene: Sexy beats with heart and soul - I write inspiring lyrics no matter if it's about losing someone or in love I like to send a message that we all should be inspired through the bad and the good that happens in our lives.


Question: What inspired Empty?

Rocco Bene: My mum past away and my best friend ended his life in the same year. I was away in Italy with my family in Capri to scatter my mum's ashes and I had to write a song for a recording session in the UK with the Ruff Loaderz a week later. I remember sitting on the boat and all of a sudden the melody and lyrics came to me and I quickly recorded it down, by the time got to the UK and sang it to the track it was a match made in heaven.

The songs about how empty you feel when love is lost but when you love them so much you got to let them go.


Question: Can you tell us about your time on All Together Now?

Rocco Bene: The experience has been amazing and something I'll be forever grateful to be asked and be a part of.

I remember being on set and thinking WOW this is bigger than what I expected. I love the fact the 100 judges are from all parts of the music industry and great to see some familiar faces and making new friends.


Question: Which is your favorite song to perform live and why?

Rocco Bene: My favorite track to perform is The Day You Went Away and Lucky Star even though they are covers and I love the fact that everyone knows them but the fact that I made them my own with its own spin.


Question: Do you prefer performing live or recording?

Rocco Bene: Depends on the venue but I love performing it to the recordings cause it captures the full sound and potential of the track the beat hits harder and it sound similar to the recordings.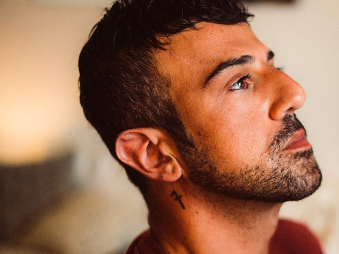 Question: What motivates you most when writing music?

Rocco Bene: Life experience, challenges and sending a message of hope when i write. I write from the bottom of my heart and the core of my soul. That's why no matter what life throws at you it's how you use the experience and what you do with it.


Question: Which music/artists are you currently listening to?

Rocco Bene: Robyn's new album Honey and Amy Shark.


Question: What or who was your inspiration to go into the music industry?

Rocco Bene: I was obsessed with Paula Abdul all my walls where covered in posters I wish I still had photos. I remember watching the American Music Awards in 1990 and I looked at my parents and said that's what I want to do when I grow up and I totally threw myself in my work from a young age I was a workaholic. My poor parents I'm surprised I hadn't sent them broke (laughs).


Question: If you could collaborate with another artist, who would it be?

Rocco Bene: I would love to collab with Robyn, Stevie Nicks or Madonna.


Question: What's a typical day like?

Rocco Bene: You never know with me it's so spontaneous, I wake up with my morning coffee and toast followed by a run.

At the moment I'm finishing writing a book and working on a clothing brand before the end of year and spending time with the ones I love.


Question: Can you share your socials?

Rocco Bene: @roccobenemusic
Youtube.com/user/roccobenemusic
Facebook.com/roccobenemusic
@roccobene
https://soundcloud.com/roccobene


Interview by Brooke Hunter