Sync Or Swim
Cast: Rob Brydon, Rupert Graves, Thomas Turgoose
Director: Oliver Parker
Genre: Comedy, Drama, Romance
Running Time: 96 minutes

Synopsis: Rob Brydon stars alongside a talented British cast in this comedy that tips its (swimming) cap at beloved British comedies such as The Full Monty and Calendar Girls. Inspired by the Dylan Williams 2010 documentary, Men Who Swim, Swimming with Men tells the story of a man (Brydon) who is suffering a mid-life crisis and eventually finds new meaning to his life as part of an all-male, middle-aged amateur synchronised swimming team. Together they make a bid to compete at the Unofficial Male Synch-Swimming World Championships, and no doubt a shot at personal redemption along the way.

Swimming with Men
Release Date: March 21st, 2019
Director's Statement
For most of us the image of synchronised swimming is women wearing thick make-up and forced smiles. The mention of male synchro is undoubtedly intriguing. A film on the subject, though, might be just plain silly. Don't get me wrong, I enjoy large and regular helpings of silliness, but to sustain an audience for an hour and half you need a bit of ballast - a whiff of substance.

When I met the producers, Stewart, Anna and Maggie, and the writer, Ash, I was mightily relieved, and excited, by the direction they were taking. I watched the doc, 'Men Who Swim' made by Met Film (which Stew produced) and was utterly charmed. There are many funny (and silly) moments but the whole thing is underpinned by a kind of pathos. Ash's writing for the feature is a rich blend of gentle absurdity, melancholy and bold comedy.

The heart of it then is men in middle age: men and their bodies, men and their friends, their vulnerabilities, dreams and disappointments. No longer peak physical specimens, nor brimming with potential or testosterone, our dented heroes find some kind of peace and satisfaction in the pool. Together they are capable of achieving rare, if faintly risible, things. This is what really seduced me: matching the inherent comedy of the conceit with the fragility and tenderness of men struggling to make sense of their lives.

Casting is paramount and Rob Brydon was the linchpin. A dangerously gifted comedian and actor, he was open and fearless in his approach to the role and completely immersed himself in the project. The ensemble is the costar and we sought out top-level actors to bring real depth of characterisation and keep Rob on his toes. I'd worked with Danny Mays before and knew what a huge asset he would be to the film. He has a remarkable ability to earth his characters, to bring great authenticity while eking out rich comedy. Jim Carter, likewise, has this gravitas combined with a beautiful, light touch. When I met Thomas Turgoose I was struck at once by his spontaneity. He has such spirit and nerve, and happily chaos is always just around the corner. Rupert Graves is a hugely appealing actor, with easy charm and subtle wits. Adeel Akhtar is a true original, a magician who can weave comedy out of thin air.

I'm delighted we managed to attract Jane Horrocks for the role of Heather. She brings such warmth and humanity, and creates a terrific rapport with Rob. And in the role of Susan, Charlotte Riley is superb, with a natural energy and flair that lights up the screen.

Clearly one of the challenges of the project was pulling off the swimming routines. Neither the use of CGI nor doubling our cast would work, so we set up a swimming boot camp instead. We brought in the Swedish trainer from the documentary whose approach, you might say, relies less on individual athleticism and more on collaboration. It was with mounting excitement that I saw the routines begin to take shape and then in the last week they'd suddenly created something that took my breath away.

The other crucial thing that boot camp gave us was a chance to build the characters and their relationships. Given this was a fast shoot, it was vital that when the cameras turned we could hit the ground running. Casting the actors is one thing, but the casting of the crew was no less important. I turned to the production designer, Amanda McArthur, who I'd worked with on the St Trinians films. She has a crack team and presented inventive solutions to the many challenges. Our protagonist, Eric, is an accountant and 'the numbers man'.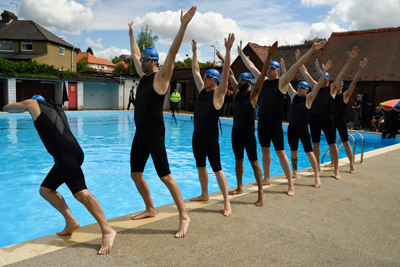 Inspired by his ability to make patterns in the pool, the design is peppered with patterns and symmetry.

Our DP, David Raedeker, picked up the baton. We wanted a style that had some rigor in terms of graphic composition and yet was free enough to capture the spontaneity of the cast. While Eric's London life can be noisy, chaotic and oppressive, the swimming pool is his sanctuary. Through the story this eccentric sport assumes transformative powers for our unlikely heroes. We wanted the underwater world to have its own glamour and magic.

My editor, Liana Del Giudice, brought fresh eyes and a vibrant style. Cutting the scenes was a pleasure as we evolved an energetic and playful style intended to embrace the wit and warmth of the performances.

My frequent collaborator, Charlie Mole, brings characteristic range to the score. There is zest and originality in his music as it moves from broader comedy to scenes that are surprisingly touching. This is indeed the balance we've all attempted to capture: comedy with heart.

While the story is largely set in the UK, I always intended to make a film with an international flavour. It's only as I write now that I realize my designer is a Kiwi, my DP a German, my editor Italian and my composer half-French. I think their combined work makes for a rich brew, and I'm proud to be a part it.
- Oliver Parker


Production Story
In 2010, award-winning documentary Men Who Swim made a splash. Following a group of Swedish, middleaged, male synchronised swimmers as they found unlikely success at the unofficial All-Male World Championship in Milan, the film, produced by Met Film, waded into situations of great humour and poignancy as it tracked the men on their incredible journey.

"As soon as we finished the documentary, we started to think of it as a narrative film as well," says MohrPietsch. "It's a heart-warming story and a unique world – the world of amateur synchronised swimming. We talked about it for a long time, how to reconfigure it. We moved it from Sweden to London and rather than a fish-out-of-water story, which is what the documentary is, we made it about a guy who's having a mid-life crisis and finds refuge in this team."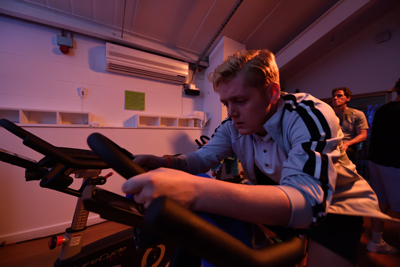 "A writer that I'd worked with before, Aschlin Ditta, saw the documentary and phoned me up and said, 'It's great, I love it'," says Le Marechal. "He said, 'If you're thinking about doing a fiction version, I want to write it, and this is why…' He just nailed what the whole thing was about. The interesting thing was taking the tone of the documentary into the fiction film but understanding that you can't just transpose Swedish culture into British. There was a journey of making that tone work, but slightly shaping it to make it work."

Having sought and received the approval of the Swedish team they originally documented – the real-life synchronised swimmers even agreed to play the Swedish team in the film's Championship finals –they then approached Oliver Parker (Dorian Gray, Dad's Army) to direct. They went armed with Ditta's script, in which Eric, a late-fortysomething accountant, feels that both his marriage and his career have stagnated. Most unexpectedly, he discovers a new sense of purpose by joining a ragtag synchronised swimming team who practice at his local pool.

"We'd seen a lot of Ollie's films and knew he had this perfect blend of comedy and heart," explains MohrPietsch. "We felt he could deal with the outrageous comedy of men in trunks, but also had the sensitivity to deal with the melancholia of a mid-life crisis."

Le Marechal nods. "Ollie had some really great, fresh ideas to inject into the script, and just a vision for how he saw it coming together, which gave everyone a confidence for what it could be. It also helped us get the level of cast that we've got. He's phenomenal with actors. He allows them the space to create but knows exactly what he wants and needs from an ensemble. He was an utter stalwart throughout the process."

Parker, meanwhile, was delighted to dive in. 'Middle-aged Man' is something I'm not far removed from and have a certain sympathy for," he says wryly. "The notion for how you deal with that period of your life when your potential is waning and your social circles are diminishing, and treating these quite serious subjects with a light touch, was an enormously attractive proposition."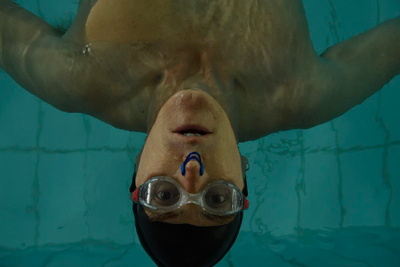 But one thing was as clear to him before he even began casting – any actor selected for the ensemble would need to be comfortable in the pool. What's more, they would need to be ready and willing to sign up to boot camp, or rather Speedo camp, in order to master the art of making pretty patterns in the water. "That shrinks your casting options rather swiftly," Parker laughs. "I was tempted to audition people in the pool!"

In At The Deep End

"We'd meet every day at the Olympic Diving Pool in Stratford," recalls actor/comedian/presenter Rob Brydon, who received the script and found himself rooting for Eric and his nose-clipped cohorts from page one.

"We'd sit in the cafe first. Then get changed and go off to the pool. It was exciting, daunting, hard work. Very physical. Three or four hours a day. That's a lot of exercise. You're using a lot of muscles in the pool. I ended up with the best sleep I've had in my life, and I'm not saying that in a flippant way."

Sharing coffee and pool time with Brydon was an eclectic cast of talented Brits: Jim Carter, Daniel Mays, Rupert Graves, Thomas Turgoose and Adeel Akhtar. All found swim camp tough but fun, and recall it as a hugely rewarding experience.

"It's basically just organised drowning," chuckles Carter of being taught such moves as the 'Wilting Flower' and 'The Loop', both of which required dexterity, athleticism and considerable lung capacity. "It's drowning elegantly. Holding your breath a lot. We don't paint on the smiles, but it does involve silly hats and nose clips. They had a special industrial-sized nose clip for me."

"We were unfit, un-swimmy actors – doofy males making pretty patterns, like snowflakes," continues Graves. "It was great. And it needed a lot of trust, having someone else's legs wrapped around your neck, dragging you underwater."

"You initially think, 'How on earth and I am going to do this?'" says Mays. "But when you do it right, it's incredibly fulfilling."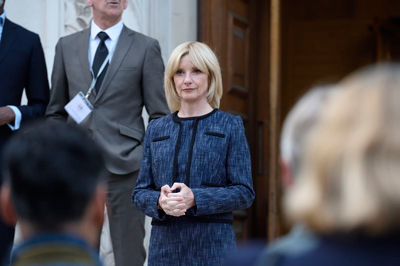 It's a statement that Akhtar agrees with, though he's not about to go overboard. "Being at a pool when it's really overcast and rainy… you just want to be in bed," he begins. "But when you do it, it's actually quite fun."

As for Turgoose, who quips that he was cast because "Jack O'Connell was busy", he confesses to having to "cut down drinking and quit smoking." Swimming With Men has awakened a desire in the This Is England star to "exercise and get fitter", though he hasn't lost his mischievous streak. Asked to describe, to the layman, the art of synchronised swimming, he responds, deadpan, "It's swimming in synchronisation."

All jokes aside, Monteith is keen to stress the camaraderie and charisma that this eclectic ensemble brought to the table – or rather pool – and the work ethic they all shared. "Like a guest of honour at a surprise party, it took me some time to twig how this diverse group of highly talented people had come together to create such magic," she says. "They did it through talent and hard work. Lots of it."

Aquatic Aquaintances

On top of learning to perform to a level where the actors could convincingly compete in the amateur World Championships in Milan ("I presumed there would be doubles because we're playing in goggles, hats and nose clips, but there are no doubles whatsoever, and I think you can tell that when you watch it," says Brydon), the two weeks of swim camp was the perfect bonding experience.

"We got on," smiles Brydon. "You can't help but get to know each other. Rather like the characters in the film. One of the things I like in the film is the vulnerability of these men. You see these guys in their trunks, quite exposed, having to physically touch each other, to make contact. There's something quite moving about that." In the film, one of the initial attractions of the synchronised swimming team is that none of the men know anything of note about their teammates – the first rule of swim club is you don't talk about swim club, and all worldly problems must be left at the door to the leisure centre. But as the men begin to spend many more hours together, training for the championship, their personal lives inevitably spill into the pool.

"Many of them, we don't really know who they are for a while," explains Parker. "We just meet them in their trunks and swim caps, and gradually get little clues, until, at a certain point, we escalate the information. That's part of the fun for the audience, that it starts off very broad and then gets furnished with more fun details as it goes on." He pauses, ponders. "They come there sort of naked to the world, and don't share secrets, just share routines. It gives them an opportunity to just hang out in an intimate way, which is quite rare for men of a certain age today. Each of them gives you a shard of masculinity. They're all very different men and are brought together from their different worlds by their love of this activity, which is rather eccentric."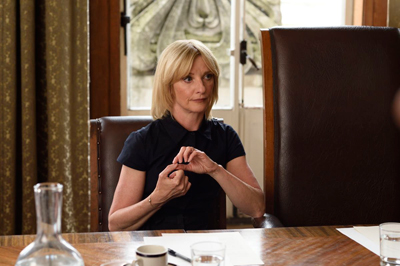 "The actors very quickly bonded," says Le Marechal. "Jim was very much about keeping them in line. A couple of them liked to mess around." ("Jim and I were the two oldest and we'd often catch each other's eye as if to say, 'Wouldn't it be nice if they'd quieten down a bit?'" says Brydon with a serio-comic wince.) "It was a baptism by fire," says Mohr-Pietsch. "They had to change their diets, learn a lot of techniques and skills. But our actors really rose to the challenge…"

"Crumbs, they had to get into trunks or Speedos!" says Le Marechal with naked admiration. "But they knew what they'd let themselves in for and just went for it."

"It's not often that you feel uncomfortably overdressed on a film set, at least not on a British comedy!" laughs Monteith. "But those first days when it seemed like the entire cast and crew was in the pool, it became clear that this was not just an ensemble. They really were a team."

It wasn't just the actors who spent hours in the water. Parker still looks impressed when he recalls the shoot, saying, "David Raedeker, the DP, loved the challenge of shooting underwater – he has his diving badge. But we also had to have proper diving photographers as well, and what's called the 'Nauticam' [a camera that can work on the surface and under the water]. It opens up a whole other vista. It meant you can go much deeper and stay there. It was really good for some of the more beautiful set-pieces. You can't ask an actor to hit a mark because it will float away. A lot of time it had to be done in one take because we were running out of time, but there was brio and excitement."

Swimming With Women

While modern-day masculinity is one of the key themes of the film, it is not an all-male affair, with a couple of key roles for women. "Heather is married to Eric," explains Jane Horrocks, playing a woman whose own career as a local councillor is flourishing even as her husband's withers. "Eric's having a mid-life crisis and his relationship with his wife isn't going very well. They're at cross-purposes with each other. They want to be together but don't know how to be together, so they split up. She's frustrated that Eric has come to a standstill and doesn't know how to progress further as a person. She has found local politics and is actually thriving from being part of something new and exciting. She feels she can have an impact."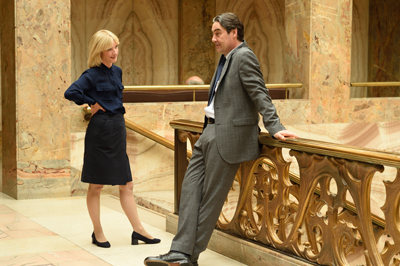 Also in the mix is Susan, played with nuance and gusto by Charlotte Riley. "Susan works at the swimming pool where the guys train, and she has a curious fondness for them," Riley says. "Being a pro-synchronised swimmer herself, she's interested in their development as swimmers – it's unusual to watch people learn that kind of sport at their age."

It is Susan that the guys ask to be their coach when they decide to get serious – or at least semi-serious – in order to compete at the World Championships, little knowing that she will soon demand they give up the beer, stick to a diet of salad and water, and train for hours on end in the pool. Of course, Susan being something of an expert swimmer meant that Riley, too, was required to attend swim camp. It was an experience she found at once gruelling and joyful, saying, "When you're in a pool for hours and hours and hours on end, you have to find ways to entertain yourself and stay light. I trained to learn my own routines. And learned lifts. It was really tough. It takes balance and real teamwork."

Susan also allows for a little romance to enter the fray. Dating one of the Swedish synchronised swimmers (Christian Rubeck), she finds herself enjoying a gentle and ever-escalating rapport with Luke (Graves). Heather, meanwhile, is treading water in a situation that Horrocks feels a lot of people will identify with.

"When you get to a certain age, those things that happen within a marriage are very common, so yes, I relate to Heather and Eric, and that mid-life crisis time is something that a lot of people do experience." Brydon agrees. It was a large part of why he signed on. "You read a script and hopefully it chimes for you: 'There's the character, there's me… where do we meet?' It's very simple: 'How much of me can I bring as opposed to putting on a new voice? How can I morph into this person? Where do we crossover?"

Brydon and Eric crossover in several ways, it transpires. "Eric is a guy who's worked as an accountant and then he's meeting these new people," Brydon continues. "So, we have to play his uncertainty and trepidation. When you're an actor and entertainer, as I am, you're constantly meeting new people. And though I am someone who's rather fulfilled in my career, content with what I've got, I can see the times in my life when I didn't have what I've got now. And I can identify with the age thing, of being older and thinking 'If I don't do it now, when will I do it?' There's not an infinite amount of time stretching off into the future. I wanted to communicate, with Eric, a man taking stock of his life. Things haven't turned out as he thought they would. And he's hiding at the pool."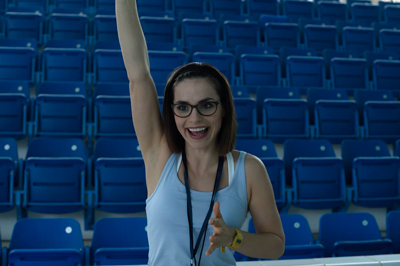 Sparkling Water

Part character piece, part sports movie, part examination of a crumbling marriage feeding into a mid-life crisis, and part triumph-of-the-underdog feel-good movie, Swimming with Men stays afloat by meshing all of its tones into, well, one synchronised pattern. It is a movie that will appeal to men and women, old and young (to say nothing of middle-aged). And while some might compare it to The Full Monty, with swimming instead of stripping, it proves as fresh and as invigorating as a dip in a lido on a hot summer's day.

"I love telling people I'm doing a film about synchronised swimming because it's not been done before," says Turgoose, whose mates initially thought it was, shall we say, a peculiar choice. "It's a lovely film."

Akhtar similarly feels it will upend expectations: "My mum reacted in silence, and my dad was similar – they just couldn't figure it out!" he says of the moment he outlined the plot of his new movie. "But they'll get it when they see it."

"Men approaching middle-age is something that is really interesting," muses Mays. "Synchronised swimming is such a leftfield idea but the script was good and the characters so relatable, it just leapt off the page. It could have been about anything… tiddlywinks or something… you know what I mean? It's unique, but accessible." "It's very funny, very bizarre," adds Carter, before trying, none too convincingly, to quash the rumour that he fell asleep on an inflatable crocodile during a night shoot.

As for Horrocks, she spies another reason why she is confident that Swimming With Men brandishes broad appeal. "It's a really sweet story and I think there is a desire at the moment for feel-good films, because of what's happening politically."

It's a theme that Monteith is quick top pick up. "People who see this film are in for that rarest of treats – a chance to put everything aside and join in with the fun of spending time with extraordinary ordinary people, doing their best and taking a chance on each other," she says. "I defy anyone not to feel lifted up afterwards."

"I'm not quite middle-aged but it really resonates with me," stresses Mohr-Pietsch, pointing to the universal appeal. "Anyone who feels a bit lost or is looking to re-focus their lives… anyone who's lost something and wants to win it back… will find something here."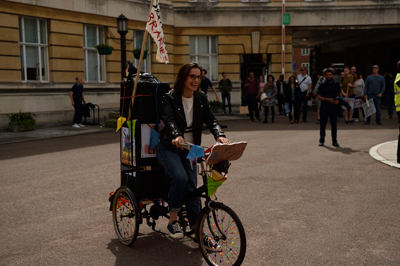 "Audiences are going to get a lot of laughs and pathos," promises Le Marechal. "It has a lot of heart, and takes you on a real journey. I still cry sometimes when I watch it in the edit, and I've seen it a lot! You'll leave with a spring in your step and maybe give synchronised swimming a go yourselves!"

It's an opinion that Parker most certainly shares, predicting that viewers are in for a ride that makes you think even as it uproariously entertains. "They should expect to have a lot of fun, on one hand – there's a lot of sweet comedy – but there's also a lot of heart, so I hope an audience will find themselves surprised by how touched they'll be, both by the stories and the individuals," he says.

"It's going to chime with a heck of a lot of people," nods Brydon. "During the shooting of it, Ollie played about 10 minutes of footage halfway through. And I thought, 'If this was a trailer at the multiplex, there'd be a lot of people saying, "Oh, I'd like to see that".' There's a lot of humour, a traditional overcoming the odds story, a romantic story. And we've got great actors. They all brought so much to their parts. And when I saw the finished cut, I imagined it would appeal as a date movie, as a group of lads' movie, and to people who are older and will identify."

It's certainly a film that Brydon will never forget making. "The physicality of this has given me a newfound respect for Jason Statham or whoever the action hero of the day is," he says. But while just the memory of all those hours in the pool elicits a wince, he's also quick to grin for he acquired some wondrous tricks to tuck away in the locker. "Last year, on holiday, I did the odd backwards underwater loop…"


Swimming with Men
Release Date: March 21st, 2019