Christian Bale Vice
Cast: Christian Bale, Amy Adams, Steve Carell
Director: Adam McKay
Genre: Biography, Comedy, Drama
Rated: MA
Running Time: 132 minutes

Synopsis: With his entertaining and incisive Oscar-winning The Big Short, writer/director Adam McKay laid bare the Wall Street chicanery that led to the greatest financial collapse since the Great Depression. In his new film Vice, McKay sets his sights on another true story, that of one of the most elusive and secretive minds in modern American political history, Richard Bruce (Dick) Cheney, joining forces with Christian Bale (The Big Short, The Fighter), in another transformational performance. The film co-stars Amy Adams (Arrival, American Hustle), Steve Carell (The Big Short, Beautiful Boy) and Sam Rockwell (Three Billboards Outside Ebbing, Missouri).

Spanning a half-century, Cheney's (Christian Bale) complex journey from rural Wyoming electrical worker to de facto President of the United States is a darkly comic and often unsettling inside look at the use and misuse of institutional power. In McKay's capable hands, the dichotomy between Cheney, the dedicated family man and political puppet master, is related with intimacy, wit and narrative daring. Guided by his formidable and unfailingly loyal wife, Lynne (Amy Adams) and mentored by the brusque and blustery Donald Rumsfeld (Steve Carell), Cheney insinuated himself into the Washington D.C. fabric beginning with the Nixon administration, becoming White House Chief of Staff under Gerald Ford, and after five terms in Congress, Secretary of Defence for George H. W. Bush. In 2000, he left his position as C.E.O. of Halliburton to run as Vice President to George W. Bush (Sam Rockwell) with the implicit understanding that he would exercise almost unchecked control, a co-president in all but name.

Cheney's cunning and furtive political manoeuvring have altered the American political landscape in ways that will continue to reverberate for decades to come. But it is clear there is more than one Dick Cheney, a man whose reputation in the public Spector belies his private life and obvious devotion to his family.

Vice
Release Date: December 26th, 2018


About The Production
Genesis

Like many Americans, McKay had little direct knowledge of the elusive, seemingly unknowable Dick Cheney, who served as a virtual co-president to George W. Bush from 2001 to 2009, and in so doing, changed American history if not forever, then certainly for decades to come. "I didn't know much about Dick Cheney, but as I started reading about him, I became fascinated with him, what drove him, what his beliefs were. I kept reading more and more, and was astounded by the shocking method through which Cheney gained power and how much he has shaped the United States' current place in the world."

McKay also read Robert Caro's masterful biography of Robert Moses titled The Power Broker, another insightful look about one man's rise to power and the difficult task of holding onto it. "After that, I started reading everything to do with power," says McKay, "going all the way back to Shakespeare and it was then that the idea for the script began to take shape."

Cheney was an avid fly-fisherman, a sport that requires patience, a virtue that served him well in his methodical climb up the ladder – both in politics and business, McKay contends. However, none of that would have mattered without the encouragement and ambitiousness of his wife, the former Lynne Vincent, his high school sweetheart. After Cheney flunked out of Yale and was hit with a couple of DUIs, his wife helped turn him around. "Without a doubt, it was Lynne's ambitious nature that transformed Dick Cheney," states McKay. "Those who knew her back then said that whoever she would have married would have gone a long way. Otherwise, Dick might have ended up living a quiet life in Wyoming like his siblings." Cheney became Lynne's conduit to power, according to McKay. "She had the brains and ambition but realised that, being a woman, certain doors were closed to her. While she might not be able to pull the levers of power herself, she knew how to get someone to pull those levers for her."

The more he delved into Cheney's political career, the more he appreciated how complex and far-reaching an influence he has had on contemporary American politics. McKay's mission, he claims, was to write a script that transcended political beliefs and addressed universal issues. "This was a giant chapter in U.S. political history that I don't feel has ever been fully examined on screen. A vital piece in the puzzle on how we arrived at this moment in time where political consensus is achieved through advertising, manipulation and misinformation. And Dick Cheney was the man at the centre of it."

After intensive research and numerous first-person interviews, McKay was able to narrow his focus and begin writing the script, according to producer Kevin Messick, who has worked alongside him on several films and, most recently, the HBO miniseries Succession, another exploration of power manipulation. "Of course, in this case, narrowing the story meant starting in Wyoming in the 1950s and going through to the early years of the 21st century."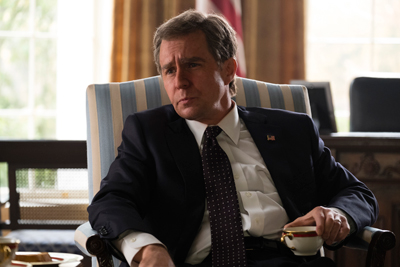 In his comedic films and his Oscar-winning screenplay for The Big Short, McKay layered the time-shifting narrative with unorthodox elements including an unconventional narrator, breaking the fourth wall, comedic surreal moments, documentary footage, and even a pillowtalk conversation between Lynne and Dick Cheney written in iambic pentameter. "Part of Adam's genius is his freestyle, almost jazz-like approach," says Messick. "In so doing, he's created a hybrid genre that audiences respond to, but can't quite tag. Films like The Big Short and Vice are not strictly drama nor strictly comedy. But they use elements of both. His unique style is almost part of his DNA."

For Plan B producers, two-time Oscar winners Dede Gardner and Jeremy Kleiner (Moonlight, 12 Years a Slave), who had worked with McKay on The Big Short, the response to McKay's script was immediate and wholehearted. "It's a profoundly ambitious story," says Gardner, "more an epic than a bio-pic. It unpacks 40 years of American politics and how, in the present day, we have arrived at where we are. But it's also about American culture and how our society has changed over time."

"For me, it was combination of elements," says producer Kleiner. "As with The Big Short, Adam was experimenting with form. He is reaching for a way to tell complicated stories. This was another high wire act of a script that also delivered on an emotional level. His depiction of history gave us an understanding at how we arrived in our current moment, offering an articulated connection between the past, the present and perhaps even the future."

Both Gardner and Kleiner were struck by McKay's use of an unconventional narrator (portrayed in the film by Jesse Plemons of The Post and Fargo). Gardner sees him as a metaphorical character, an audience surrogate who takes on various guises throughout the film. "Adam found a way to represent the everyman in this story, someone who feels the way most of us do," she says. "And he did it with humour and specificity, allowing the character to hold the emotional centre of the film." For Kleiner, the narrator speaks to McKay's egalitarian concerns. "His interests lie in how people are affected by these enormous changes," he says. "It made sense to access this story through a person who is not rooted in politics but in everyday American life. It's a clever device that weaves in and out of the story and has emotional affect."

McKay was equally as interested in exploring the Cheney family as he was in Cheney's political rise, says Kleiner. "Cheney self-identifies as a family man. He was driven by his wife Lynne, with whom he had a common bond. They both shared ideas with many of the characters in the film, a desire to make sure their family is secure, though perhaps the security sometimes comes at the expense of others who weren't family. The Godfather dealt with that same subject. It's hard to reconcile a devoted family man with some of the events that happened on his watch and that's a big part of Adam's dramatic arc." The Cheney family story not only traces his roots as a politician, but also brings a dimensionality and humanity to the story, claims Gardner. "Family was a major part of Dick Cheney's life and their role in the film provides the audience (and the actors) a way to see these characters from the inside out."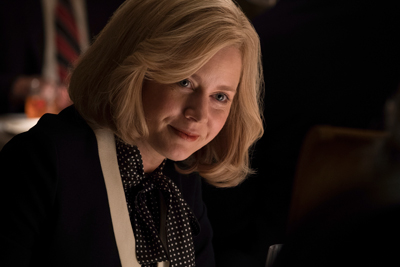 Becoming Dick. And Lynne. And Donald.

McKay's choice to play the quicksilver, Machiavellian Dick Cheney was an open and shut case. He wanted Oscar winner Christian Bale. "I wrote this script with Christian in mind," admits McKay. "I don't know who else could have done the role and if he decided not to do it, I probably wouldn't have made the movie."

"No one ever doubted Christian's ability to play the part," says producer Dede Gardner. "As we've seen before, his ability to transform and his commitment to a role is unrivalled. We knew it would be a tremendous amount of work and all we wanted is for him to say yes."

Kleiner seconds Gardner's praise for Bale's chameleonic abilities: "we experienced that on The Big Short when Christian wore the real-life character's clothing on set and spent a great deal of time studying him. The brilliance of his range from funny and lovely to ruthless and frightening is as unparalleled as his work ethic. This film was designed to be a grand epic and who better to carry that off?"

When Bale first heard that McKay wanted him for the role, he thought McKay had lost his mind. Then he read the script.

"Absolutely brilliant," says Bale. "It expanded well beyond what I ever expected. It was poignant not just in a political way but in a very personal way. It touched on what it is to be a person, to be part of a family, part of a nation. And, as is Adam's way, it was bloody funny."

Yet, even given his transformative abilities, it took six months of makeup trials before McKay and Bale were satisfied that they had captured Cheney's singular appearance. It helped that they were working with makeup artist extraordinaire Greg Cannom, who has won three Oscars (Bram Stoker's Dracula, Mrs. Doubtfire, The Curious Case of Benjamin Button) and a fourth technical Oscar, in addition to numerous other nominations. As Bale and Cannom experimented with the external Cheney, the actor was busily internalising the character. According to executive producer Jeff Waxman, Bale studied the character by looking at every video clip and every interview. "He wanted to know everything about Cheney and to absorb it all. He also met with a nutritionist, so he could gain the weight in a healthy manner. He had a dialect coach, a movement coach. Anything that he could do to help him transform into Dick Cheney – the way he walked, the way he talked and moved. Then the day we started shooting, he'd become that character. You literally thought Cheney was standing there in front of you."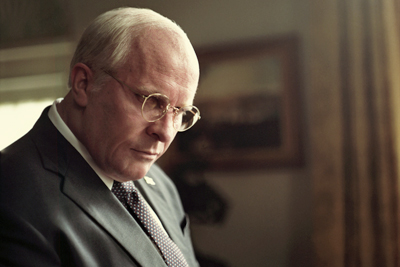 To capture Cheney's essence, Bale and McKay made a deal to approach the character objectively, setting aside any personal feelings about the former Vice President and his policies. "This man was incredibly influential, a man of real gravitas and power and absolute brilliance in how to work the dynamics of government," says Bale. "I told Adam I needed to come at the character from a positive point of view because the story can never be predictable; it must surprise people and attract them, no matter which side of the political spectrum they're on. And that required embracing Cheney – with sincerity."

Messick contends that Dick Cheney was an astoundingly difficult character to portray, both physically and mentally. "People will be rightly impressed with Christian's physical appearance, but also with the inner life he created," says Messick. "He studied everything that Cheney wrote. He really got into the man's head. That comes across pretty quickly when you start watching the movie." One of the big revelations for everyone involved in the project was McKay's depiction of Lynne Cheney as the driving force behind her husband's ascent. She is so much more than the typical political wife and cheerleader. Intelligent and strategic, largely living her ambitions through her husband and eventually achieving some significant accomplishments of her own.

Again, McKay went after and secured his first choice: five-time Oscar nominee Amy Adams. Even before McKay sent her the script, Adams relished the opportunity to again work with Bale, with whom she co-starred in two of her Oscar nominated roles (American Hustle, The Fighter). Like Bale, despite the brilliance of the material, she felt somewhat daunted by the challenge. "It wasn't merely that I'd be playing Lynne from ages 20 to 70, but that I needed to create empathy for the character's laser focus and driving ambition," Adams notes.

Besides reading the prolific Ms. Cheney's books on the Constitution and James Madison and her memoir, and watching numerous interviews with her, Adams found a personal way into the character. "Lynne reminded me of my grandma who grew up in Provo, Utah, an agricultural town not so different from Casper, Wyoming. She was not on the surface a warm person. But she was a survivor and I absolutely understood the instinct of survival inside of Lynne, who had been raised without much opportunity. Then, through her writing, I really came to respect her intellect and how she became a self-made woman. She was a straightA student and basically achieved everything she went after, while at the same time, standing beside this man whom she helped ascend to power. I just liked her chutzpah."

What amazed the actress about McKay's writing (and later his directing) is the element of unpredictability. "I think the unexpected is Adam's signature. There's so much surprise in what he does, so many unique filmmaking techniques. He's fearless, and one of the reasons I signed onto this came from the conversations I had with him and how much I came to trust his instincts. He created this freedom for us to be bold."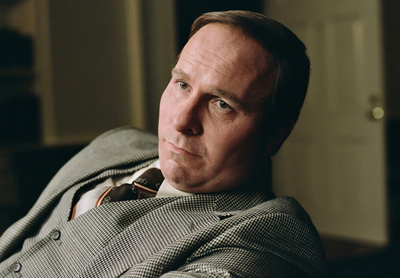 The Cheney family dynamic is a significant part of McKay's story and how it diverged and sometimes intersected with Dick and Lynne's political ambitions, Adams relates. "Lynne and Dick were partners, and as is true in many successful relationships, they respected one another's opinions," she says. "Especially when you're in a town like D.C. with so much power and scrutiny, you have to have to create a solid front with your partner." Adams also derived insight into their quest for power, specifically Lynne. "It was more about control," she contends. "It wasn't simply power for power's sake. If you're not in control that means someone else is. It was about controlling your own destiny. Also, Lynne had ideals. She loved America. She loved American history and that's the point of view through which I approached her."

But it was the personal moments between the Cheney's that most resonated with Adams, she contends. "The intimacy we show between Lynne and her husband is something I identified with," says the actress. "The goals they set as a couple were one thing, but they were also living their lives. As a married couple. As parents. The power dynamic ebbed and flowed."

Besides a Shakespearean bedroom scene between Lynne and Dick, which Adams claims was her favourite sequence in the film, the story itself is Bard-worthy, she says. During Cheney's ascent, he tables his ambition in order to protect his daughter Mary (Alison Pill of Newsroom, American Horror Story), who has recently come out as gay. But later, when the other Cheney daughter Liz (Lily Rabe of Wizard of Lies, American Horror Story) is running for office, the family circle is broken. With the support of her parents, Liz comes out against gay marriage, alienating Mary. "When they saw his new opportunity for power, it was incredibly enticing and dangerous," says Adams. "And it's that danger that had a Shakespearean element. What would they do with the opportunity? What would be the consequences? Because so many of the decisions we make in any given moment have far reaching consequences, and I think that's what the film shows us."

For Gardner, Adams is "one of the great actors of our time, and like Christian, it was critical for her to find the humanness of Lynne Cheney, through research and connecting through personal experiences in her own life. In the way she was able to show that the best partnership between husband and wife is the one in which you spur each other to be their best self. The movie is an expression of that and shows that it was a true partnership, that Lynne was not just someone in the background."

What impressed Kleiner about Adams' work is the multi-dimensionality of her performance. "She really got inside Lynne. Her hold on Dick's emotional life is so powerful that at times you feel like she's driving the story," says the producer. "She makes us believe how deeply she loved her husband and their shared idea of what they stood for and how they wanted to project themselves."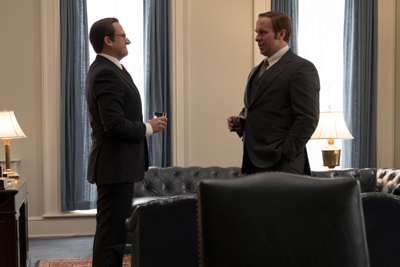 The third pivotal character in the film is Donald Rumsfeld who, over the decades, served as Cheney's mentor, co-worker and, eventually, subordinate. According to Messick, "Rumsfeld was an operative. He knew how to manoeuvre himself within the levers of power and get his hands on those levers. Those are the tools he gave the young Dick Cheney, in terms of how to navigate. It was less about politics and policy and more about having control and power which were, for better or worse, the lessons Cheney learned."

For the role of Donald Rumsfeld, McKay tapped Oscar nominated Steve Carell, with whom he'd worked on the Anchorman films and The Big Short. "Just like Christian, Steve had the ability to disappear into this very enigmatic character," says Messick.

In the film, Carell must pivot from being Cheney's mentor to being his subordinate, from being brash and almost amoral, to wounded and vulnerable. The trick was not showing the seams, says Messick. "Steve was phenomenal. The two beats in the movie exemplify whey he was so perfect for the role. One is when, early on, Cheney asks him 'what do we believe?' And Rumsfeld literally laughs in his face. The other is towards the end, when Cheney fires him and the emotion and loss he conveys in that moment."

Unclassifiable, is how producer Kleiner describes Carell. An actor who is equally at ease in comedy and drama. "As Rumsfeld, Steve perfectly captured his unique kind of grandstanding, his extroverted ham quality. The way he projected confidence and command. Later in the movie, when he joins Cheney, this time in a subservient position, you really feel the tension between them. He conveyed it all beautifully with an incredible naturalness." Adds co-star Bale, "Steve is wonderful. Many people have remarked about his performance, wondering how any actor could make you have sympathy with Donald Rumsfeld. But Steve does just that."

Sam Rockwell, the recipient of the 2017 Oscar for Best Supporting Actor, was a natural fit for President George W. Bush. "When I was doing Frost/Nixon, Bush was in office and I was looking at the parallels between Nixon and the Pentagon Papers with Bush and Cheney's Patriot Act. My father told me to watch the news because he said it's going on right now. This is happening all over again, this is exactly what happened with Nixon. And he was right – it was happening all over again."

McKay captures that brilliantly, the actor says, because of his astute political sensibilities and empathy for the human condition. According to Rockwell, "Adam is incredibly smart and has strong opinions and he's also very compassionate. It's why he has such a strong emotional connection to this material. If you combine the political junkie with a dexterous comic mind you have a point of view that's interesting and a great take on this story. The key to getting the audience to dive in is Adam's ability to inject humour into pretty serious topics. It allows the audience to digest and process some fairly complicated and emotional material."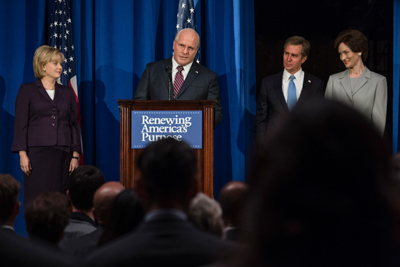 To capture the tone of George W. Bush, Rockwell initially watched different impersonators from Will Ferrell, to Josh Brolin, Steve Bridges and Frank Caliendo. "There were some amazing interpretations," he says. "Then I watched everything I could find of George W. because I wanted to find my own way into it – to find his innocence and to accentuate his charm. It's always important to find the character rather than a caricature. In Adam's style of filmmaking, poking fun or sending up, just doesn't work. It has to be based in reality."

In the research process, Rockwell developed a certain fondness for the former President. "It's clear from Adam's script that he was essentially being manipulated and by his second term, I think he got hip to that fact. It seemed like he started to fight back a little bit. In an Oprah interview I saw, he discussed dodging the war and the National Guard and his regrets regarding weapons of mass destruction and going into Iraq too soon or at all. I believe he'd become a completely different person by the end of his second term."

The rest of the cast was replete with ambitious and confident choices on the part of McKay and his casting director Francine Maisler, Gardner contends. "Tyler Perry as General Colin Powell was an amazing idea as was the ferociously gifted LisaGay Hamilton as Condoleezza Rice. Alison Pill and Lily Rabe as the Cheney daughters. Even down to Alfred Molina who has one scene (as a surrealistic waiter), who read the script and said 'I want to do it.'"

According to Perry (Gone Girl, Diary of a Mad Black Woman), playing Powell was something "I never thought or imagined that I'd ever attempt to do. But when I talked to Adam, he convinced me and I wanted to sink my teeth into the role and do the best that I could because the chance to play someone so strong and so powerful was very intriguing to me."

But it was McKay's script that dazzled him. "Brilliantly written with incredible poetic and melodic moments, the kind of cinematic feat only Adam could pull off. I loved the way he took this true story and like in The Big Short, broke it down in a way that anybody can understand. He takes these critical moments in history that were swept completely under the rug, and brings them to a very basic level of understanding."

The challenge in playing a real person is the audience's familiarity with him and how close an actor comes to realising the character. "I just tried to study him as much as I could," says Perry, "but also allowed enough of myself to get inside the character. Even though the story's based on truth, I don't know the intimate details of his life or his thoughts. So, I needed to take some liberties." A retired four-star General, it was Powell's reputation for integrity that helped him convince many in Congress that Iraq posed an imminent threat. Although Powell did not agree with George W. Bush's Iraq policy, in 2003 he appeared before the U.N. Security Council to present evidence that Iraq had concealed weapons of mass destruction. "Colin was a brilliant and very, very smart man," says Perry. "Going before the U.N. Security Council was challenging for him because he really didn't agree that the country should go to war with Iraq. Like many participants in the project, Perry had no idea how influential Cheney was, nor that he was such an adept puppet master. "I'd heard the saying absolute power corrupts absolutely but now I fully understand it," says Perry. "I've often wondered why people, once they've reached a certain position, want to push further and further. It's that greed for power and there is no more powerful place in the world than the halls of the White House."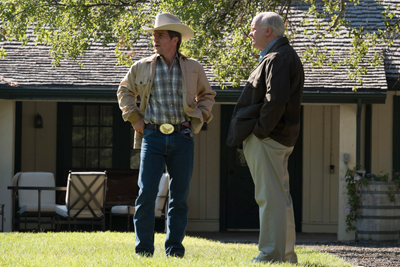 "What amazes me is that we seem to be living in a time where this is repeating itself. And if nobody brings attention to it, if nobody's raising flags, it will continue to repeat itself. For me, the timing of this movie is just impeccable. The world will get a chance and an opportunity to say, wait a minute, we'll be going down the same path if we're not careful."

Alison Pill portrays Cheney's younger daughter Mary, who at the age of 17 came out to her conservative parents. The actress read Mary Cheney's memoir prior to production. "I cannot even fathom the courage it took in 1986 to come out to her parents," says Pill. "Reading her story gave me a great deal of respect for her and more of an appreciation for what she went through. It helped me figure out how to get her essence across in small scenes, small moments."

Dick and Lynne accepted their daughter, and later her partner Heather, into the family fold. By 2004, when Mary campaigned with her father as George W. Bush's running mate, she and Heather had been together for two decades. "It must have been so difficult for her to remain silent on the subject of the Federal Marriage Amendment Act while at the same time campaigning to elect a president who supported that," notes Pill. "Her father never did come out against gay marriage instead saying that it was a state issue." But in a key scene in the film, audiences will get to see the family's stance change when their elder daughter Liz ran for office in Wyoming. Accused by the right of not being socially conservative enough, she subsequently came out strongly against gay marriage, causing a huge rift in the family.

According to Rabe, "Liz Cheney had such admiration for her father. I was particularly touched by a photograph of her and her father hugging, taken when she won the primary in Wyoming. It said so much to me. I watched several interviews they did together and it helped make their relationship very clear to me." Rabe was particularly impressed with the way McKay "threads the story of the Cheney family into the movie. Before this, when thinking about Dick Cheney, I never thought about him much as a dad, a family man. And it's such an important element of his life. This is a family that was devoted to one another. And I think that carried over into Liz's own marriage. Like her parents, she is dogged and has an unrelenting determination. She's very passionate about politics, about her beliefs."

Rabe's take on the fallout of Liz Cheney's stance against gay marriage seems to dovetail with the dichotomy between a loving family and relentless political ambition. "I would say it's not her relationship with her sister that complicates Liz's political ambitions; it's her political ambition. I can't speak for Liz Cheney, but I do believe she felt she would not win the election unless she spoke publicly against gay marriage. That choice wasn't about love or hate or jealousy, it was just about winning."

The Look

In Vice, the character of Dick Cheney ages from a teenager to a man in his seventies. From day to day, Cheney's age jumped from 21 to when he's 63, then 71, then 40-something. When presented with this challenge, makeup specialist Greg Cannom was undaunted. "My first reaction was wow, this is cool! I mean, it was a little scary because with a movie like this, so much depends on the makeup working. Technically, trying to make Christian look like Cheney was challenging. But when it worked out, it was an incredible experience. You felt like you'd really accomplished something."

Initially, the intention was for Bale to look mostly like himself with a little bit of Cheney. "But when Christian discovered how comfortable the appliances were, he got excited and really got into it," says Cannom. "He had his own ideas and kept striving for a closer look. He knew exactly what he wanted and wasn't going to be happy until we got there. It was gratifying to collaborate with an actor who's that enthusiastic and really wants it to work and communicates with you every step of the way."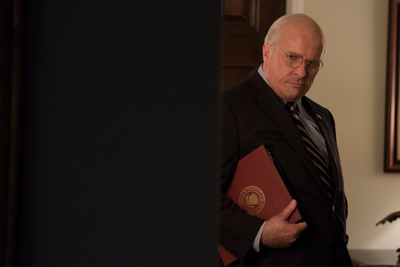 Cannom began working on the Cheney look by casting a facial rendering of Bale's head about six months prior to production. Then, he and his crew sculpted and moulded silicon appliances. "The difficulty was that Christian is the polar opposite of Cheney in terms of facial structure and head shape. We did test after test. Then Christian wanted to be fatter and I was afraid it wouldn't work, that it would be too much," adds Cannom. "But when he got into costume and put on the glasses and walked into the room, it was amazing. I was shocked. He was absolutely right – it was exactly how he should look." During filming, the first Cheney look was referred to as the "63," which was Cheney's age for more than half the film. These older Cheney scenes required Bale to be in the makeup trailer for almost five hours a day; depending on the filming location, Bale's pick-up time was around 2:00 a.m. so he would be out of the hair and makeup trailer and on set by his 7:00 a.m. call.

"Usually you only get a few days of this intense application of prosthetics and makeup on an actor before they snap and go crazy," relates Cannom. "But as Christian got into it, we went heavier and fatter which made the rolls of his neck move nicely. It eventually became mostly Cheney with a little bit of Christian. We'd try on earlobes, eye bags and nose pieces. After that came what we call beauty makeup: concealers and highlights, accenting his jaw line. For Cheney in his twenties, Christian only wore a nose appliance. In his thirties, we added subtle cheek pieces. In his forties and fifties, it was cheek and chin pieces. But when we got to 63, it was big cheek pieces. We also did the back of the neck because it looked strange without a big rolling neck. It added a lot of weight to him and the movement looks amazing."

Cheney's younger scenes were shot first, using Bale's real hair. Then he shaved his head so they didn't have to apply a bald cap every day. "Christian never once got angry or upset during all these long days and hours of people fiddling with his face," says Cannom. "And he's very funny. It was such a treat to work with him."

The Production

Executive producer Jeff Waxman asks the question "where would you shoot a film that covers five decades, has over 200 sets with locations ranging from small towns in Wyoming to a café in Italy – from the wide-open spaces of Texas to Vietnam, Cambodia and a Middle Eastern desert, plus the United Nations in New York, the White House and several other iconic Washington, D.C. locales?"
The answer: Southern California.

"We had an incredible location team," says producer Kleiner. "If you'd told me ahead of time that we'd be able to find post-World War II Wyoming in Los Angeles County, I would have been sceptical. But thanks to our location manager John Panzarella, director of photography Greig Fraser and production designer Patrice Vermette, we were able to show not just Wyoming, but the value system of Wyoming and its contrast to Washington D.C."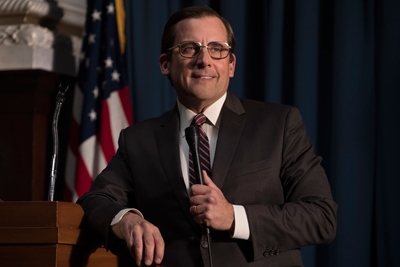 Producer Gardner sums it up in two words: "Movie magic." The lower part of the sunshine state is notable for its wide variety of topography and architecture. Mountains, deserts, ocean, urban, suburban, rural. The evolving look of the Southland ranges from Victoriana to Federalist to futuristic, making it infinitely adaptable to McKay's needs, while keeping the production crew in one general area.

With a style similar to The Big Short, McKay's dense script included numerous cutaways and flashbacks, which seemed nearly impossible to pull off in a 54-day shoot. Relying on years of directing television and film, McKay was able to strip down the needs of each scene to its essence. Many indoor sets were of a two-wall or even one-wall variety, built side-by-side on soundstages at Sony in Culver City, which enabled his crew to easily transition from one set to another.

Two-time Oscar nominee Patrice Vermette (Arrival, The Young Victoria) had the gargantuan task of designing the film. His reaction to McKay's script was "ebullience," he recalls, "probably the best script I had ever read. Smart and important because even though I'm Canadian, American politics exert a tremendous influence on the rest of the world." Vermette and Panzarella started scouting early on. "We looked for areas where we would be able to base the company for several days while shooting at nearby locations," he explains. "That was part of the challenge of filming this movie in which we travel through time and geography all over the planet using different environments and landscapes in Los Angeles."

Audiences can easily overlook the amount of storytelling that goes into production design. It's not just about constructing something on a stage where everything can be art directed and walls can be moved and removed. A major part of the job is adding character to existing locations. "We can make multiple changes with the artwork, with props," explains set decorator Jan Pascale. "Sometimes it's simply finding that extra detail that will help tell the story, even if it's subliminal." One of Vermette's favourite examples of subliminal "storytelling," is a scene set in an upscale D.C. restaurant where Cheney, Rumsfeld, David Addington and Paul Wolfowitz are discussing the invasion of Iraq.

"In the scene Cheney and his cadre are at the top of their game, in a position to make horrifying world-shattering decisions. Dining in the restaurant, a waiter (brilliantly played by Alfred Molina) reads them the specials of the day, which is really a menu of torture. We shot it in Cicada, an Art Deco restaurant in downtown Los Angeles. We had the idea of using Nicolas Poussin paintings, which seem at first glance to be very classic and inoffensive. But when you look more carefully, the visuals are quite atrocious – people being raped, beheaded. So, we included deer antlers and spears and shields in the midst of the beautiful posies that made up the very large flower arrangements. It was simply playing with symbolism."

Another example, was the funeral for Lynne Cheney's mother, set in Wyoming but shot in Los Angeles with oil derricks in the background. "For Adam and me, it was important to try to have oil derricks or images of cowboys or Indians in the background of all of the Wyoming scenes," says Vermette. Other scenes required combining accuracy with visual fancy in keeping with the fantasy elements of McKay's screenplay. Says Pascale, "we tried to put little bits of character everywhere in the Cheney's house. I found a great fish sculpture with the fly hook still hanging from its mouth. Then, when Cheney was working at Halliburton, we found little oil derrick models that we put in his study – sort of the history of oil derricks."

For scenes earlier in the Cheney's married life to convey their modest beginnings, Vermette and Pascale used panelling that had ducks and deer on it. It conveyed a very rustic feel and communicates to the audience that you're in a small town, and that the Cheney's were not very well off at that time. "As their social position changed, their taste level increased. Their first apartment, is a little nicer – the drapes match the bedspread," says Pascale. "In the next, they have a few nice pieces of Asian art along the staircase and, in the next, the furniture is better quality. They're still eating food in front of the television but with nicer TV trays."


To allude to the Shakespearean tone of the film, Pascale says she "found this beautiful chair that looked as if it had come from a Shakespearean drama. I stuck that in the Cheney's bedroom. Everything else is luscious silk with very expensive comforters. Then there is this odd, almost dragon-embossed leather chair. It's slightly incongruous, but it really worked. I always try to sneak in subtle hints, like having the right book beside the bed. He's reading about fly-fishing and she's reading about being a novelist. That's the fun part of this job, when we can add a little bit of humour. It also gives Adam something to work with. We like to think that we bring personality to the sets, so that you can walk onto the set and know where you are, what you're looking at."

The largest set was the recreation of the White House. Not simply the Oval Office, but hallways, anterooms, various reception areas and offices. "We recreated a large part of the West Wing on Stage 30 at Sony, which measures 32,000 square feet," says Vermette. "It's a big soundstage but not big enough to accommodate the entire West Wing, so often when we finished shooting a certain scene, we'd remodel those rooms, so for instance, the Chief of Staff's office became the Cabinet Room."

Their biggest task was jumping back and forth through time in the West Wing to convey the look of five different administrations, most of which is well documented and required exquisite precision on their part. "Some sets were being switched within the same day: Rumsfeld's office was transformed into Kissinger's office, which also became Cheney's second White House office," says Vermette. "It required amazing choreography to change the drapes, the furniture. Often the set dressers, drapery foremen and gang bosses were scrambling to change rooms between takes while the shooting company was filming in another part of the White House set."

Pascale was instrumental in researching all the period looks in the Oval Office; a few years earlier she "virtually" met many people on line who helped her out. "There's a Facebook group called "White House by Design" and I'd ask them very specific questions. There are also many curators who have worked at ore written books about the White House. Plus, it is the most photographed building in the world. We had a lot to look at and process."

One of the larger sets on Stage 28 was that of the Presidential Emergency Operations Centre (PEOC), where George W. Bush, Cheney, Rumsfeld, David Addington, Scooter Libby, Colin Powell and Condoleezza Rice were herded by the Secret Service on September 11, 2001. "Fortunately," according to Vermette, "a White House photographer immortalised those moments, so we were able to design and build the set using reference pictures." Here, as elsewhere during the attenuated production, the biggest hurdle was to have the set ready on time. "Some of our prep times were tricky. A day-and-a-half to pull together a very specific 1950s wedding; a 1950s football field," says Pascale. "The hardest part was trying to get things that would tell the story of where we were at a specific time. For example, we created a Five and Dime, which meant many late nights on eBay searching and searching. Even when you find things on eBay, they look like they're 60 years old. Finding period pieces that look new is difficult. Sometimes we tried to manufacture them ourselves but with 160 sets spanning five decades, there wasn't always time."

Production began in the Jefferson Park neighbourhood of the West Adams district of Los Angeles in an iconic 1920s bungalows standing in for 1950s Casper, Wyoming, where Cheney grew up. With the addition of a handful of restored 1950s automobiles, the transformation of the neighbourhood was easily achieved. The look for the 1950s Wyoming high school was a combination of interiors at John Burroughs Middle School in Los Angeles (built in the 1920s) while the exteriors were shot at Sylmar High School in the San Fernando Valley. Four hours north of Los Angeles, the Kern River became one of Cheney's favoured Wyoming fishing holes.

Scenes of post Saddam Hussein Iraq were filmed at the Blue Cloud Ranch in Santa Clarita. The nearby Newhall Orchard provided Lynne Cheney's girlhood home as well as outdoor scenes of 1962 Wyoming when Cheney worked as a lineman, got into bar fights and was arrested for drunk driving. As Dick Cheney prospered and the Wyoming family ranch expanded, scenes were filmed at the 60-acre Brookfield Farms ranch in Ventura County's Hidden Valley. The Hancock Park area of Los Angeles built mostly in the 1920s and 1930s, had the old money feel that worked well for the D.C. and Virginia neighbourhoods where the Cheneys lived.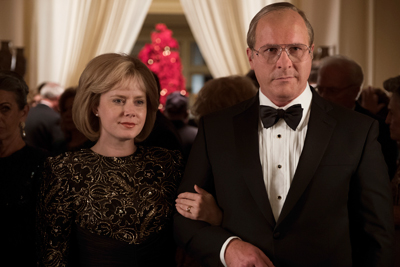 Interior scenes for the CIA headquarters, Department of Justice and the Pentagon were shot on the campus of The Alhambra, a mixed-use urban community in eastern Los Angeles, where eleven buildings house USC's Keck School of Medicine as well as a variety of other venues. Although Los Angeles' City Hall was too iconic for exterior purposes, the production made use of many interiors as substitutes for scenes in the Congressional Hearing Room and Senate hallways in the U.S. Capital.

Concludes Vermette, "there were so many sets and locations that were fun to recreate. I think everybody learned a lot on this movie historically. Also, we learned how to forget the pain of it while we were doing it because every week we'd go, 'oh my God, did we shoot that?' Some days we couldn't remember what we'd shot the day before, because one day we were in Cambodia and the next in Wyoming. For the brain it was like always opening new drawers."

Working with Oscar nominated director of photography Greig Fraser (Lion, Zero Dark Thirty) who is "one of the best out there," according to McKay, "we were able to mix in super 8 and 16 using real TV cameras for the period. There are all these different formats for the movie, but always grounded by Greig's beautiful 35mm look." The best part of working with such a talented director of photography was Fraser's attitude, "which was like, we can do anything," says McKay. "When we'd hit a wall, or find out we had no more money for a particular sequence, he'd simply shrug and say, 'let's do what we can do.' And he did it."

McKay's mandate to his costume designer Susan Matheson was "to capture the essence of the characters, infuse them with the life of the real people, yet still give the movie a life of its own," she states. "My goal throughout was to make sure the colours were right for each character as well as the textures." Few movies cover as many time periods and locations as Vice, which required a great deal of dexterity on Matheson's part. Including the Cheney family and the characters they meet along the way and the many world events depicted in the film, the designer was charged with hundreds of articles of clothing and as many wardrobe changes. "It was like running on a treadmill as fast as I could, watching the periods fly by. As soon as you'd sink your teeth in one time period you were on to the next. And then back again. I've never worked on anything with this great a span of time and with this many cast members and costumes."

The title character alone has almost 100 costume changes and Lynne Cheney had about 60. In addition, Matheson handled an additional 150 speaking roles. "When you have a cast that size, including background cast, the budget determines what articles of clothing are designed and custom-made and which are found and modified."

Most of Dick Cheney's costumes had to be built and accurately reflect the real person. Fortunately, the former Vice President's life is well documented, as are the historical events in which he and the characters around him participated. A bigger challenge was adapting to Cheney's body changes over the decades. "Christian starts playing Dick Cheney in high school and college when he is very slim and athletic. As he progresses, his size starts to change so not only did we have to make sure that the suits were period specific, but also have them be able to show his growth over time. From boyish slim, to medium to fat to very fat. Then, after his heart attack back to much thinner. It was a real progression through time and space."

Texture was also important to Matheson. "The colour palette starts in Wyoming and is specific to the area: earth tones, olive and tan and pumpkin, burgundy and brown. I really wanted him to have a change from Wyoming to D.C. so once he arrives there his clothes slowly become more sombre in terms of colour; there are lots of greys and stark contrasts of dark and light," says Matheson. "Cheney begins in D.C. with a glen plaid suit that's very 1970s, but still a little bit Wyoming. As he becomes more part of the Washington scene, he becomes more sophisticated. The more entrenched he becomes in government, the more austere his look becomes."

The wardrobe for Lynne Cheney was a combination of costumes specially made and serendipity, according to Matheson. "We first meet Lynne back home in Wyoming. Those are some of my favourite periods for her. I had her in denim with a burgundy blouse with bows. The essence of Lynne Cheney once she arrived in Washington D.C. is the lady suit with a broach or a necklace. She wore her own versions of the power suit and they were quite colourful. Lynne also wears many, many bows. She's a very strong woman but she's also very, very buttoned up. To give her that look, I gave her a lot of blouses with bows." For Donald Rumsfeld, Matheson's research into the real character left her with a distinct impression. "I thought 'he really was a movie star.' There was something about Rumsfeld in Washington D.C. that almost levitated him about everyone else. He just looked that much better than everybody else. He was a natty dresser; always wore dark suits, a lot of pin stripes. My goal when we built suits for Steve Carell was to accomplish that by using darker colours and keeping him really tasteful."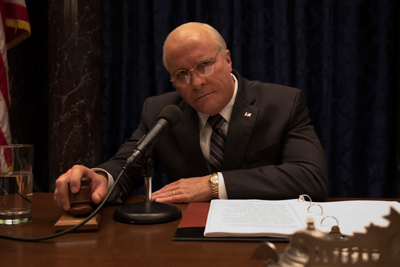 Final Thoughts

Combining a strong script with a facility for allowing his principals the freedom to improvise, Bale believes that McKay's Vice succeeds "well beyond anything I ever fathomed. It's fascinating and not just from the point of view of the shadowy figure of Dick Cheney who came to acquire as much power as any American has ever had. It holds up a mirror to each and every one of us on what we might do if we had such power. It forces us to look at who we are as a person, as a family man, and as a nation as well."

As for audiences, Bale hopes that it achieves the goal of opening up conversations, raising questions. "It's entertainment first, but within that entertainment there is incredible poignancy, moments of devastation and moments of joy. For me it brought up as much feeling as I've ever had watching a movie."

What Amy Adams finds wonderful about McKay's film is that it "allows you to learn in a way you weren't expecting. In the beginning it's this beautiful story about a man coming into his own power as a father, as a husband and in his career. Then suddenly, you start to see the effects of that power and, as an audience, you're hit with the consequences. It really moved me." Like all the best stories about history, Adams observes that Vice is immediate and relevant. "I think it's because we just keep repeating ourselves, don't we? The goal is to change and evolve and start working together instead of polarising one another. I don't know what the audience's conversations coming out from this film will be. I doubt that they will be easy. But I know they'll be important."

Observes Tyler Perry, "to be honest, I didn't think I would have been interested in sitting through a movie about Dick Cheney, but the way Adam did it is so intriguing. It should be a part of every school's social studies class, because it really helped me to understand what happened." Perry is additionally concerned that even today, "rules and laws are being revised that we're hardly even aware of. I'm hoping this film raises awareness that we need to pay strict attention to things that are going on in the Halls of Justice. Most people feel if they vote everything will be okay, but there are so many people in power who have a much more say than we realise."

The audience for Vice, says Kleiner, "is everyone who cares about this country. Some may take exception to the presentation of politics, but it is in no way a hatchet job or a polemic. It's an entertainment that promotes and encourages understanding of where we are now, which most people will agree is uncertain, and demonstrates that it didn't happen overnight." As with Bale and Adams, Gardner believes the movie will engender conversation. "Starting a conversation is what all good art does. What direction it takes is hard to predict. But wherever the conversation leads, it will be because Adam is a true humanist and really trusts audiences. He has a singular way of expressing himself and as with The Big Short, trusts the viewer to take this ride outside the bounds of traditional storytelling."

McKay claims that unlike a traditional bio-pic, there are different levels in Vice. "One of the big ones is that, nowadays, there's so much information. So much misinformation. So much partisan back and forth, that people are confused. As a result, I don't think we know exactly where we're at. Whatever your political affiliation, you must be wondering how did we end up where we are today?"

McKay is attempting to convey the historical timeline that led to this predicament. "There's a reason our government is built with checks and balances," he notes. "It's because power is addictive. In America, we've gone from being a country that was about ambition and providing for your family, to one that has turned towards power and career. Career is not about anything else. It's just about you. At some point, American took this turn where it became all about the individual. About winning. It became about your own life. Your own little backyard. And that's where I think we went off the rails."

In his final analysis, McKay claims, "For me personally, Vice is a tale of the selfishness of power and how we've lost our larger community and country. Even for the Cheneys it ended kind of tragically. But the beauty of film is that you can interpret it however you want."

Vice
Release Date: December 26th, 2018