Rina Nemoto Telstra Ballet Dancer Award Interview
The inspiring talent of some of The Australian Ballet's most promising young dancers has been captured in a unique series created by Telstra to celebrate 30 years of partnership with The Australian Ballet.

The six young dancers featured in the series are all nominees for the most prestigious prize in Australian ballet, the Telstra Ballet Dancer Award.

Telstra Executive Warwick Bray said the series aims to offer an insight into the lives of the Telstra Ballet Dancer Award nominees and their passion for dance.

'To celebrate an incredible partnership that has spanned three decades, we wanted to create and share something innovative that illustrates the brilliance of ballet and the artists but that also makes this art form more accessible to audiences across Australia," Mr Bray said.

Throughout the series the dancers experiment with colours and mediums including light, paint, powder, fabric, water and technology. The videos fuse colour and movement with artistic expression, and are narrated by the individual dancers.

The nominees featured in the video series are Dimity Azoury from Queanbeyan, ACT, Imogen Chapman from Kelmscott, WA, Ingrid Gow from Randwick, NSW, Cristiano Martino from Adelaide, SA, Rina Nemoto from Tokyo, Japan and Jade Wood from Cairns, QLD.

The Artistic Director of The Australian Ballet, David McAllister, said: 'Dancers are storytellers. They are trained to capture passion and emotion with their bodies. These videos are a tribute to the skill and grace of this elegant art form."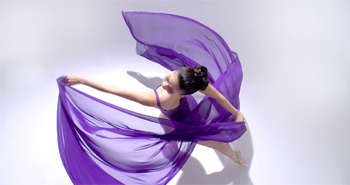 The Telstra Ballet Dancer Award was introduced in 2003 to encourage young Australian ballet dancers to reach their full potential, and has helped catapult the careers of some of The Australian Ballet's brightest stars.

The 2014 Telstra Ballet Dancer Award winner will be announced in November, and will be decided by a panel of judges featuring representatives from The Australian Ballet, Telstra and the media, and will take home $20,000 cash prize.

The Award has helped catapult the careers of some of The Australian Ballet's brightest stars with seven previous winners including Matthew Lawrence (2003), Amber Scott (2004), Lana Jones (2005), Daniel Gaudiello (2007), Kevin Jackson (2008), Ty King-Wall (2010) and Chengwu Guo (2011) rising through the ranks to reach principal artist status.

The winner of the People's Choice Award, decided by public vote, will receive $5,000.

To watch the video series and enter the People's Choice Award go to telstra.com/ballet.



Interview with Rina Nemoto
Born in Toyko, Japan, Rina started dancing at age three. She travelled to Paris at age 15 for two years of classical ballet training with Daini Kudo and Dominique Khalfouni, before winning the Prix de Lausanne scholarship and joining The Royal Ballet as an apprentice dancer. Rina, whose favourite book is Mao's Last Dancer, joined The Australian Ballet in 2011.

Interesting fact: Rina can speak French, Japanese and English


Question: What inspired the creation of the video for the Telstra Ballet Dancer Award?

Rina Nemoto: I used purple fabric, and the concept was struggle and escape.

I love dancing because when I'm dancing I feel free. Sometimes I have a really special moment on stage and there's no other feeling like it but at the same time there are a lot of struggles and challenges in a ballet dancer's life. I always need to keep improving myself and never stop challenging myself. Sometimes I can feel a little lost ... but when I put on make-up and my costume I feel like a totally different person and the confidence comes through. When I'm dancing on stage I can feel how much I love dancing with every step.


Question: Can you tell us about your unique video series?

Rina Nemoto: It was an amazing opportunity. I'm so happy they nominated me this year, the year of the 30th partnership between The Australian Ballet and Telstra. I really appreciate everyone who made this video happen. I hope many people watch the video and learn more about The Australian Ballet and our art form.


Question: What inspired the colour purple in your video series?

Rina Nemoto: I don't know why but purple reminded me of Japan. In my mind purple is elegant, mature, gentle and calm. I think my dance style is similar and by using the fabric, I hoped to express those qualities through my dancing.


Question: How much of a say did you have in creating the unique video series?

Rina Nemoto: Quite a lot actually, everyone was really supportive and respectful, they gave me an idea of what they wanted and I got to create some movement for it. I really enjoyed it.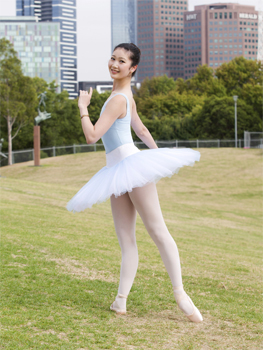 Question: Can you talk about the training and practice involved in The Australian Ballet?

Rina Nemoto: We are practicing and performing every day. Dancers need to constantly be improving and be challenged all the time. It is a really hard job. When we start a performance season we have eight shows a week. Sometimes my body is aching but I need to keep dancing, it is part of the job of being a professional dancer. The Australian Ballet has a great medical and body conditioning team to make sure we're looked after and in good shape. Dancers are very supportive of each other, which is so important in creating a wonderful performance each night. I really love dancing with this company.


Question: What inspired your love of dance?

Rina Nemoto: I have loved dancing from when I was little. I think dance is a language for me; my body expresses feelings, which words cannot convey. It is amazing. Ballet can connect people from all over the world. Every time I dance on stage it feels like the most special moment of my life.


Question: Do you primarily practice ballet or do you enjoy other types of dancing?

Rina Nemoto: I like dancing and watching other types of dance too. I also like dancing contemporary and neo classic. I felt that contemporary dance in some aspects allowed me to express my feeling more strongly than classic ballet.


Question: How did you go about joining The Australian Ballet?

Rina Nemoto: The Australian Ballet does not hold many auditions but I was lucky, my favourite dancer Miyako Yoshida helped me. I had met her at Prix de Lausanne where she was a judge, and then I did an apprenticeship program for a year at The Royal Ballet in England where she was a principal dancer. She had also been a guest at the Australian Ballet, and knew my Artistic Director David McAllister. Through this connection, she helped me arrange an audition. I still remember when David gave me a contract, I was really happy and I was almost crying!


Question: How does it feel to be nominated Telstra Ballet Dancer Award?

Rina Nemoto: I was both really surprised and proud of myself. I was surprised because I thought my English was not good enough to be nominated in such award. But I want more people to know about me and my life so it is an amazing opportunity for me.


Interview by Brooke Hunter