Reasons We Love Idris Elba
His voice is music to the ears and his film credits are impressive enough to light a fire of jealousy into any heart. Idris Elba is our favourite person on the planet and we couldn't really nail down why, until now that is. To celebrate the addition of Idris Elba to the Star Trek Beyond cast and its release on July 21, we've somehow narrowed down the reasons why we love the British actor. Live long and prosper!
He's a 10/10 Babe
That smolder melts hearts.

He's Ahead Of The Game
Can you spot the blonde superstar in the back of this photo? Elba and Tom Hiddleston are leaving Anna Wintour's house (just casual) with a smitten Taylor Swift following behind... Elba hangs out with the hottest couple on the planet before anyone even knew they were a couple!

He Slays Animation
Elba's deep voice is shaping childhoods all over the world with his enviable roles in Finding Dory, Zootopia, The Jungle Book and video game Call of Duty: Modern Warefare. Did you pick him as seal Fluke?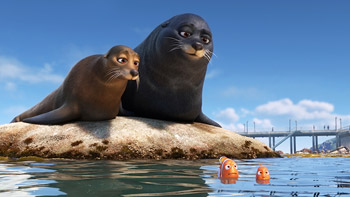 He Has The Most Badass Roles
Elba has played some of the toughest characters in film and TV: a drug kingpin in The Wire, an all-hearing and seeing sentry guardian in Thor, ex-military in Prometheus, a veteran pilot and commander in Pacific Rim and now a mysterious alien villain in Star Trek Beyond! He has a knack for being in control and a little scary which was perfectly shown in Luther, where Elba played the lead, gritty murder detective.

He Woke Up Like This
He has extremely good style and pulls off a Gucci coat like it's nobody's business.

He's Breaking Records Left, Right & Centre
Not counting his 'Flying Mile' UK land speed record, Elba is the proud owner of a Golden Globe, nominated for another three, and two Screen Actors Guild Awards. He won both his SAGs in one night, making him the only male and only black person to do so ever!

He Really Werks For His Career
Before Elba was a major star, he was hustling in New York City to make a living. He did tyre-fitting, cold call advertising sales, and the night shift at Ford Dagenham.

He's also a DJ
Move over Yeezy and Drizzy, there's a new sheriff in town and his name is DJ Big Driis.

He's The Daddy Of Our Dreams
He has a 15 year old daughter and a 2 year old son which he takes to premieres with him – jealous much?


Star Trek Beyond
Cast: Chris Pine, Zachary Quinto, Zoe Saldana, Simon Pegg, Idris Elba, Karl Urban, Sofia Boutella
Director: Justin Lin
Genre: Action, Sci-Fi


Synopsis: "Star Trek Beyond," the highly anticipated next installment in the globally popular Star Trek franchise, created by Gene Roddenberry and reintroduced by J.J. Abrams in 2009, returns with director Justin Lin ('The Fast and the Furious" franchise) at the helm of this epic voyage of the U.S.S. Enterprise and her intrepid crew. In 'Beyond," the Enterprise crew explores the furthest reaches of uncharted space, where they encounter a mysterious new enemy who puts them and everything the Federation stands for to the test.
Facebook: facebook.com/StarTrekAU
Website: www.StarTrekMovie.com.au
Twitter: @ParamountAU
Instagram: @ParamountAU
#GoBeyond
Star Trek Beyond
Release Date: July 21st, 2016
Trailer: YouTube
©2016 Par. Pics.