Prince of Thieves Interview
If you dipped Sisqo in Jurassic 5, rolled them in NeYo, added a pinch of Calvin Harris and asked Missy Elliott what she thought, you'd still only be half way to understanding how diverse Prince of Thieves really are. With a reputation that precedes them on the Sydney club scene, this Australian urban-pop-fusion duo are turning heads and shaking bodies with their unique sound. Add to the mix their pulsating live show stuffed with hollar-along raps and smoky hooks and you've got your fine self a sound unheard of from any Australian artist.
The two members of Prince of Thieves, Adam Saunders and David Denis, form a perfect harmony that satisfies the cravings of all beat-savvy club hoppers and tastemaking scene cats. Denis' untameable raps will turn any dance floor into a party pit whilst Saunders' smooth vocals wax lyrical gems into the night. With such a flawlessly tight sound and energising live show, Prince of Thieves are ready to hit the town in 2011 with their new single Hate or Love.
Lifted from their seven track EP On the Brink Of…the debut single Hate or Love,, is a smooth track served with husky rap verses and swoon-worthy hooks.
The song was written and recorded in their home studio by Adam and David after both gents broke up with their girlfriends. Mixed and mastered by Toby Atkins Hate or Love is slice of pop music with a soulful message. The song has meaning, depth and an infectious beat to match.
The boys wrote Hate or Love in a flurry after David woke up one morning with the piano riff lingering in his brain. They uploaded a teaser of the song to YouTube where it became an instant hit with fans. Soon after it became one of their most requested performance tracks. The fusion of pop, hip-hop and underground influences woven throughout Hate or Love is a snapshot of Prince of Thieves E.P, set for release in late 2011.
Having played alongside nightlife heavy weights Ajax, Ember, The Hump Day Project and John Glover, the time is right for Prince of Thieves to step into the light.
View the Prince of Thieves Hate or Love Video Clip here:
www.youtube.com/watch?v=UFTiZePzWwM
For more information see
http://soundcloud.com/princeofthieves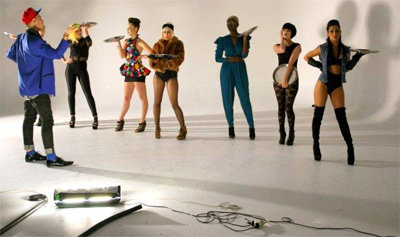 Interview with Prince of Thieves
Question:
How would you describe your music?
Prince of Thieves
: Well when people talk about our sound they say how it's a mix of everything from electro, hip-hop, funk, house. But ultimately it's just pop music but with its soul intact.
Question:
Can you talk about filming the Hate or Love video clip?
Prince of Thieves
: Hate or Love is our first official clip. It took about four hours to shoot. We asked a mate to come along and film and our dear friends (the dancers and models) pitched in their time to help us out. Very simple, seeing we had an $800 budget. Haha it's independent music 101.
Question:
Did you have any pre-conceived ideas about the music industry?
Prince of Thieves
: Any preconceived ideas were dispelled when we were signed to a major label about ten years ago. That experience washed away the glitz and glamour and taught us how much real hard work would be involved if we wanted to make it on our terms.
Question:
Do you write your own songs? What's your inspiration?
Prince of Thieves
: Yes we right all our own material, it wouldn't feel right otherwise. We draw inspiration from our own lives/ lives of friends and lives we invent as we ponder the mysteries of the universe.
Question:
What music/artists do you listen to when you are not playing your own?
Prince of Thieves
: How much room you got for this answer coz it could go on for days, between the two of us. From greats like Michael Jackson, Prince, Tupac, to freshies like Frank Ocean, The Weekend and Calvin Harris only to name a few.
Question:
What's next? Tour/Album/Single?
Prince of Thieves
: Well we're releasing our first EP in Nov. "On the Brink of…". So look out for it...We'll be taking it to the people as we tour nationally after that. So keep your eyes peeled for us rolling into a town near you.
Question:
Was there a moment you contemplated throwing in the towel?
Prince of Thieves
: It's natural to have doubts but it's your choice as to how you use that fear. We never thought about throwing in the towel though. It only motivates us to push harder.
Question:
Do you prefer performing live or recording?
Prince of Thieves
: Getting in the studio and being creative is such an expressive outlet. Then we get to show people what we came up with, on the stage and that comes with a feeling of adrenaline and freedom like no other.
Question:
What/who was your inspiration to go into the music industry?
David Denis
: I'm inspired by Michael Jackson, Prince and James Brown. I can vividly remember the impact it had on me when seeing their clips. They changed the game and that's something hopefully we can do.
Adam Saunders
: Yeah I remember learning about Elvis and MJ when I was young, and the effect they had on people. Plus I had uncle who was amazing muso and I really looked up to him growing up.
Question:
What is the biggest challenge you have faced along the way to your musical success?
Prince of Thieves
: Well challenges come with the territory. That's just life. Having patience is the hardest thing.
Question:
What's a typical day like?
Prince of Thieves
: A typical day of "thievin", as we call it, would start with a coffee and a hectic breakfast. Get into some chatter about the state of the world and deep stuff like that. Then go out get a massive feed and go training down on Bondi beach. Its then we head back to the studio, throw some ideas at each other and by 5pm we'll see what loot we've come up with.
Question:
If you could collaborate with another artist, who would it be?
Prince of Thieves
: Wow. That's tough. Like Dead or Alive? I think there are too many and it's too hard to name one.
Question:
Can you tell us 5 things required for a happy healthy & enjoyable life?
Prince of Thieves
: Exercise. Eat well. Be positive. Accept mistakes. Live without Judgement. Live without regrets. Sounds like a bumper sticker….
Question:
What is the story behind the bands name?
Prince of Thieves
: Well it was a name that just was blurted out during a skype session and it just stuck. It unified us as one entity and considering our influences, like MJ, the King of Pop and Elvis, the King of Rock, we'd be happy to be labelled a Prince.