Celebrate All Things Love With A 'Pretty In Pink' Tipple Or Two This Valentine's Day
Greenall's Wild Berry and Flora Dora Cocktail

40ml Greenall's Wild Berry Gin
20ml Fresh Lime Juice
10ml Raspberry Syrup
Ginger Beer

Method
Build all ingredients in a highball glass over ice
Stir and serve

Wild Berry Frosé

Ingredients
50ml Greenall's Wild Berry
20ml Lemon Juice
10ml Raspberry Purée
10ml Strawberry Purée
30ml Simple Syrup
65ml Rosé Wine

Method
Blend all ingredients with ice until smooth granita texture is achieved and pour into a large highball, hurricane or sling glass.
Garnish with a strawberry fan

Dolce Vita

Ingredients
45ml Wild Berry Greenall's
15ml Aperol
15ml Sweet Vermouth
5ml Passion Fruit Syrup

Method
Stir all ingredients well with ice to chill and dilute and strain over a large chunk of ice in a tumbler or whisky glass.
Garnish with an orange slice.

Greenall's Wild Berry Gin available from Dan Murphy's.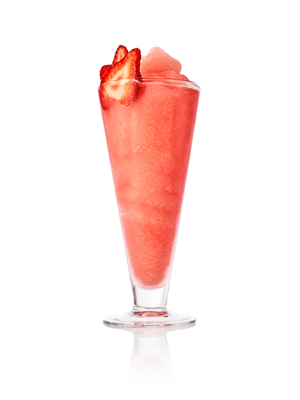 Keep it simple but exciting this year, by gifting your loved one a delicious handcrafted, pink gin - Greenall's Wild Berry Gin.

Greenall's is one of the only major gin brands which does not add sugar in its pink gin. So, if your partner is tired of Vodka, Lime & Soda, swap it for a Wild Berry & Soda this summer.

Taking its inspiration from the romantic English countryside hedgerows, it combines plump blackberries and wild Scottish raspberries with Greenall's Original London Dry Gin. The result? A No Added Sugar, flavoured gin with a difference. Yes, this is not your regular pink gin.

Handcrafted by Britain's oldest distillers, Greenall's Gin remains true to their founder's vision to create the first quality crafted gin. Greenall's The Original London Dry Gin remains unchanged from the original recipe, closely guarded by just seven master distillers in their 250-year history. Today, they continue to build on their classic, award winning recipe, as they create new and exciting gins.

Staying true to this, Greenall's is one of the only major gin brands which does not add sugar in its original pink gin. You'll find that their Wild Berry Gin is a twist on the classic gin experience, as its fruitier flavour has appeal for even the most juniper-averse drinkers. The juicy drop has a silky-smooth opening, that develops into a rich camphor and citrus taste, with an underlying fruity touch. This makes it the perfect gift for those starting to dabble in the flavoured gin world.

Or, your partner might be simply tired of the stock standard Vodka, Lime & Soda (who isn't!?), so why not swap this for a Wild Berry & Soda this summer? This could be a beautiful beginning to a new experience for them.

To ensure there is no disappointment, we suggest that you visit Dan Murphy's, BWS (majority of stores) or Heinemann in Sydney Airport. Each bottle starts at $41.99. For more information, visit www.greenallsgin.com.

Your significant other can also enjoy Greenall's Wild Berry Gin with premium tonic water and a raspberry garnish.