Slip on the Rose-Coloured Glasses for Superstar
After the huge success of their 2018 releases "Capricorn" and "Lovely", which saw them win an appearance on the Groovin' The Moo stage as the featured Unearthed act, Pinkish Blu are returning with a new album in 2019. Featuring their signature 80's synth-sound and moody vocals, this first single "Superstar" slips on the rose-coloured glasses to ruminate on the smaller moments of beauty you notice while in love with someone. Listen to "Superstar" here.


Interview with Pinkish Blu
Question: How would you describe your music?

Pinkish Blu: We like to self-describe our music as sad-pop. Its emotional lyrical content paired with ethereal melodic pop music with 80's new wave and alternative rock roots.


Question: Can you tell us about the new album?

Pinkish Blu: We are currently working on our debut release but that's all we can say at the moment.


Question: Do you prefer performing live or recording?

Pinkish Blu: Recording is obviously an integral part of getting our music to the people but live shows are always a special time. Each show feels like a new connection is made with our audience and we feel very privileged to be able to perform our songs on stage to people that care.


Question: Which is your favourite song to perform live and why?

Pinkish Blu: At the moment it's a unreleased song called If This Is Yours, its energetic and a really fun way to open the show.


Question: If you could have anyone, in the world, attend a show, who would it be?

Pinkish Blu: It's always great to have an experienced head in the room that we all look up to and we can get performance advice from. A Beatle would be cool.


Question: What is the story behind the band name?

Pinkish Blu: We wanted something that rolled off the tongue. We had Pinkish first. We paired that with an array of different words, but Blu just worked best. The meaning is truly up for anyone to interpret.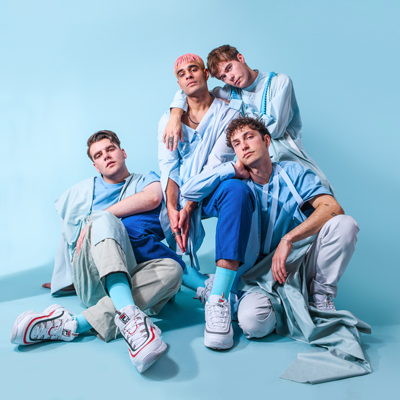 Question: How did the band come together?

Pinkish Blu: Seb and Brice are childhood friends and have played in their fair share of local bands as kids. But in 2017 they wanted to take it more seriously and hit up friends Ricky and Luke to help get the show on the road.


Question: What inspired the track Superstar?

Pinkish Blu: The feeling of complete adoration for someone and of course, an old French film from '65.


Question: What motivates you most when writing music?

Pinkish Blu: The motivation varies from song to song. But usually it starts with a feeling or a mood and the music translates from there.


Question: Which music/artists are you currently listening to?

Pinkish Blu: Currently we've been listening to a pretty wide variety. From Wallows and Charli XCX to new Taylor Swift and Lil Nas X.


Question: What or who was your inspiration to go into the music industry?

Pinkish Blu: Just all the bands and artists we grew up listening to, watching on TV and seeing on the big stage.


Question: If you could collaborate with another artist, who would it be?

Pinkish Blu: We'd love to collaborate with many artists, but the 1975, Charli XCX, Mallrat and Joji are definitely high on the list.


Question: Can you share your socials?

Pinkish Blu: @pinkishbluband
https://www.facebook.com/pinkishblu/


Interview by Brooke Hunter