A look at the life and work of opera legend, Luciano Pavarotti.
Cast: Spike Lee, Princess Diana, Bono
Director: Ron Howard
Genre: Documentary, Biography, Music
Rated: PG
Running Time: 114 minutes

Synopsis: The award-winning filmmaking team behind the hit documentary The Beatles: Eight Days a Week – The Touring Years turns to another musical phenomenon with PAVAROTTI, an in-depth, no holds barred look at the life, career and lasting legacy of the musical icon. Dubbed "The People's Tenor," Pavarotti was the rare combination of personality, genius and celebrity and he used his prodigious gifts to spread the gospel of opera as entertainment – and something to be enjoyed by all music lovers. Through the sheer force of his talent, Pavarotti commanded the great stages of the world, and captured the hearts of audiences everywhere. Featuring rare interviews with his family and colleagues, never-before-seen footage, and state of the art Dolby Atmos sound, this look at a remarkable man and musical giant is directed by Academy Award winner Ron Howard.

Pavarotti
Release Date: October 24th, 2019


About The Production
"Some can sing opera. Luciano Pavarotti was an opera." – Bono

He had one of the most epic voices and expressive hearts in human history, but in Ron Howard's documentary, the remarkable Luciano Pavarotti is seen as he's never been seen before: in a ravishingly intimate close-up that delves behind the glory of his music and the heat of his charisma to uncover his private human struggles, humour and hopes. Echoing the universal themes that have kept opera relevant in the 21st Century"love, passion, joy, family, loss, risk, beauty"the film weaves a story of a man discovering, wrestling with and ultimately learning to harness the monumental enormity of his gifts.

The golden-hued voice of Pavarotti speaks for itself. But Howard sets out here to uncover the man, finding an unceasingly fascinating human being formed from contrasts"mixing child-like lightness with a deep soul, a strong loyalty to his peasant upbringing and that enigmatic X-factor that drives some to the skirt the edges of human possibility.

Pavarotti is the third in a series of documentaries Howard has directed exploring musical superstars" following on the heels of the award-winning The Beatles: Eight Days a Week – The Touring Years, and Made In America, which journeyed backstage to Jay-Z's one-of-a-kind music festival. The modern world's greatest opera star might seem a less likely subject for the Oscar-winning director. Sure, Howard had met Pavarotti briefly long ago and was captivated. Who wouldn't be drawn to a creative powerhouse who etched out his own unique place as the rock star of opera singers, a giant who bridged high art and pop culture as if such borders were illusory? But Howard was hardly an expert on opera. Yet, that is precisely why Howard became so intrigued. When Nigel Sinclair, with whom Howard worked on The Beatles: Eight Days a Week and Rush in the past, mentioned to him that Decca Records was in search of a filmmaker who could bring the essence of Pavarotti's life and music to the fore in a comprehensive documentary, Howard felt that spur to know more. Diving into research, he discovered it was an absolute thrill to enter Pavarotti's world fresh, with the eyes of a newcomer to opera, the very type of person Pavarotti so loved to reach.

Intrigue soon turned to inspiration, as Howard also found a story he couldn't resist: the tale of a smalltown man sent on a meteoric trip to the heights of fame, trying to figure out how to bring all his roiling emotions, nerves, dreams and love for others along for the ride. The precise source of his magical voice might always be a mystery, but what caught Howard's attention was how Pavarotti learned to use it. "The more I learned, the more I came to see Pavarotti as someone who is a testament to the power of living your life with passion and unabashed commitment to what you love," says Howard. "At first, I was engrossed just by the shape of his journey, this remarkable, nothing-but-high watermarks career, the vast success. But when I looked deeper, I also saw that he bore the brunt of taking so many artistic risks. That drama was unexpected and felt extremely human."

To give the film that humanity and life he wanted it to have, Howard brought aboard the same filmmaking team he'd worked with on Eight Days a Week, which was acclaimed for its exuberant immersion into the early days of the Beatles. This included not only producers Sinclair and Brian Grazer, who were joined by Imagine's Michael Rosenberg and White Horse Pictures' Jeanne Elfant Festa, but also writer Mark Monroe, editor Paul Crowder and sound mixer Chris Jenkins. Together with Howard, they pulled together a wealth of sound and images.

As he pored through rare footage, peak performances, archival interviews and dozens of new interviews, Howard homed in on an essential tension in Pavarotti's being. Here was this earthy, happygo-lucky character who relished the good things in life with vivacious humility. But here also was a man battling the intricacies of massive superstardom, sky-high expectations and turbulent relationships"all underscored by Pavarotti's growing sense of responsibility that he had to find a way to use his voice and power for something more satisfying and more lasting than mere fame.

It was all so, well, operatic in nature that Howard hit upon the idea of structuring the entire film as a 3- act opera. What else, after all, could Pavarotti's life be? That concept shaped everything. Now, Howard could see the film as a drama punctuated by passionate arias and highlighting the contrasts of largerthan-life spectacle with raw, everyday humanity.

"I saw the film as an opportunity to explore Pavarotti's life through never-before-seen footage and intimate interviews with the man himself, as well as his closest family and friends," says Howard. "But I also came to learn that one of Pavarotti's most ambitious goals was to broaden the reach of his art so that more would fall in love with opera. Time after time he would go out of his way, whether it was through teaching or traveling to the heartland of America or to China, to introduce people to the power of opera. So, I also have a personal hope that our documentary might help continue that work. Luciano so loved music. He so loved people. And he wanted to bring the beauty of music to as many people around the world as he could."

Everyone loved the idea of using the gorgeously lyrical Puccini aria Nessun Dorma from the opera Turandot as a recurring emotional refrain. It's not only one of Pavarotti's most celebrated pieces but one of the best-loved classical crossover hits of our times. "Nessun Dorma is so powerful on its own, but we tried to use it, and other favourite Pavarotti arias, in surprising ways to intersect with the themes of Luciano's life," says Howard. "I hope it highlights that these arias are more than just beautiful songs. They're a form of expression that can hit you on a whole other level of emotional connection."

Howard may have recently turned to documentaries, but he is no stranger to true stories. In a series of acclaimed dramatic films based on real lives"including the Best Picture-winning A Beautiful Mind, Apollo 13 and Rush, respectively about a genius mathematician, a heroic astronaut and two rival Formula One drivers"Howard has used universal emotions as a means to allow the inner worlds of exceptional people to feel as accessible as they are motivating.

Here, he took a similar approach, following a familiar process of giving himself over to the research. He was bolstered by the support of Pavarotti's estate, which gave him unfettered access. "My approach has always been that I'm not really an authority on any of these subjects. I'm someone in the act of discovery and I just try to share with audiences what I'm learning," Howard explains. "I love characters and I'm fascinated by the way high achievers in particular are tested and challenged. With Pavarotti my question was: where did this tremendous artistry come from? It doesn't only come from the remarkable voice. It has to come from the heart. That's the only way you can create performances so true that they resonate forever. So, I wanted to know everything I could about how Pavarotti cultivated that and how he dealt with the personal costs of becoming a celebrated artist."

As he watched reams and reams of Pavarotti's most electrifying concerts, Howard was taken aback by just how emotionally deep Pavarotti went"depths he had only witnessed before with great actors. "I was just blown away by what you can see going on behind Pavarotti's eyes when he is performing," Howard says. "He is like a Method actor who is drawing profound emotions from some personal pain that he connects with. It doesn't matter who you are, the purity of that just moves you."

Going beyond performances, Howard and his team combed the archives for dozens of interviews Pavarotti did for television talk shows and news magazines looking for highlights. Then, he and his team conducted a comprehensive 53 new interviews in New York, Los Angeles, Montreal, London, Modena and Verona from April 2017 to June 2018. This series of conversations brought in the perspectives not only of wives, family members, students and fellow performers from both opera and rock, but also the managers, promoters and marketeers who helped to etch the unusual trajectory of his career and take opera to places it had never gone before.

Each one was a revelation, opening up new avenues into Pavarotti's most hidden doubts, trials and desire to reconcile his outsized ambitions with ordinary love and life.

"I found the family's interviews especially remarkable," says Howard. "They're emotional interviews that were not easy for them to do, but I am grateful because I think they convey so much of the humanity of his story. That's what makes this something more than just a look at what a great performer he was. They tell the story of a vast journey of highs and lows that they all undertook together."

Then came the most astonishing discoveries of the film: highly personal footage of Pavarotti that had never seen the light of day before. This footage from home movies preserved by family and friends at times took the filmmakers' breath away with its unvarnished glimpses at the man behind the curtain. The movie opens with one of the most astounding, dream-like clips of all. The year is 1995 and the place is Manaus, Brazil, in the thick of the Amazon jungle. Here, in the mysteriously magnificent little opera house known as Teatro Amazonas, where Caruso himself once sang, Pavarotti is seen in his sweatpants, pouring forth with total abandon before a mere handful of passers-by. Shot by flautist Andrea Griminelli, who was travelling with Pavarotti at the time, the clip has never before been shared publicly.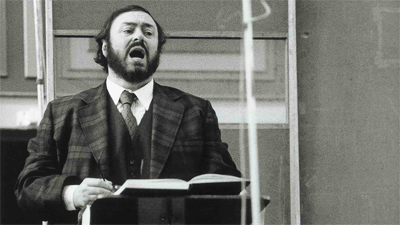 "It is my favorite because it's the only time you see Pavarotti singing for himself," says producer Jeanne Elfant Festa of White Horse Pictures. "You see him trying to capture what his idol Caruso must have felt singing there. It took a long time to acquire this unseen footage, but it was worth it. It is moving, revealing and very beautiful."

Much of the rare footage came directly from the personal collection of Nicoletta Mantovani, Pavarotti's wife at his death, the mother of their daughter Alice and head of the Pavarotti Museum in Modena. Mantovani offered her generous help to the production right from the beginning.

"I felt it was important to tell his story to the world because Luciano was one of the best artists ever, but he also had a great heart. I thought it was important to share that," says Mantovani.

"Nicoletta sort of became her husband's videographer," notes Howard, "and it just so happened that this was the era when good video cameras were becoming available. She interviewed him from time to time and it's very fortunate, because Nicoletta captured him in a period when he had so much wisdom and perspective to share. And of course, he was open to talking with her in ways he would never talk to the host of a morning show. This footage was incredibly important to the film, because that's where you really get to see his playful side, what a charmer and goof he could be. Everybody who knew Luciano wanted me to understand was that he was just this unpretentious guy who happened to be a great artist. He thought of himself as a peasant who had worked his way up to giving all that was in his soul and all that had been built into his character by life. I think the home movies really help reflect that."

Mantovani proved key in other ways. "Nicoletta is a wonderful person who helped us to get interviews with such very busy stars as Plácido Domingo and José Carreras," says producer Nigel Sinclair. "She gave us access to all of the archives that they have at the Pavarotti Museum. And she also introduced us to his first family: his first wife Adua Veroni and their three daughters, Cristina, Lorenza and Giuliana Pavarotti, all of whom were interviewed for the first time ever, which was a very intense and moving experience. His daughters were all moved to tears at times during the interviews, reliving the journey they took with their father. Having a famous father is not easy for anybody, whether they're a pop star, movie star or opera singer, and you get to see that."

Throughout the process, Howard collaborated with writer Mark Monroe, who previously wrote the Oscar-winning documentaries The Cove and Icarus and garnered an Emmy Award nomination for The Beatles: Eight Days a Week – The Touring Years. Like Howard, Monroe became intrigued by the stirringly operatic quality of Pavarotti's character"this man who strived to tap the most tender emotions, but also lived in an outsized, often exposed way in a complicated and demanding world. "I think what make Pavarotti's voice so timeless and enduring is that it symbolizes all of our human frailties and vulnerabilities," Monroe observes. "I hope through this film audiences will see him for who he was in his entirety, a beautiful man who had faults but also tremendous gifts and generosity." For the producers, the story's structure worked in mysterious ways. "At times, you find you're crying your eyes out, because you feel you're on the ride of this man's whole life," says Sinclair. "I think that kind of emotion comes through because Ron is so fascinated by the human process, by how people relate to each other and how they're affected by their circumstances. His greatest stories have all been driven by those things. He was fully determined to understand what made Pavarotti tick"and he wove everything he discovered into the film."

Festa notes that the film reminds of how Pavarotti refused to see any boundaries between so-called high and low artforms, presaging the more open and mobile cultural world of today. "I think today Pavarotti can be perceived in some ways as an awesome rock star because he was always a disruptor," she says. "His effect on people was intense and personal and I love that Ron's film mirrors that." Howard hopes that the film rides a fine line: authentic enough for Pavarotti aficionados to cherish and welcoming enough for those who are new to the man and his music. He emphasizes that for Pavarotti, music was something that should never feel exclusive or elitist. To him, opera was the music of the people, of all people"because it is rife with all the beauty and messiness of everyday life.

"Pavarotti grew up in a culture where opera was popular entertainment and it spoke to everyone," explains Howard. "He always wanted to return opera to those roots in the modern world. His humility is one of the most beautiful and paradoxical things about Luciano. He was extremely proud of his achievements and he understood he had this incredible power, but it was accompanied by a sense of being humbled by the music and the opportunity it gave him to reach people from every walk of life."

Sound and Rhythm

As Pavarotti began to take form, Ron Howard worked especially closely with editor Paul Crowder to craft the film's rhythm into a crescendo.

"Pavarotti's real life already had an organic three-act arc to it," observes Crowder. "The first act of his life is going from a village teacher in Modena to becoming an unexpected success in the opera; the second act is the Three Tenors era of his life when he experienced both incredible fame and self-doubts; and the final act is the Pavarotti and Friends period, where he was raising money for children's charity and expanding out into collaborations with artists of all kinds, bringing opera to new places and people, fulfilling his dream. So that was all there, and our work was about shaping it"and about fusing the story with Pavarotti's music to enhance the emotional moments of the story."

Nigel Sinclair notes that Crowder has a way of infusing material from dusty archives with immediate, crackling life. "He can take photographs and make you feel that they are moving scenes," Sinclair says. "And he cut the story to Pavarotti's arias like he was painting with music."

Also key to the team was three-time Academy Award -winning sound mixer Chris Jenkins (Mad Max: Fury Road, The Last of the Mohicans, Out of Africa), who married the multi-dimensional sound technology of Dolby Atmos to Pavarotti's vocal brilliance in the legendary Abbey Road studios. Jenkins wanted to find a new way to capture the live power of the human voice"to bring all the sensuousness, verve and emotional poignancy you can feel when someone sings in a room into the movie theatre. "The human voice is the centrepiece of our movie. It is the greatest tool musically there is. Nothing crosses all disciplines in music and all touchpoints with human emotion like the human voice," says Jenkins. "And Pavarotti's voice is the most exquisite of instruments. That's why rather than be sequestered into opera, I think his voice transcends categories. His voice is about those universal emotions we seek in all great painting, music, food, love and compassion."

For Howard, the mix was vital to inviting audiences into the experience no matter their background with opera. Though opera lovers prize nothing more than the natural, unamplified sound of a voice reverberating in a theatre, this was a chance to show what leading-edge recording technology can do to re-create that singular pleasure. "I hope opera fans and newcomers alike will have an experience that is thrilling, memorable and unique," Howard says. "I hope people will be blown away by the sound in this film, with what this technology can do to you, how it can reach you at your emotional centre. With Chris at the mixing board, we were able to make that happen."

Using Dolby's Atmos technology, Jenkins explains, allowed the soundtrack to capture Pavarotti's voice in an array of different environments. "Sometimes we wanted the audience to feel like they're alone in a small rehearsal hall with Luciano. And with this technology, we can make it feel as if you are in 12- by-12 box room," he elucidates. "Other times, we're in the Amazon or at the concert hall or with The Three Tenors at an outdoor coliseum. With Dolby Atmos, we were able to constantly change the scope and scale of the sound to reflect each setting."

Jenkins used another recording technique"re-amping the orchestra"to make the sound as alive as possible. He explains: "We took Luciano's vocal tracks and the orchestral tracks, then laid them into Studio One at Abbey Road and re-recorded them with 12 mics placed around the room to simulate what the sound field is actually like in a movie theatre. In this way, the music sounds very, very close to the original recordings, yet creates a space you would normally never be able to create."

Throughout, there was a deep commitment to staying true to vintage recordings and footage. "You want to retain the graininess of some images and sounds, because we respond to that as being authentic to the period," Jenkins says. "We never wanted to make things sound modern for the sake of being modern. We wanted them to still feel out of the past. But when you have a simple mono recording followed by Zubin Mehta conducting an 80-piece orchestra, you have to play somewhat with the dynamics so that it all fits, That was the biggest challenge: scaling the soundtrack from small to intimate to larger to grand"while trying to keep the emotional journey at the forefront."

As he worked with Howard, Jenkins admits they felt a link to Pavarotti's spirit that fuelled them. "If Pavarotti were alive today, and could see the film, I hope he would say we respected his voice, that we both preserved it exactly as it was and that we lovingly honoured it," he concludes.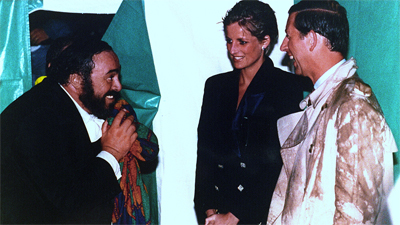 The Voice

What was it about Pavarotti's voice that touched so many? Certainly, he had an astonishing reach. Early in his career, Pavarotti stunned operagoers by exquisitely, and seemingly easily, hitting all nine high Cs in Donizetti's La Fille Du Regiment. Most tenors transpose the note to a more mortal yet still highly challenging B-flat, but not Pavarotti. With that string of Cs, he made opera history and was thereafter dubbed "The King of High Cs." But there was more to it than technical facility, more to it than even that crystalline "ping" and honeyed sweetness in his voice that critics hailed. There was also in his demeanour and tone something ineffable that elevated the spirit, a kind of inner vitality, a generosity and warmth that baked into the skin of the listener like the sun. To this day, people struggle to define it.

"There wasn't anybody with that purity of voice. It was an effortless sound," says Dickon Stainer, CEO of Universal Music Classics and Jazz and an executive producer on the film. "You can identify his signature sound in a split second. It has to do with the nature of his phrasing and the beauty in his voice. He didn't compromise. He looked after every single phrase, every note. It was inside him, and it came out as one beautiful, elongated expression for everybody, always."

As President of Classical Music Group at Decca Records, the label that long championed Pavarotti, Stainer became another major asset for the film. Ron Howard notes that Decca's assistance was crucial. "Without Decca's support, Pavarotti doesn't become Pavarotti, so they are a big part of the story," the director says. "And their support and archives were invaluable."

Pavarotti began recording for Decca in 1964 and in a period of six creatively fertile years, he recorded some11 operas (and the Verdi Requiem), which remain mainstays of his legacy. Later, Decca would become the home of the unexpected hottest supergroup of the 90s: the Three Tenors, the iconic trio formed by Pavarotti with fellow opera stars Plácido Domingo and José Carreras. In one of the greatest mergers of opera with popular culture, the trio opened the 1990 World Cup in Rome. The unprecedented performance"in which each tenor seemed to spur the others to new heights, culminating in a breathtaking Nessun Dorma"proved to be a game changer. Suddenly, even sports fans were humming opera and the Three Tenors became arena idols on par with Springsteen or The Rolling Stones.

Notes Stainer: "For me personally, the footage of the Three Tenors and the phenomenon that was the Three Tenors is extra special. Perhaps now, people don't realize how big the Three Tenors were. They were the biggest 'band' in the world. They came from nowhere, they were utterly authentic, and they had never sung in that way as a unit prior. They came together on that one night in Rome and it was something the world had never seen before and will never see again. It changed an industry." For Stainer, it's not just the pristine clarity of Pavarotti's voice that will live on"it's who he became while exploring the full range of his talent. "He was a baker's son who became the most famous person in the world. But he was also a charitable person who gave of himself to everyone," Stainer says. "He had an ability to do something many others were not able to do with their voices"to transcend their genre. He had that magical ability to create a universal experience for people across the world."

The Man

Luciano Pavarotti was born in Modena, Italy on October 12, 1935, on the eve of WWII, the son of father who was a baker and amateur tenor. Mesmerized by his father's voice and that of his idol, Enrico Caruso, he sang throughout his childhood. But no one could foresee that he would transform his modest beginnings as an elementary school teacher into "The King of High C's" on stages across the globe"or that one day, people who had never listened to a note of opera, would know and love Pavarotti.

Encouraged by his mother, who heard something unusual in her son's timbre, Pavarotti only began to seriously study music after winning a regional singing competition. He made his stage debut as Rodolfo in Puccini's La Boheme in 1961, impressing early on with his intuitiveness and natural ease. Throughout the 60s, Pavarotti slowly, carefully built his reputation not only for an increasingly impeccable tone and committed performances, but for the boundless joy and zeal for life that came through in both his singing and persona. He became known by concertgoers around the world for his star-making partnership with the beloved soprano Joan Sutherland, aka "La Stupenda," as their affection for one another imbued their performances with intense energy and romance.

In the 1970s, Pavarotti found himself at the acme of his vocal powers and showmanship, transforming into a major international superstar and media darling. At a time when opera itself seemed to be declining in influence, he continued to rapidly rise, giving epic performances on world stages while charming late-night talk shows with his down-to-earth sense of humour, beaming smile and cooking skills. One night in 1973, when his life-long pre-show nerves brought on a bout of sweating, he carried a huge white handkerchief on stage, soon to be an instantly recognized, signature trademark. By the 80s, he was the highest paid singer in the history of opera. As he entered the 90s, Pavarotti's collaborations with the Three Tenors would fill arenas and result in the bestselling album in classical music history.

One of the greatest paradoxes of Pavarotti was that even as he sold over 100 million records in his lifetime, each member of the audience believed he was singing to them and to their experience alone. Indeed, "The People's Tenor" was increasingly drawn to everyday folks as much as his voice was prized in rarefied circles. That's why he dedicated the latter part of his life to bringing opera to contemporary audiences, even pop audiences, in ways they never imagined. From 1992 to 2003, he would host Pavarotti and Friends in his hometown"annual benefit concerts with some of the biggest names across the spectrum of entertainment, including pop and rock. His collaborators ran from Sting, Queen and Elton John to James Brown, Lou Reed, Bob Geldof, Bryan Adams, Andrea Bocelli, Meat Loaf, Michael Bolton, Sheryl Crow, Liza Minnelli, Eric Clapton, Celine Dion, Stevie Wonder, the Spice Girls, Natalie Cole, B.B. King, Enrique Iglesias, Deep Purple and Tom Jones. Even the Dalai Lama and actors Michael Douglas and Catherine Zeta-Jones made appearances. Meanwhile, the proceeds were donated to humanitarian causes such as the United Nations High Commissioner for Refugees and War Child, the British international relief agency for aid to children in war torn countries and conflict zones.

Generous and egalitarian as he was, Pavarotti was as complicated and contradictory as any human. He had his share of scandals, marital troubles and prima donna moments, and some critics and opera lovers were disappointed by what they saw as his compromising the delicacy of his art to the demands of popularity. A number of classical purists could never accept his bringing opera to massive, sounddistorting sports stadiums. But no matter what was said, nothing seemed to ever change his joyful thirst for life or for sharing himself in the best way he felt that he could.

"Pavarotti was a great guy, a loveable guy, but he was also nobody's fool and had a lot of power, and I think both sides come through in this film," says Howard. "Some of the most fun scenes in the film are actually watching him navigate the levers of power. It's pretty hilarious just to see the way he charmed, cajoled, bulldozed and managed to ultimately carve out new paths for himself, again and again."

He could take sly enjoyment from using his prominence to his advantage. But there remained in Pavarotti a desire to keep at least a part of himself unaffected by the grandiose trappings of fame, to stay true to that provincial Italian boy who found simple solace in song. "What was really surprising was to see how he always tried to take his village everywhere he went," says Nicholas Ferrall, an executive producer of Pavarotti and president of White Horse Pictures. "He would bring pasta and cheese to China. He would travel with pots and pans to make home-cooked meals. He clearly had a desire to live a simple life even when he was on the road, even when things were at their most grand and chaotic."

"He was always the small-town son of the baker and he stayed true to that his entire life," adds Cassidy Hartmann, the film's consulting writer and a partner at White Horse Pictures. "That's why people connected with him so deeply"because he was so authentic. I hope audiences will walk away emboldened to be true to who they are, after watching him find such great success on that path."


The Philanthropist

Like any person who achieves the most surreal heights of global fame, Pavarotti struggled with it at times. But he also came to see his fame as a tool to etch out something larger than himself. One of the most captivating moments in the film centres around footage of Pavarotti meeting Princess Diana in 1991. It proved to be a watershed. Not only did they become fast friends, it also seems evident he saw in her a model for how celebrity could propel good works for the world.

"Luciano's relationship with Princess Diana was pivotal and as we began to explore the footage you could just see it. He was enamoured with her, but it wasn't lust. It was a mutual admiration," observes Howard. "I think she taught him in a way that there could be a tremendous sense of satisfaction from not just supporting causes but really working hard at it and devoting yourself to it. He carried that with him the rest of his life."

That impetus to do more led to the Pavarotti and Friends benefit concert series in 1992. It is also what led Pavarotti to befriend another icon turned global philanthropist: Bono of U2.

It all started when Pavarotti began planning a concert for the children of Bosnia at the height of the Bosnian War. The effects of war and terror on innocent youngsters, something he witnessed firsthand when he was a child in a WWII Europe, had long been one of his most passionate causes. He was determined to bring together as many people who could make a difference as he could recruit. Explains his wife Nicoletta Mantovani, "He wanted to give the Bosnian children hope for the future because Luciano was one of those children."

In the film, Bono tells of how Pavarotti started calling his home in Dublin, cajoling his housekeeper and pressing him relentlessly to write a song for the concert. "Luciano is one of the great emotional arm wrestlers…and so, we ended up in Modena of course," Bono recalls with amusement in the film, while spinning the intriguing tale of how Pavarotti ultimately succeeded.

The resulting meeting would seal another friendship that lasted the rest of Pavarotti's life. It also resulted in Bono writing the haunting "Miss Sarajevo," which features a Pavarotti guest vocal. "Bono loved Pavarotti so much and that is so clear in the interview he gave us," says Howard. "Bono's interview was both a gift to the memory of Luciano and to our film because he has so much insight into that X factor of how Luciano was able to bring the whole experience of his life to his music and also into his devotion to humanitarian causes, which they shared."

Pavarotti and Friends was so successful that the benefits continued to thrive for a decade"raising millions not only for Bosnians but for victims in such war zones as Guatemala, Kosovo, Beirut and Iraq. In 1998, Pavarotti was appointed a UN Messenger of Peace and in 2001, he was awarded the Nansen Award from the UN High Commissioner for Refugee for his unmatched fundraising and volunteer efforts.

"Many artists put their name on a charity or do some philanthropic work, but the concerted way Luciano did it, and the dedication that fuelled him in the later years of his career, really set him apart," says Howard. "He was sometimes criticized for those concerts because he was blending pop music with his work, but they raised so much money and had an undeniable impact."

Just as music had, charity work became a natural extension of Pavarotti's intense love of life. Mantovani hopes that's what moviegoers take away about her husband's legacy from Howard's film. Though the film shows the man in both his greatness and his anxieties, in both grandiose and challenging moments, in the midst of glorious high Cs and the depths of struggle, Mantovani loves that the most emphatic note of all in the film is joy.

"Luciano wanted to transmit positivity to everyone," she says. "He always showed that life should be lived to the fullest at every minute. He was a great artist, but he believed talent was never enough. Discipline was necessary. Devotion was necessary. He believed every concert he gave should be better than the previous one. He believed the secret to life was to enjoy what you do, but also to always give back. And that is what he did."


Pavarotti
Release Date: October 24th, 2019