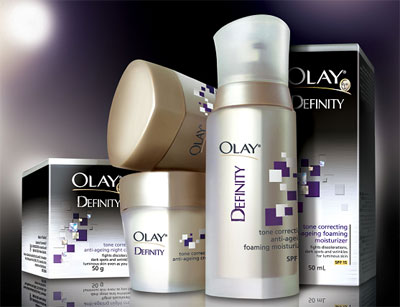 ITS TIME TO FIGHT WHAT AGES YOU MOST!

INTRODUCING OLAY DEFINITY - OLAYS MOST INNOVATIVE ANTI-AGEING RANGE YET

Up until now, lines and wrinkles have traditionally defined a womens age. But the latest groundbreaking anti-ageing research from skincare expert Olay reveals theres more to the war against ageing than just fighting the appearance of lines and wrinkles. Insight from behavioural science suggests that in fact discolourations, dark spots, dullness and uneven skin tone are the new perception of "old."i Thats why Olay has launched its most innovative and highly defined anti-ageing range yet - the Olay Definity Tone Correcting Anti-Ageing Range - so you can fight what ages you most!

In just eight weeks, Olay Definity helps visibly transform the appearance of skin and fights what ages skin the most: dark spots and discolourations, along with lines and wrinkles. Luminous skin starts now!

Olay Definity, with Olays Essential Glucosamine Complex, is designed to help go beyond wrinkles to also improve the appearance of dull, uneven and discoloured skin tone. With daily use, Olay Definity hydrates the skin to visibly reduce the appearance of past damage, as well as reducing the appearance of discolourations and wrinkles to reveal more luminous and flawless looking skin -as if it emits light from within.

The Essential Glucosamine Complex in Olay Definity combines two powerful skin-enhancing ingredients -Niacinamide and N-Acetyl Glucosamine:

* Niacinamide is scientifically proven to help boost skins collagen levels, restoring your skins inner glow. And, because collagen also happens to be important for keeping away the lines and wrinkles, Niacinamide can help provide smoother, firmer skin.

* The combination of Niacinamide and N-Acetyl Glucosamine is clinically proven to reduce the appearance of dark spots and skin discolouration, resulting in a more even, luminous skin appearance.

Olay Definity utilises this scientific innovation in a single cutting-edge formula to fight what ages you most - dark spots and discolouration.


THE NEW ISSUE IN SKIN AGEING - GROUND BREAKING RESEARCH ON SKIN TONE:

Discolouration and dark spots can add 10 years to your look, according to evolutionary biologists Drs. Bernhard Fink and Karl Grammer, working with skin expert & P&G Research Fellow Dr. Paul Matts. ii

In their groundbreaking study, the scientists asked how uneven skin tone by itself might influence the perception of female age and beauty. To put the spotlight on skin tone, they photographed 170 women, digitally removed the lines and wrinkles and draped the resulting images on a standard facial structure.

"Four hundred and thirty male and female observers were charged with guessing the ages of the models. The results were amazing as responses revealed that skin tone alone can add 10 years to a womans appearance," said Dr Fink. "In this age of wrinkle-focused anti-ageing treatments we might be missing a big part of the solution. Young, healthy skin isnt just smooth and firm, its also even-toned and spot-free, giving rise to a luminous appearance."

As high definition technology in skin care begins to reveal the world in a whole new light, facial luminosity and even skin tone arise as a new beauty ideal, redefining the way we think about anti-ageing skincare.


THE SOLUTION -INGREDIENTS THAT WORK:

World-renowned skin experts agree that Olay Definity works. Dr. Alexa Kimball of Harvard Medical School, who leads the Clinical Unit for Research Trials in Skin comments:

"Pigmentation is an appearance issue that strikes an emotional chord for many women. The large base clinical data indicate that the combination of N-Acetyl Glucosamine and Niacinamide significantly evens skin tone, reducing the appearance of dark spots, and providing an easily accessible solution to ease womens concern about ageing."

In January 2006, Dr. Kimball co-chaired a panel of internationally renowned dermatologists in Rome to discuss the reduction of skin hyperpigmentation with an N-acetyl glucosamine and Niacinamide complex. This panel of 19 skin experts concluded that a topical formulation with this complex significantly reduces both the amount and unevenness of melanin in the skin versus a base moisturiser.iii

The New Olay Definity Tone Correcting Anti-Ageing line-up includes:

Priced at RRP $39.99AUD:

Olay Definity Tone Correcting Anti-Ageing Foaming Moisturiser SPF15 (50ml)
Olay Definity Tone Correcting Anti-Ageing Cream (50g)
Olay Definity Tone Correcting Anti-Ageing Lotion SPF15 (50ml)
Olay Definity Tone Correcting Anti-Ageing Serum (50ml)
Olay Definity Tone Correcting Anti-Ageing Night Cream (50g)

Priced at RRP $19.99AUD:

Olay Definity Illuminating Cream Cleanser (150ml)

Olay Definity will be available from August 17th 2008 where Olay products are sold.



---

i Visible Skin Colour Distribution plays a role in the perception of age, attractiveness, and health in female faces. Evolution and Human Behavior 27, 433-442, 2006. Fink, B., Grammer, K, Matts, P
ii Visible Skin Colour Distribution plays a role in the perception of age, attractiveness, and health in female faces. Evolution and Human Behavior 27, 433-442, 2006. Fink, B., Grammer, K, Matts, P
iii Consensus Statement at International Congress and Symposium Series 264