NIVEA - BEAUTY IS.... A DIFFERENCE
Lumps and bumps or jiggly bits? NIVEA body has the goods to get you in shape....
Life of the party or reserved socialite? Good listener or advice giver? Thrill-seeker or careful and shy? When it comes to a woman's inner-beauty, she is unique... And so is her figure.
With everybody in mind, the experts at NIVEA have developed two very different body gel creams, NIVEA body Good-Bye Cellulite to combat the pesky orange peel effect and NIVEA body My Silhouette! a body refining contour cream, to deliver results whatever your shape, size or concern. Dr. Jens Schulz, from the NIVEA dermatology research team in Hamburg, explains...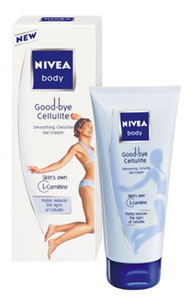 NIVEA body Good-Bye Cellulite
What is it? NIVEA body Good-Bye Cellulite is a cool gel-cream, designed for daily application to hips, thighs and stomach to target and smooth cellulite, for women of all ages and body types.
What are the results? After 4 weeks, the appearance of cellulite is visibly reduced.
How does it work? According to Schulz, the unique ingredient L-Carnitine is a "vitamin like substance found in the body, which penetrates right down in the fat cells in the skin, converting fatty acids into energy", helping to break down fat deposits that cause cellulite.
Dr Shulz also says "the cooling effect helps stimulate the activation of blood circulation and assists in the visible reduction of the appearance of cellulite".
NIVEA body Goodbye Cellulite, 200mL, RRP $9.95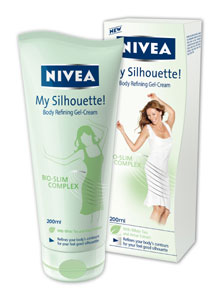 NIVEA body My Silhouette!
What is it? NIVEA body My Silhouette! is a body refining gel-cream targeted at women in their 30's to regain their feel good silhouette. It contains NIVEA's Bio-Slim Complex - proven to firm and contour your body, especially around your thighs, hips and waist.
What are the results? Body contours will be refined and toned for a feel good silhouette after twice daily use over 4 weeks. How does it work? The Bio-Slim Complex works on two levels.
Dr Schulz explains that "The White Tea provides the slimming effect and the Anise Extract firms and tightens "White Tea encourages the breakdown of fat, or what is known as lipid metabolism and has also be proven to reduce the accumulation of fat", says Dr Schulz. The second ingredient, Anise Extract, "complements this process by effectively activating cell metabolism and stimulating the collagen-producing cells in the dermis. As a result the body produces more collagen fibres and makes the connective tissue firmer."
So, whether it's to de-lump or refine your shape, NIVEA body understands that everybody is different. For a shape as unique as your personality, look no further than NIVEA body Good-Bye Cellulite and NIVEA body My Silhouette!
NIVEA body My Silhouette!, 200mL, RRP $11.90
NIVEA body Good-bye cellulite and My Silhouette! is currently available nationally from supermarkets, mass merchants and selected pharmacies.Stockists: 1800 103 023