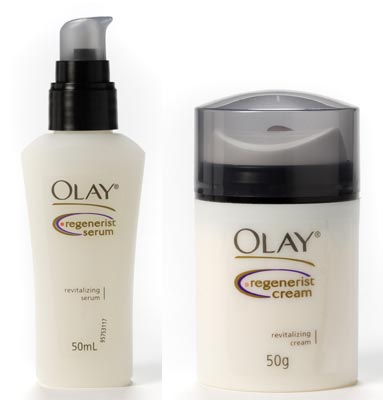 OLAYŽ REGENERIST™ - FIRST AID IN THE FIGHT AGAINST AGEING
RESEARCH PROVES THAT AMINO-PEPTIDE COMPLEX IN OLAY REGENERIST HELPS TO REGENERATE SKIN'S SURFACE APPEARANCE

Every year, there are more and more anti-ageing products available. Each with their own magic ingredient and promise to help fight the signs of ageing and reveal younger looking skin. However, how many of them have ingredients like peptides that have been researched and studied for years and are proven to really work? Well, look no further than Olay Regenerist, one of the most effective anti-ageing skincare ranges on the market.

Cosmetic procedures have been regarded as the gold standard in the fight against ageing because they offer a more aggressive approach to renew skin's outer layer. Scientific advancements however, point to Pentapeptides (KTTKS), a combination of five amino acids, as being one of the best skincare breakthroughs that help boost the production of cell structures such as collagen.

"Scientists first discovered Pentapeptides as critical to the wound-repair process. Their efficacy in improving the appearance of photo-damaged skin was only determined later on," explains David Khoo, Procter & Gamble Senior Scientist. "The identification of certain kinds of peptides, which function as a natural trigger to help accelerate newer cells to the surface, was and still remains an important breakthrough. The discovery of peptides helped establish a new class of effective, but gentler anti-aging options."

The extensive clinical research and evidence relating to Pentapeptides and their essential role in healing burns and wounds, led scientists to look at their usefulness in facial skin care. After all, if Pentapeptides were key to rebuilding skin, imagine what they could do when they were used in a daily facial cream!

Olay scientists combined the power of Pentapeptides with Vitamin B3, Allantoin, Pro-vitamin B5, Vitamin E and Green Tea Extract to create an exclusive delivery system called Amino-Peptide Complex which is found in Olay Regenerist.

Upon application, Olay Regenerist, with its unique Amino-Peptide Complex, is absorbed into the skin where it helps revitalise and regenerate skin's surface appearance. The result is skin that looks and feels more like new skin.

"The Olay Regenerist range is a tremendous innovation as it helps regenerate skin's surface appearance. In fact, eight out of ten dermatologists think that the Amino-Peptide technology is breakthrough ," said Jolie Egan, Public Relations Manager at Procter & Gamble, Australia. "The Olay Regenerist Daily Regenerating Serum, for example, contains the most concentrated form of the Amino-Peptide Complex across the Olay Regenerist range. It not only provides intense anti-ageing benefits, but unlike many serums, it also performs as a moisturiser, resulting in immediate and long term results."

Olay Regenerist with Amino-Peptide Complex is available from leading grocery, mass, pharmacy, and specialty outlets. Prices start at $29.95.


Olay Regenerist Range
1. Regenerist Revitalising Lotion with UV. RRP $29.95

Combining Olay's exclusive Amino-Peptide Complex with Olay moisture and UVA/UVB sunscreen (SPF15+), this light, non-greasy formula is quickly absorbed, smoothing over the skin evenly to hydrate, moisturise and protect. Light diffusers impart instant luminosity. UV protection helps protect from the ageing-effects of the sun.

2. Regenerist Revitalising Cream. RRP $29.95

A richer cream for dryer skin types, smoothes over skin to provide high levels of hydration. Special light diffusers reflect light from trouble zones, softening the appearance of fine lines and wrinkles.


3. Regenerist Revitalising Serum. RRP $29.95

Developed as an intense anti-ageing serum with a high concentration of Olay's anti-ageing Amino-Peptide complex, this serum provides immediate and long-term results. It has a velvety-smooth, non-greasy feel and contains light diffusers to add instant radiance to the complexion. Also available in Fragrance Free for sensitive skin.


4. Regenerist Eye Lifting Serum. RRP $29.95

This light, quickly absorbed serum is clinically proven to firm the delicate skin around the eyes, smooth out lines and wrinkles and add instant brightness. It improves moisture levels and helps revitalise the skin for a youthful look. Microscopic light-reflecting particles minimise dark circles.


5. Regenerist Intensive Night Revitalising Cream. RRP $29.95

This rich cream has a non-greasy, intensely hydrating formula that draws on Olay's exclusive Amino-Peptide technology to help revitalise the skin and reveal a radiant complexion. The cream's combination of anti-ageing ingredients helps the skin to recover lost moisture overnight, helping to keep it firm and leaving it with a velvety smooth feel.


6. **NEW** Regenerist Thermal Skin Polisher. RRP $19.99

This revolutionary and unique self-heating, exfoliating and cleansing product delivers skin benefits comparable to a professional mini-peel treatment and is also gentle enough to use every day. Contains a specially designed Exothermic Mineral Activator which, when activated by water, gently self-heats the product to warm the skin.


7. **NEW** Regenerist Facial Treatment Mask. RRP $39 for pack of 5

Helps to revitalise skin's appearance to restore youthful looking skin. The stretchable cloth mask contains concentrated anti-ageing serum which helps to reduce the appearance of fine lines and wrinkles. It leaves the skin more firmed with silky smoothness in just 15 minutes.


8. **NEW** Regenerist Eye-Dermapods. RRP $39 for pack of 24

An at-home treatment system for the eyes, which combines the benefit of three treatments in one at your fingertips. This innovative, triple-action system smoothes and firms under eye appearance and helps to fill lines and wrinkles for radiant younger looking eyes.