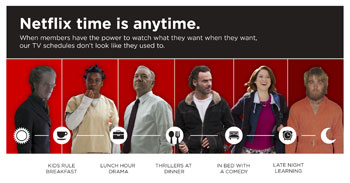 Netflix Members Elect Their Own TV Schedule
When viewers have the power to watch what they want, TV schedules don't look like they used to
Netflix may have broken the mold by releasing all episodes of House of Cards at once in 2013, but it's viewers who are changing the nature of TV. And it's more than just binging. From the characters we choose to wake up with to what we watch in bed, when viewers have the power to program their own day, TV watching no longer looks the same.
'For years our lives had to fit around television, now it's the other way around," said Cindy Holland, Vice President of Original Content. 'We've given consumers control and it's interesting to see the behaviours that emerge when viewers aren't tied to a schedule. And even more so to see that these routines are replicated by millions the world over."
Cartoon time starts early in Australia and New Zealand - family content begins to stream above average from 5am - the earliest to fire-up around the world - where watchers start their day with the mermaids of H20: Just Add Water and the Baudelaire brood from A Series Of Unfortunate Events.
High noon, high drama - members pay a visit to the ladies of Litchfield at lunch. When viewing schedules are set by people and not programmers, lunchtime becomes no binging exception. Across the world, drama accounts for nearly half (47%) of viewing between noon and 2PM (an increase of 5% compared to the rest of the day). Midday streaming is especially prevalent in Brazil where members are 25% more likely to watch at this time compared to the rest of the world - who says shows like Shameless, Grey's Anatomy and Orange is the New Black are strictly evening fare?
Opposite genres attract when we binge in bed - members trade the Demogorgon for Dave Chappelle. It's no surprise thrillers like The Walking Dead, Stranger Things and Breaking Bad are being enjoyed in the evening - globally the genre sees a 27% increase come 9PM. But viewers are kicking Rick Grimes, the Upside Down and Walter White out of bed by 11PM and restoring balance with partners like Leslie Knope (Parks and Recreation), Dev Shah (Master of None) and Bojack Horseman before they hit the hay - apparently members around the world choose to start and end their day with a laugh.
Late nights are for learning - watchers prefer Chef's Table as a midnight snack: Globally, 15% of streaming happens between midnight and 6AM and even rises as high as 21% in Japan and South Korea. And what these night owl members are watching is not what you think - documentaries see a 24% increase in viewing during this time, including titles like Abstract, Making a Murderer and Planet Earth. The pursuit for quality entertainment (and knowledge) doesn't dim when the lights go out.
Ultimately, Netflix-time is anytime. When viewers fit TV watching around their daily lives, rather than the other way around, we see peak streaming as early as 5PM in India to as late as 10PM in Argentina and Singapore, compared to Australia and New Zealand with peak time of 9pm.
When it comes to defining the new -rules' of TV watching, Frank Underwood said it best: 'If you don't like how the table is set, turn over the table."
Six months of Netflix streaming data across more than 77 million accounts was used for this analysis to draw time of day insights on the following countries: Argentina, Australia, Brazil, Canada, Colombia, Germany, Spain, France, United Kingdom, India, Italy, Japan, South Korea, Mexico, Malaysia, Netherlands, New Zealand, Philippines, Poland, Portugal, Singapore, and United States. Peak viewing hours were identified based on weekday viewing as well as the hours certain genres peaked in relation to the genre's overall share of daily viewing. Where relevant, data was adjusted to account for timezones.