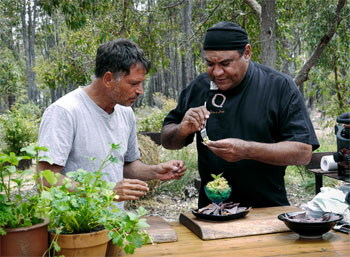 On Country Kitchen
NITV premieres a sizzling new culinary program in May with On Country Kitchen. The six-part series is a delicious twist of adventure, following entertaining characters throughout the south-west of Western Australian, as they seek out the freshest produce to create mouth-watering dishes.
On Country Kitchen stars celebrity chef and Bundjalung man Mark Olive (aka the -Black Olive'). As a renowned Indigenous chef, Mark boasts over 30 years' experience cooking. His charismatic personality and creative approach to food has helped him build a reputation and large following in Australia and around the world. Mark has a passion for fusing native and Indigenous Australian ingredients with contemporary cooking techniques to create a dynamic and unique gastronomic philosophy.
Mark's right hand man in On Country Kitchen is West Australian comic and Noongar man, Derek Nannup. Funny man Derek is eager to learn cooking skills from Mark in the series and goes on the hunt to collect fresh produce, meeting farmers from around the Western Australian countryside. As well as his work as a comedian, Derek is an actor, dancer, circus performer, didgeridoo player, children's hospital clown doctor and cultural presenter, making him a hilarious character alongside Mark throughout the series.
NITV Channel Manager, Tanya Orman said: 'A series for the whole family to enjoy, On Country Kitchen explores Western Australian's beautiful landscape, teaches us how to make bush tucker and makes us laugh at Mark and Derek's funny adventures."
On Country Kitchen takes the complexity out of cooking and starts by teaching simple tips and tricks, as Mark opens his culinary world to Derek, with the two not only cooking up mouth-watering dishes, but a bit of fun too.
On Country Kitchen is a Mago Films production, commissioned by NITV, with assistance from Screenwest and Lotterywest.
Watch On Country Kitchen weekly on NITV from Wednesday 24 May at 7.30pm
On Country Kitchen trailer: https://www.youtube.com/watch?v=YNCR2s_HJwA