Turn On & Tune In with Motorola's new Stylish Value-Priced Clamshell Design with Integrated FM Radio
Now available in Australia, the Motorola W220 is a value-priced, thin clamshell handset. The Motorola W220 incorporates an integrated FM radio, bringing a new level of style and functionality, not to mention cool sounds and vital information, to mobile consumers across Australia.
The W220 continues Motorola's pledge to meet the needs of consumers around the world by giving them the tools they need to stay connected and follows the company's vision of 'connecting the next billion' handset users.
The feature rich Motorola W220 includes a built-in stereo FM radio offering entertainment on-the-go: browser, picture messaging and downloadable media capabilities, lantern technology, large font capability, alarm clock and up to 600 entry phone book capability. The sharp W220 also features an innovative external display with colour icons for instant updates on message, battery and phone call status.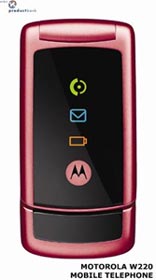 The W220 measures in at 46 x 95 x 16.6mm and 93 grams. Its features also include large 128 x 128 vibrant colour screen and expanded battery life that accommodates up to 497 minutes of talk time and 293 hours stand-by.
The Motorola W220 is available now in pink or black, RRP $159.
About Motorola
Motorola is known around the world for innovation and leadership in wireless and broadband communications. Inspired by our vision of Seamless Mobility, the people of Motorola are committed to helping you get and stay connected simply and seamlessly to the people, information, and entertainment that you want and need. We do this by designing and delivering "must have" products, "must do" experiences and powerful networks -- along with a full complement of support services. A Fortune 100 company with global presence and impact, Motorola had sales of US $35.3 billion in 2005. For more information about our company, our people and our innovations, please visit
www.motorola.com