Monica Phromsavanh ModaBox Interview
In the late 1970's my family fled Laos amid the chaos and violence of the Secret War that had overtaken much of Southeast Asia. My father left first swimming across the Mekong River to Thailand with absolutely no possessions but his life. He would be imprisoned abused and sent to a refugee camp. He was only 17 years old. Soon after he would risk his life again, crossing this time to bring my mother to the safety of the camp. His rescue attempt failed and my mother who was 15 was arrested for trying to escape. Three years later she made her way to the camp in Thailand and reunited with my father.

Eventually a few countries around the world agreed to resettle the refugees and my parents chose Argentina. My father had worked as a farmhand for my mother's family in Laos and Argentina was said to have work in agriculture. As soon as they landed in their new country they faced poverty, ignorance, culture shock, and discrimination. Their new lives began, again in a refugee camp this time thousands of miles from their home.

In 1982 I was born in Misiones in the far north of Argentina. I was the second, my brother born two years earlier. We lived a life of poverty that only a refugee could ever know. Hundreds of families lived in a warehouse without electricity or running water. Work was sporadic and often impossible to find. We didn't speak Spanish and the Laotian people were subject to harassment and treated with little respect.

My mom grew tired and hopeless by the conditions in the camp. She believed there were greater opportunities and a better future outside of Argentina. With the little money she had earned by smuggling clothes from Paraguay and selling them to local stores, she moved to Canada leaving my brother and I behind with my father.

I was much too young to understand how this would impact my life. For a few years we would take a bus to town and talk with my mom on a payphone. As time went on the calls stopped and she was gone. I forgot how she looked and the few memories I had of her were very distant. When I got a little older I would pray every New Year that I would have a normal life like all of those around me. There were no other girls in our community without a mother. Having a broken family was not something that was accepted in our culture.

We moved to different houses but never anything more than a shack. Even a basic amenity like a gas stove was a luxury. Most of my nights I wandered around the neighbourhood hoping someone would invite me for dinner and in exchange I would do their dishes or other chores in their homes. Often I went to bed hungry. My brother and I were left with no mother and my father struggled to raise us under those conditions. Life never got much easier and when I was 14 I dropped out of school.

At 15 I moved to Buenos Aires and rented a room in a boarding house with two other girls, all of us sharing a bed. I got a job at an apparel wholesale company and worked 60 hours a week in a small space filled with dust, standing on my feet for 14 hours a day. My bosses did not have an issue taking advantage of my desperate position. I was working in horrible conditions with very little pay. But for the first time in my life I could afford groceries, shoes and a winter coat. That meant a world to me and I was happy.

When I was 17 and having the best time of my life my mom returned to Argentina. She came to stay but not for long. Less than a year after she arrived she left again, this time for Philadelphia taking my brother along. Two months after that she unexpectedly sent me a one way plane ticket to New York along with some money. I was eager to rekindle our relationship and try to make up for all the time we had lost. Two weeks later got on a plane for the first time in my life and landed at JFK not knowing one word of English.

I got my first job in America at a chocolate factory making $5 per hour. Every morning I would get picked up in a company van and driven with my coworkers 2 hours just to begin my shift. I was making $200 per week, more money than I'd ever earned and it felt incredible. I contributed a portion of my earnings for rent and food and I paid my mom back for the plane ticket.

After some time living with my mom, I left Philadelphia and stayed for awhile in North Carolina reuniting with an aunt and her family. They were lucky to have arrived in the US directly from Laos and their lives had been much different than mine. I was still seeking my true independence and moved around eventually landing in Connecticut and working at Express. My English still wasn't perfect but now I was finally fully immersing in American culture. I took every shift that was open to work and I never refused any task. I wanted to outwork all of my coworkers and when I did I was promoted to manager.

At the end of the summer of 2006 I bought a ticket on Greyhound to New York. When I arrived in NY I had two suitcases and $200. I used $73 for a metrocard and budgeted the rest to survive on the dollar menu. I had a friend living in Coney Island who was willing to share her room with me. I worked a few retail jobs until one day I decided I was ready to deliver my resume to the luxury stores on Fifth Avenue. One month later I was hired by Burberry. In my first year I was the top salesperson in their men's department of their NYC flagship store. I was promoted to accessories where I continued my success. After 4 years I was ready for my next challenge and I quit my job at Burberry. I put up a wall in my apartment and took on a roommate to cut my costs and have a little money to launch my own business. By then I had met a few vendors and designers and I was able to convince many that I could sell their product if they let me have it on consignment. I started doing street fairs all of NY, dragging suitcases full of clothes around the city and spending all day in the sun. The work was far from luxurious. I was working a lot harder than I ever had but I loved it! I was unconsciously working toward my dream. I could not have imagined back that I would be where I am today. I didn't even know I wanted to be an entrepreneur but already I was doing it.

As my network grew so did my opportunities. I was able to build relationships with more vendors and designers and I was ready to move beyond the street fair. I considered creating a couture service website. I had met many emerging designers who didn't have the audience that I believed I could create. While I was developing this idea the opportunity to set up a retail shop with little initial investment came to me. With a few rolling racks full of clothes I opened a 100 sq.ft space at the iconic Limelight Shops. In our first year sales surpassed a million dollars and within 3 years my space grew to 4000 sq.ft. We quickly became one of the hottest destinations for shopping in Chelsea.

As the business grew so too did my leadership skills. I can confidently say that my ability to drive resourcefulness with my team accounted for the milestones we achieved. I am grateful to have gathered a team of true executors, who will do anything and everything to make sure our vision materializes and all our customers are truly impressed.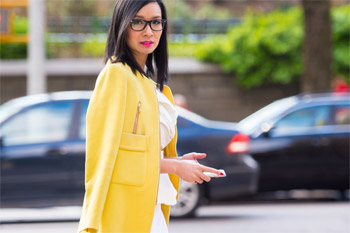 After the third year at the Limelight the building owner decided to lease the second floor space to a gym which was going to mean a long period of construction and a drastic shift for the building. The writing was on the wall that it was time to find a new home for the store. In the fall of 2013 I traveled to Laos to learn more about my family background and consider my future. I wanted to make sure I was ready to leave my 4000 sq.ft store and dedicate all of my time and energy to creating something new. After returning from my trip the seed for Modabox was planted and I began preparing for something big. My business acumen was evolving and I was ready to create something that matched the potential I believed I had. I believe to be a true entrepreneur you have to see opportunity where others see only risk.

I wanted to be able to reach a greater audience than I could in a traditional retail setting. Instead of relying on customers having the time to shop, I could provide them with a much a more personalized experience in their own homes. We provide the luxury of a personal shopper and concierge service at no premium. With Modabox the consumer is no longer a customer. They are members whose preferences and needs can be more efficiently addressed by our technology than is possible by traditional retail. We can present products that our members are looking for without spending time searching through endless options.

Modabox is a data driven online personalized shopping service for women. We're delivering fully coordinated outfits curated by expert stylists powered by the data and high-level recommendations from our custom built algorithm. Using our platform stylists are able to increase productivity as well as the accuracy of their recommendations.

The greatest initial advantage the Modabox membership model has over other types of ecommerce is the scalability of the 'personal stylist". The kind of service that has only ever been available to a very affluent clientele in very expensive stores is what Modabox can offer to all of our members. Instead of searching for hours online for the right look, our stylists can through our onboarding and our analytics provide our members with simples targeted choices. One of the oldest and truest adages in business is give the consumer a choice and they will make one. By creating members of the consumer Modabox is eliminating irrelevant options and ensuring to be among the final choices.

We believe that the personalized model will prove to be an important sector in the future of retail clothing. Modabox has the opportunity to be among the leaders of a paradigm shift where the kind of personalization that we develop will become a crucial element in the lives of millions of women. There are already hundreds of companies with membership in the 10,000's and the models of personalization and membership continue to be refined and innovate across a broad spectrum of consumer goods. Not many yet exist in the apparel sector that are of note. Apparel is in many ways the perfect opportunity for the personalized model. Simply offering access to every product as the internet does doesn't solve the problem of time needed to shop. By becoming familiar with our members tastes and needs, we can increasingly provide better choices and become a valuable resource for a reliable and growing market.

Women are dedicating more of their lives to their careers and becoming leaders in their fields often balancing working full time with raising a family. This leaves little time for shopping. Young women entering the job market have grown up alongside rapid change and innovation in ecommerce and are always looking for new ways to shop. There is a vastly underserved market that values convenience and efficiency that is not fulfilled by traditional e-commerce. Modabox is prepared to address this underserved market through personalization and technology. There is an opportunity to make loyal shoppers within this demographic.

Apparel is a $116 billion market in the US alone and is growing. The demand for new clothing is greater than ever driven by many factors including increased accessibility and the impact of social media on the choices consumers make. News in fashion can spread overnight virally where in the past in may have taken months or even years for trends to reach all parts of the country. Modabox will be a leader in providing not only convenience but also access to on-trend for women all over the US.

Social media has had a profound impact on the apparel industry in promoting trends, brands and designers. There is also great pressure for retailers to perform to their customers expectations or risk their reputation in the world of social networks. A negative or positive review online can be seen by the entire world instantaneously. I learned quickly how to utilize this platform to refine and improve our products and services.

Clothing is a necessity and the way we look can have a huge effect on how we feel. I get satisfaction knowing that I can help someone feel great by helping them to look great. With Modabox we can create that dynamic on a large scale. Women will always be in the market for new things to wear. Modabox is aimed at capturing the attention and loyalty of women who might not have the time or desire to shop, but also to those early adopters and avid shoppers who are just interested in trying something new.

My experience growing up has made me aware of the struggles of women and girls around the world. Modabox has partnered with Bottomless Closet an organization dedicated to helping disadvantaged women entering the workplace. In every box there is a note asking our members to consider donating gently worn business attire for women and a self addressed envelope to use for any items they wish to contribute. Often the help and generosity of others had a huge influence on the direction my life took. I will never forget those who helped me and I am dedicated to helping others as a tribute to those who positively impacted my life. There are many obstacles that women face and not having something to wear to an interview should not be added to that list. Sometimes the simplest thing can make the biggest difference- I know.

I guess from the outside looking in the odds of me becoming who I am today were less than 1%. Growing up in a refugee camp for 15 years and forced to independence in a big city at age of 17 my story could have taken many different but predictable paths. I am where I am today both because of all the circumstances of my life but more importantly because of the resilience they created in me. I didn't have a college education so I taught myself. I will always have a great thirst for knowledge and I used it to first learn the world of traditional retail and now I am using it to learn the world of ecommerce and start-ups. When I started out on my own in Buenos Aires I worked to overcome the hardships I faced growing up. Once I came to America and became established I worked even harder to have the freedom to think big and create and to provide a future and security for myself and my family. Life is often a struggle especially when launching a new business and my past has prepared me to always persevere. I've achieved so many things that I never imagined possible. Now I am confident that I can execute my big vision through hard work, leadership and most importantly determination.



Interview with Monica Phromsavanh
Monica will share her story at the Online Retailer Conference & Expo (OR), hosted on 20-21 July at the Royal Hall of Industries and Hordern Pavillion, Sydney. This year, OR will launch a partnership with Remodista and their global Women2Watch in Retail Disruption Program, offering Australian female Retail leaders the opportunity to be globally recognised for their success. Remodista's annual list of Women2Watch celebrates women who are leading the way in online and brick-and-mortar retailing, experimenting with new ways to solve problems in operations, marketing, commerce, supply chain, logistics and globalization. The 2017 Women2Watch list will be announced at the end of this year.
http://www.onlineretailer.com/


Question: What is ModaBox?

Monica Phromsavanh: ModaBox is a data-driven, online shopping service for time-starved females; we deliver complete outfits to the doorstep providing the time-saving luxury of a personal shopper and concierge service with no premium. Members create a style profile with preferences and size and then are matched to a professional stylist who curates wardrobe updates as often as needed.


Question: What inspired the creation of ModaBox?

Monica Phromsavanh: I owned a retail store in New York and realized the type of service Modalistas provided was something women everywhere would love. I wanted offer the same type of personalized service provided to our clients in my store on a much greater scale. ModaBox is utilizing technology to enable that experience.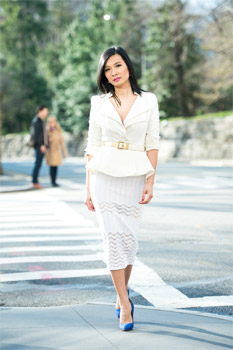 Question: How is ModaBox, different?

Monica Phromsavanh: ModaBox has exclusive partnerships with emerging New York and international designers. Our boxes are curated by stylists trained in some of the world's best fashion houses. The model is tested and successful but there is little diversity in the marketplace and there are no others doing what we do.


Question: What motivated you to make the move to New York?

Monica Phromsavanh: Big city of dreams! I don't know why, but here I am making it happen in the world capital of business and fashion. I guess I knew I could so I did.


Question: What's a typical day like, for you?

Monica Phromsavanh: Networking from morning till night. When you lead a startup your next round of funding is always on your mind and telling & showing people what we are doing is laying the foundation to add the right strategic partners in the future.


Question: What has been the biggest career hurdle, for you, to this day?

Monica Phromsavanh: Everyday brings a new -biggest hurdle'. If the expectation for tomorrow isn't bigger than today you're going backwards. If I stop now to reflect on what we've achieved it would feel like I was losing focus on our mission. In a startup, you only to look back to make sure you are still doing the things that made you go forward.


Question: What have you learnt about yourself along you road to success?

Monica Phromsavanh: I've learned that failure is not permanent and winning the war means not getting stuck fighting small battles. Some days are bad and sometimes months, but you need to learn how to get up and keep it going. Most importantly I've learned how I personally define success and how to be focused every day on achieving it.


Question: What are you looking forward to most about Online Retailer, event?

Monica Phromsavanh: Engaging with the amazing people attending, building my international network and learning new ideas from the most innovative voices in online retail.


Question: What piece of advice would you give an aspiring entrepreneur?

Monica Phromsavanh: Nothing will ever be more important to your success than your determination. Not your education, not your experience and not your ideas. Execution is everything. Some of the greatest and most important businesses we know today would not be remembered if the founders didn't overcome what seemed to be impossible obstacles.


Question: And, what top three tips would you give your 18 year old self?

Monica Phromsavanh: It won't be easy; nothing worthwhile is. Good things take time, and it all boils down to persistence and resilience.
Make sure you pick a career that you're truly passionate about so when things get rough you won't give up.
Celebrate every milestone because the destination is unknown,make sure you don't get there without having felt joy.


Question: What's next, for you?

Monica Phromsavanh: Continue to grow and learn everyday personally and professionally.
One day invest my time & money in other female Entrepreneurs.
I'd love to someday be able to focus all of my time and energy toward philanthropy and giving everything back. I want to change people's lives, especially those of underprivileged women whose stories might be similar to mine.


Interview by Brooke Hunter