Rekorderlig Sauna Sounds
Inner Western Sydney's multi talented artist Milan Ring has released a live recording of her newest single 'Drifting' performed inside a sauna. As a producer, singer, rapper, writer, mixing & mastering engineer, label owner and creative director, the artist was creatively involved from start to finish on this content piece.

Milan Ring said of the sauna performance"This was the first time that I performed in this duo format and definitely the first time performing in this cosy environment, so I did tweak the beat and the arrangement of 'Drifting' to keep it more intimate and organic. I wanted it to feel very live, even though I am still running some loops and samples." And in regards to the track performed, Milan Ring explains, 'Drifting' centres on "the frustration one can have with someone who is unable to move forward, but the patience and love one must have in order for them to grow"

The eclectic R&B artist is the fifth artist to be featured as part of the Rekorderlig Sauna Sounds series. Milan Ring has had a meteoric rise, having recently signed with renowned tastemaker management team Astral People, and will be officially launching this relationship and 'Drifting' in Sydney at the end of this month. Set to sell out in advance, Milan will bring 'Drifting', as well as some older favourites & never-before-heard unreleased material, to multiple

Rekorderlig Sauna Sounds is a new platform that supports some of Australia's brightest new music talent, in a uniquely Swedish way. There's arguably nothing more synonymous with Sweden than a sauna, and Rekorderlig Sauna Sounds is all about celebrating and amplifying Aussie music stars on the rise - Swedish style!

Over a six week period, six emerging Australian artists will record one of their new tracks in a sauna, which will then be released as content with the aim to help these artists reach new audiences. Kicking off the program was hip hop artist B Wise followed by Nick Nuisance and The Delinquents, Clypso and Spike Vincent, with Milan Ring next week followed by Sunscreen.

As a Swedish cider, Rekorderlig comes from a nation with a rich music history. Since launching in Australia in 2010, Rekorderlig has had a presence within the Australian music scene and Rekorderlig Sauna Sounds is phase one of a new multi year music program.




Interview with Milan Ring
Question: How would you describe your music?

Milan Ring: I would describe it as analogue meets electronic; indie meets pop, happy meets sad. Basically as paradoxically me as I can make it.


Question: Can you tell us about your stripped down version of Drifting for Rekorderlig Sauna Sounds Series, What was it like to record in a sauna?

Milan Ring: It was different! Kind of felt like a rare hydroponic plant in the red glass room with everyone looking in filming and taking photos (laughs). Was nice and intimate though and it ran really smoothly, I am really happy with our performance.


Question: Which is your favourite song to perform live and why?

Milan Ring: Drifting at the moment, it has had a lot of radio play so a lot of people have been singing along, plus I give myself a guitar solo on that one.


Question: Do you prefer performing live or recording?

Milan Ring: I really love both, there is something very special about performing though, and the moment comes and goes flaws and all. It isn't about perfecting the moment, it is about embracing imperfections.


Question: What motivates you most when writing music?

Milan Ring: Energy, I really want the song to make me feel something, shift me in one way or another.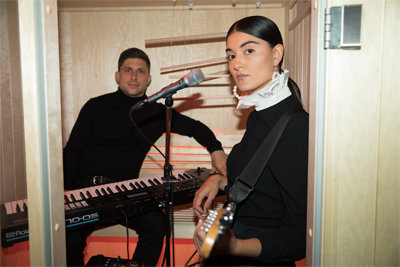 Question: Which music/artists are you currently listening to?

Milan Ring: Blood Orange, SZA, H.E.R, Saba and Anderson Paak.


Question: What or who was your inspiration to go into the music industry?

Milan Ring: I have had so many inspiring friends and mentors around me throughout my journey. And I believe music is my destiny, I was always going to land here one way or another. But I have to give a shout out to Syrene Favero aka creamy spies for mentoring me for years. When I first met her at around 21, and she found out I'd started producing in garage band and that I'd started singing, she was like "ditch the bands, you should be you, Milan Ring". That stuck with me for years, until I was like yep I'm going to do this Milan Ring thing, and I am going to become a producer also so went onto study production and engineering.


Question: If you could collaborate with another artist, who would it be?

Milan Ring: I would love to collaborate with every artist I mentioned above that I am listening to, hope to connect again with SZA in the studio, plus Steve Lacey I feel would be a sweet collab. Plus Kevin Parker (Tame Impala).


Question: What has been your favourite part of becoming a music artist?

Milan Ring: Realising that I do hold a lot of the control. The way the business is structured we artists are made to believe that the labels hold the power and that there are people's opinions in the industry that are more valid than our own. I believe that crushes creativity and only creates more artists trying to imitate a particular sound and fit into a particular methodology. I travelled that road, and listened to too many opinions, and I landed in a place I didn't want to be. When I realised that I simply want to make art that is uniquely me and that nothing else really matters, I realised the power is mine, the method is mine and the art is mine. And social media means that I connect with people directly so we can really cut out most of the middle men who are merely motivated by money.


Question: What's next, for you?

Milan Ring: More music and shows, playing at Lost Paradise, Grampians Festival, Pitch Music & Arts, NGV Gala as well as supporting Masego on his national tour. Looking forward to these shows over Summer and time spent in the studio.


Interview by Brooke Hunter
Photographer Credit Jack Bennet