Mel Tantchev Mother's Day Gift Interview
With Mother's Day around the corner, it's time to think about buying the perfect gift for mum. But for many of us - as much as we'd like to find the perfect gift, we end up resorting to the default chocolate and flowers. They say it's the thought that counts… but how much thought actually goes into our annual Mother's Day gifts?

Bookabuy is Australia's first personalised book subscription service. Perfect for gifts or anyone who loves reading, all books are individually chosen, beautifully wrapped and delivered with a personalised message each month. So much more than a book store voucher; each customers' book subscription is uniquely tailored to suit their individual tastes.
Subscriptions from $21-$40 a month, or one-off mystery books for $25, including delivery. Visit: www.bookabuy.com.au



Interview with Mel Tantchev
Mel Tantchev is the co-founder of Bookabuy, Australia's first personalised book subscription service. Using her specialist gift buying skills, Mel personally hand picks all the books for Bookabuy's readers, ensuring everyone is sent books to suit their own personal tastes.


Question: What are you giving your Mum, this Mother's Day?

Mel Tantchev: Mum loves Swarovski! So she'll be getting a beautiful earrings and pendant gift set from Swarovski this year. She'll also be getting some quality time with her family!


Question: What is Bookabuy?

Mel Tantchev: Bookabuy is a personalised book subscription service. We specialise in creating unique and tailored reading experiences for our customers.


Based on information we get with each order, we handpick a brand new book once per month for the duration of the subscription. Each book is beautifully gift-wrapped, accompanied by a personalised message, and tailored to each of our customers' reading tastes.

Chris and I are a husband and wife team - Chris is responsible for elements such as user experience, design and marketing, while I am responsible for handpicking the books for all subscriptions, and ensuring each customer receives the most relevant book titles.


Question: What inspired the creation of Bookabuy?

Mel Tantchev: The idea for Bookabuy came about when Chris wanted to gift a book subscription to me for our first wedding anniversary (traditionally a paper gift), but no such service existed in Australia.

With Chris' background in advertising and web design, and my passion for reading, our skill sets naturally complimented the idea.


Question: What's your role at Bookabuy?

Mel Tantchev: When a book subscription order is placed on our website, I start by building a unique profile for all of our readers. I then use this profile to handpick books for the length of the subscription. I'm also responsible for gift-wrapping the books and writing personalised messages for each one.


Question: How do you ensure everyone is sent books to suit their own personal taste?

Mel Tantchev: While I wish I could be a mind-reader, I'm not! So I have to rely very heavily on the information that is provided to us within an order. We ask important questions such as "What are your favourite books/authors?" and "What books/authors shouldn't we include?" There would be nothing worse than a person who hates romance books to receive the latest Danielle Steel release! I also rely heavily on book bloggers, review websites, and other sources to get the most appropriate books for certain readers. Although we've had a great success rate with getting the right books to people, there's always a chance that we'll get it wrong (especially if we don't get enough information when an order is placed). So we allow people to contact us to request a replacement book if the one we have handpicked for them is not quite right.


Question: Where do most people go wrong when it comes to gift buying?

Mel Tantchev: Many people rely on gifts like flowers, chocolates and gift cards. While Mum will appreciate these things, there isn't a great deal of thought going into these "safe" options.


Question: Can you share with us, your tricks to finding the perfect gift?

Mel Tantchev: The perfect gift is one that your Mum wants, not what she needs - so I would highly recommend avoiding presents that remind your Mum of house chores, such as a vacuum cleaner or an iron! Take the time to get to know what your Mum really wants her in life, whether it be the latest iPhone or the new release from John Grisham.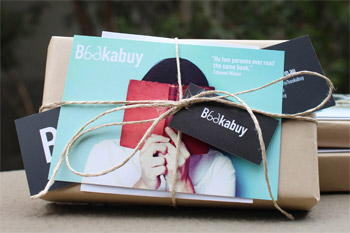 It also doesn't matter how much money you spend - if you're on a budget, your Mum does not want to see you going into debt for her! Think of cheap ways to express your love, such as a picnic in the park or a visit to the art gallery. Or (if you're the creative type) you can knit a scarf, make your own Mother's Day card, or paint a picture!


Question: If we've left it a little late, how can we use Bookabuy this Mother's Day?

Mel Tantchev: We've extended our order deadline this month to midnight 8th May. If you get your order in before then, Mum will receive her first book this month. We'll also email out a customised gift receipt you can present to Mum for Mother's Day.


Question: How can we make our Mum feel special this Mother's Day?

Mel Tantchev: If you live near Mum, spend some quality time with her! And even if you don't live close by, you can Skype or Facetime her. Make her feel that you are happy to go out of your way to put a smile on her face just by giving up your Sunday for her. She did give birth to you after all!


Interview by Brooke Hunter
Photography by Mark Morgan