Mayfair Kytes Sleepyhead Interview
Melbourne four-piece, Mayfair Kytes have today announced the release of their debut album, Animus (out April 1), alongside quirky and musically dazzling single, Sleepyhead (out March 18). The folk-art-pop band will be hitting the road to celebrate the release with album launch shows at The Workers Club (Melb) on April 8 and The Vanguard (Syd) on April 28.

Layered with exquisite vocal harmonies and opulent string scores by Willow Stahlut (Cinematic Orchestra), the single is perfectly textured by bold, discordant guitars accentuating the song's inimitable musical brilliance. 'Sleepyhead is a meditation on two themes, one being the creative process versus the logical world and how choosing your own destiny can lead you down a long road of self-discovery that might clash with more pragmatic streams of life," lead vocalist and songwriter Matt Kelly explains, 'and secondly, it is about dealing with the depression that often comes with such a way of being."

Storyboarded, hand-animated, filmed and directed by Melbourne artist, Thomas Russell (Hiatus Kaiyote, Chet Faker, Flyying Colours), the fittingly artistic video for Sleepyhead follows contemporary dancer Geoffrey H Watson as he saunters his way around an empty white room, tearing off layers of bulky clothing in an act of defiance, musing as his heavy steps become joyful skips with each layer shed. 'The film-clip is about coming out of a dark place, shedding the things that hold you back, not being constrained by male stereo types… shedding the past," says Kelly.

Recorded in just over a year with close pal, Nick Herrera between his notable home studio and a converted chapel in Melbourne's inner north, the album features performances from string players from the Melbourne Symphony Orchestra, as well as extra synths and production added by Hiatus Kaiyote's Simon Mavin and Paul Bender. 'We employed Nick for his highly creative streak, his love and respect of tonality and the way he works hard to achieve sounds," enthuses Kelly, 'And we used the chapel to record all the string scores as it had a long reverb and delay so we could use the authentic room sounds in the recordings, no extra effects needed."

A dense mosaic of flourishing strings, jangly guitars, tape-driven beats, synthscapes and samples, this impressive debut album shows extreme consideration and depth as it touches on themes of loss, acceptance and reprieve. Kelly explains, 'It's kind of a reverse break up album, beginning at the separation and working its way forward to reconciliation."

And as you'd imagine, fans can expect a very distinctive live set, showcasing interesting and different vocals and harmonies, otherworldly guitar sounds, captivating ambience and explosive-to-the-point-of-post-rock climaxes, as well as a dense layer of modular synths.

Mayfair Kytes are Matt Kelly (vocals, guitar), Austin Busch (vocals, guitar, keys, samples), Jack Nicholson (drums, samples) and Phoebe Jacobs (vocals, samples).

Debut single Sleepyhead is out March 18, new album Animus is out April 8 and launch show tickets are ON SALE NOW
Listen to SLEEPYHEAD View the video for SLEEPY HEAD Listen to ANIMUS Buy/pre-order ANIMUS
Mayfair Kytes Album Launch Tour Dates

FRI APRIL 8 | THE WORKERS CLUB MELBOURNE VIC | 18+
Tickets available from http://theworkersclub.oztix.com.au/?eventId=60292

THURS APRIL 28 | THE VANGUARD SYDNEY NSW | 18+



Interview with Mayfair Kytes
Question: How would you describe your music?

Mayfair Kytes: Our music is a vehicle for all our song-writing fantasies, so it has no specific genre that it fits. We've been calling it folk art pop because it is still comes from a folk song place but has a lot of experimental bits and a mountain of pop hooks.


Question: What was it like filming the video for Sleepyhead? Sleepyhead (watch video here) (Soundcloud stream here)

Mayfair Kytes: Our good friend Thomas Russell came up with the concept and executed the film clip. He worked on all the aspects from story-boarding it to filming it to printing the frames filmed and animating that afterwards, took him a number of months to complete.


Question: What can you tell us about Animus?

Mayfair Kytes: Animus is a collection of songs that features flourishing strings, angular guitars, 3-part harmonies and synths; there are some melancholy aspects to some of the songs but they all maintain a strong sense of wonder. We just wanted to make an album that was beautiful.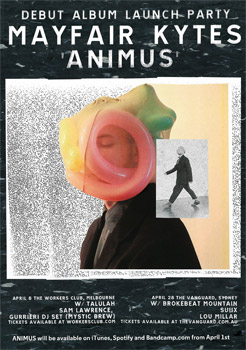 Question: What should we expect from the upcoming shows?

Mayfair Kytes: The live show is very dynamic and diverse, where we take the arrangements from the album and re-interpret them into this one dense sonic experience.


Question: Did you have any pre-conceived ideas about the music industry?

Mayfair Kytes: I have been an active part of my music community and the music industry for many years so I didn't really have any pre-conceived ideas; it's a tough racket for sure but at the end of the day you just have to keep your smarts about you and do the best you can to keep the ball rolling forward. It takes hard work, nothing else.


Question: Do you write your own songs? What's your inspiration?

Mayfair Kytes: I write my own songs and always have. This record has been a bit more of a process of collaboration because it requires more than one lead vocalist. I like bands and albums that shift the vocal focus between different members, it really brings out the broadest range of styles and sounds. Inspiration comes from life itself, nothing is really off-limits as long as I feel that it is a good enough story. We are not a political band, though we are certainly socially conscious.


Question: What music/artists do you listen to when you are not playing your own?

Mayfair Kytes: This year I have been listening to heaps of different stuff. My favourite artists are Nina Simone, Bjork, Dirty Projectors, Patrick Watson, The Beatles, Mike Patton and lots of cool film scores by various composers.


Question: What's next? Tour/Album/Single?

Mayfair Kytes: The nest few months are all about the album we are dropping April 1st. Our Melbourne launch is April 8 @ the Workers Club and April 28 @ the Vanguard. We will follow that up with a full east coast tour later in the year plus a few special concerts we are going to put on in our hometown.


Question: Was there a moment you contemplated throwing in the towel?

Mayfair Kytes: Yes there actually was. In the height of my anxiety I felt like I was never going to get on top of this massive beast I had created. But I am well aware that this kind of doubt is all part of the creative process, so I was able to shrug it off and soldier on.


Question: Do you prefer performing live or recording?

Mayfair Kytes: I like them both, but for different reasons. I am a natural born performer so I feel happiest and most alive when I'm on stage. There's something about the immediacy of performing your material live that fills you with this excitement that you normally would not experience. The chaos factor and discipline required to do a good show is something that cannot be compared to. Recording is fun because you get to work on these ideas and try to crystallize your dreams, via various techniques and processes.


Question: What/who was your inspiration to go into the music industry?

Mayfair Kytes: I can't remember who it was, but I can say I made the decision long enough ago that I can't remember anything else really.


Question: What is the biggest challenge you have faced along the way to your musical success?

Mayfair Kytes: Am I successful? Yes!! The biggest challenge is maintaining your energy for it when sometimes everyone else around you is looking at you like you are crazy. Why do we make these sacrifices to be a musician? It all boils down to that sensation of conducting music through your person and affecting others. It is spiritual and powerful.


Question: What's a typical day like?

Mayfair Kytes: The last few months have been a lot of emails, logistics and finding money. I manage the band as well as facilitate all the art, content, rehearsals, bookings etc so my day is more than a 9-5 job. I am doing 8-10 hour days most days. I also get a chance to go out and see bands, have a dance, hang out with my partner as much as possible.


Question: What has been your favourite part of becoming a music artist?

Mayfair Kytes: My favourite part has been making these sounds in my head come to life. Nothing fulfills your sense of purpose more than spending your time and energy building your future career and passion.


Question: If you could collaborate with another artist, who would it be?

Mayfair Kytes: I would love to do some stuff with producer Shlomo or Arca. I would also really love to work with Bjork on a song.


Question: Do you have a website fans can visit?

Mayfair Kytes: At this point the best place to go for all the information is https://www.facebook.com/mayfairkytes/


Question: Can you tell us 5 things required for a happy healthy & enjoyable life?

Mayfair Kytes: Adequate sleep
Eat well
Exercise
Sex
Music


Question: What is the story behind the band's name?

Mayfair Kytes: The band's name came from a brainstorming session between our ex-drummer and current bass player, Anthony Liddell. Each had a word they liked so we put them together: Mayfair Kytes. I'm personally really bad at deciding band names, I take way too long to be comfortable with something so I was happy to hand that over to keen minds. I feel it suits us, even though it holds no specific meaning.


Interview by Brooke Hunter