As some people get closer to retirement they see that their major asset is essentially their house.
Downgrading your house to smaller or more cheaper accommodation can release thousands of dollars tax free, and when the surplus proceeds are contributed to super in the form of undeducted contributions will have a twofold effect in that:
these can form a valuable tax free income stream

it will increase the minimum of pension you will receive

This may be the difference between struggling in retirement and having a comfortable retirement.

For example John & Mary are aged 65 have $200,000 in super and have a house worth $800,000 which they own outright. They have decided to sell their house and want to purchase a unit nearby so they can remain near friends and family for $500,000.

As the house is John & Marys principal place of residence there is no capital gains tax. Hence they will enjoy the full surplus of $300,000 from down scaling their property.

When these funds are added to John and/or Marys super, the additional income can make a huge difference as shown below: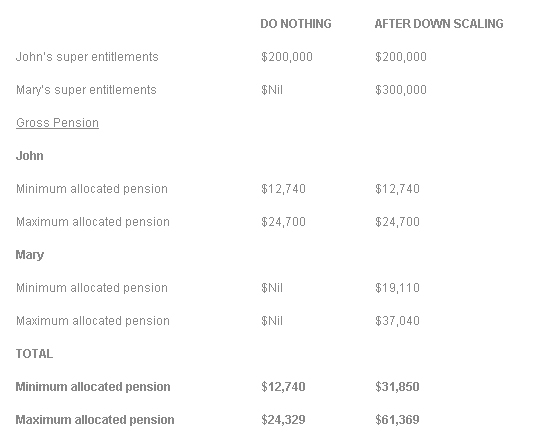 Imagine what a difference an additional $19,000 every year could do for you when evaluating your retirement options.

Please note this example does not take into account any social security implications or any number of personal and financial issues that may impact on your decision making.

This example is not designed to provide advice, and is merely an example of one possible outcome. Your personal circumstances must be taken into account prior to making any decision. We strongly recommend that you seek advice from a specialist licensed financial adviser prior to making any decision.


This article is brought to you by Imperator Financial and Super Outsource









Our Financial Planner Referral Service is for people who are serious about getting specialist financial advice. Register Now



---


Disclaimer
No investment advice provided to you. This web site is not designed for the purpose of providing personal financial or investment advice. Information provided does not take into account your particular investment objectives, financial situation or investment needs. You should assess whether the information on this web site is appropriate to your particular investment objectives, financial situation and investment needs. You should do this before making an investment decision on the basis of the information on this web site. You can either make this assessment yourself or seek the assistance of any adviser.


---
Other legal articles

Divorce
Property Settlement Calculator
Choice of Super
Find Lost Super
Write Your Own Legal Will
Make the Most of Your House