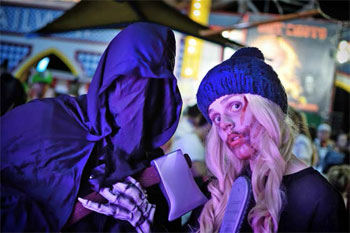 Join in the spook-tacular fun at -Luna Dark' if you dare!
Get set to scream this Halloween as Melbourne's Luna Park makes a horrifying transformation into Luna Dark.

Visitors to the park should beware, a dark shadow will be cast across Luna Park over four nights, from Friday 27th until Sunday 29th and Tuesday 31st October, where spooks and ghouls await. The Park will be crawling with creepy cadavers, terrifying ghosts and strange creatures, waiting to frighten those who dare to enter the grounds - prepare to be spooked!

Scream and tremble at the frightening carn-EVIL delights, including -The House of Horrors'. Those who are brave enough to enter the darkness will witness the zombie doctor inflict blood-curdling terror on his deathly patients and -The Giant Web' - suspended over nine metres of the Park - will house a cluster of creepy spiders, waiting to threaten anyone who stands still for too long.

If you dare, take a walk through the eerie -Zombies Rising' Graveyard, where skeletons and the living dead will be lurking in the shadows of the tombstones. You never know what lies behind the next turn!

Enter the American Horror Story: Roanoke nightmare at your own peril. Housing a licensed bar, DJ and paranormal happenings, guests can dance their fear away and win copies of the new chapter in the horror TV show on DVD.

There will also be live music from The Strays, who will be returning to thump out hits each night that will chill you to the bone!

For those looking to blend in with the ghastly creatures at Luna Dark, talented make-up artists from the National Academy of Beauty will be there to give frightening makeovers to guests, with transformations including scary half skulls and deadly gashes!"

Throughout the two-day, four-night scream-fest, guests will be encouraged to dress in full Halloween costume and have their photo taken at the FANG-tastic photo booth - if you've got it, haunt it!

Those who have their photo taken will take away a photo souvenir and be entered into the bestdressed competition, for a chance to win $400 worth of party pack vouchers from Lombard!

For the younger spook-seekers, Luna Dark will have loads of fun daytime activities, including scary face painting and the Wizz Fizz -Monster Bash' game. Win delicious sherbet-y treats from -monster fingers' to -fizza balls' and meet the monsters in the Park on Saturday and Sunday. Be prepared to scream in fright this Halloween as Melbourne's Luna Park makes its hair-raising transformation into Luna Dark, it will send shivers down your spine!

Don't forget to upload your fun snaps and videos to Luna Live, Luna Park's social media channel, using the #lunalive.

Luna Dark is a ticketed event across all 4 nights ($39.95 per person, per night) and tickets are on sale now at https://lunapark.com.au/event/luna-dark/.